Isolating With Mam' O
YOU South Africa|4 June 2020
Two South African academy graduates are enjoying lockdown with Oprah
She's never made any secret of the fact that she adores South Africa – for years Oprah Winfrey has been a huge fan. And now with the world in lockdown, her affection for SA remains as strong as ever.
Holed up in her sprawling estate in Montecito, California, she's been eating steamed mealie bread and sharing sweet videos of the two South African guests who are keeping her company.
Thando Dlomo and Sade Pietersen were among the first intakes of girls at the Oprah Winfrey Leadership Academy in Henley-on-Klip near Johannesburg, which the media titan founded in 2007.
But even though it's been years since they graduated from the school, they remain close to their benefactor, their Mam' O.
In an interview last year Thando told us how Oprah was there to cheer her on when she graduated from the University of Southern California with a master's degree in journalism (YOU, 21 February 2019).
The 27-year-old from Benoni, who now works as a producer on showbiz news show Entertainment Tonight, also revealed she's a frequent guest in Oprah's homes, where she and the billionaire have spent many happy hours together, binge-watching TV series.
"Her house is like home to me," she said.
Oprah (66) has said she thinks of Thando, Sade and all the other girls who have gone through her academy as "the daughters I didn't have".
"I never thought that mothering instinct was something for me," she told People magazine last year.
But clearly she was wrong. As the weeks of lockdown have turned into months she's been fussing over her girls like a mother hen – cooking, baking banana bread, cleaning and involving them in art projects.
Thando and Sade couldn't have asked for a better place to spend lockdown.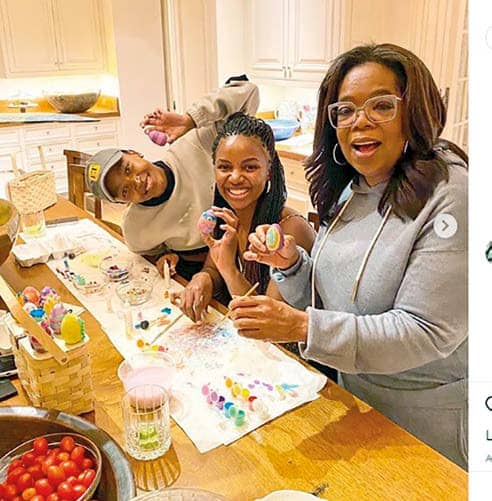 The 16-hectare compound, which Oprah bought in 2001 for $50 million (then R425 million) has 14 bathrooms, six bedrooms and sea views. With all that space, it's unlikely they'll get on each other's nerves. Oprah has announced she's planning to stay home for the rest of the year.
You can read up to 3 premium stories before you subscribe to Magzter GOLD
Log in, if you are already a subscriber
Get unlimited access to thousands of curated premium stories and 5,000+ magazines
READ THE ENTIRE ISSUE
4 June 2020