DIAGNOSIS DISASTER!
YOU South Africa
|
15 October 2020
Donald Trump's Covid-19 infection has put the White House in a spin as it fights to keep him in office for another four years
THE president of the United States being airlifted to hospital for emergency treatment after falling ill with a potentially deadly virus – if ever you needed confirmation that nobody is immune to Covid-19, this has to be it.
For months Donald Trump has downplayed the virus that has devastated his country, infecting more than seven million Americans and killing more than 200 000. Yet he steadfastly declined to wear a face mask and held election rallies in stadiums with supporters packed in cheek by jowl.
So when news broke that Trump and his wife, Melania (50), had contracted the virus, it was the ultimate told-you-so for his detractors.
But there was concern too. Especially when, within hours of the announcement, the president walked – slowly but unaided – to a helicopter bound for Walter Reed Medical Centre in Maryland, reportedly because he was struggling to breathe.
At age 74, Trump is no spring chicken and, thanks to his love of burgers and soft drinks, he's clinically obese, which puts him in the high-risk category for Covid-19 complications.
And doctors weren't taking any chances. As soon as the president arrived at the hospital, they started treating him with doses of the experimental Ebola drug remdesivir, which they administered intravenously.
Trump continued to receive a smorgasbord of drugs and claimed he was doing well, firing off tweets and shooting videos from his hospital suite, assuring supporters he was feeling okay.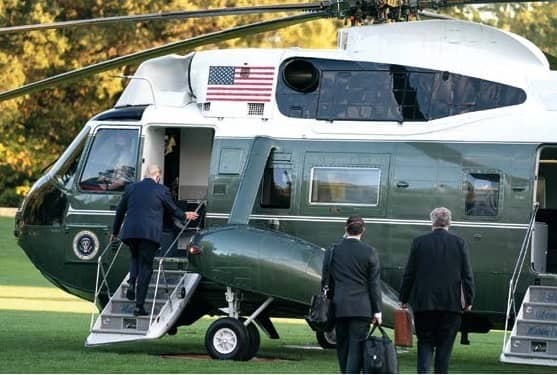 At one point he even left the hospital briefly to go on a Sunday drive with his bodyguards so he could wave to supporters.
Dr James Phillips, an attending doctor at the centre, made no attempt to hide his alarm.
You can read up to 3 premium stories before you subscribe to Magzter GOLD
Log in, if you are already a subscriber
Get unlimited access to thousands of curated premium stories, newspapers and 5,000+ magazines
READ THE ENTIRE ISSUE
15 October 2020