A TALE OF TWO DAUGHTERS
When Greta Thunberg took her climate-change stance, only her parents knew she'd been mute and depressed. But as she flourished her sister began showing worrying symptoms. Here her parents reveal how their ordeal almost tore the family apart
IT WAS 20 August 2018, the first day of Greta Thunberg's school strike to protest against climate change, and her parents were worried – not about the response she would draw as she stood alone with her placard outside the Swedish parliament, but rather about how much of her bean and pasta packed lunch she'd eat.
They desperately wanted her to devour the entire thing but knew she probably wouldn't.
Despite Greta's growing influence since that first morning when she climbed on her bike and cycled off to parliament, for her parents the campaign for global zero emissions has always been second to wanting their child to be well again.
This is the message that comes through loud and clear in the family's memoir, Our House Is on Fire: Scenes of a Family and a Planet in Crisis*, which is being released in English for the first time.
In November 2014, hospitalisation at the Sachsska Children's Hospital had been imminent. Greta was 11. The emergency unit of the Stockholm Centre for Eating Disorders had identified that she was showing signs of starvation.
Her blood pressure and pulse had plummeted. She wasn't eating – out of confusion, depression and as yet undiagnosed Asperger's syndrome. She went without food for two months before realising she'd have to eat to avoid hospital admittance.
Greta had "disappeared into a darkness", her parents, Malena Ernman and Svante Thunberg, recall. She was bullied at school. She stopped laughing and playing the piano. She cried all the time – at night when she should've been sleeping, and at school, in class and during her breaks.
As well as refusing to eat, she began to refuse to go to school. She became a selective mute, which meant that she wouldn't use her voice anywhere outside the home – a particularly alarming side-effect of her illness given that it's this voice that has since made her the global presence she is today.
Food intake was written down. Lists were made of food to be "aspired" to – gnocchi, rice, avocados – and the number of minutes and hours it took to consume tiny amounts were counted and recorded, along with the number of "chews".
Amid this came Greta's growing interest in the climate. With a clarity and a single-mindedness that's associated with being on the autism spectrum, she couldn't understand why the world wasn't responding to the urgent need for zero carbon emissions.
It had been a devastating time for her family – her mother, an opera singer, had suffered her own nervous collapse, falling to the floor during a performance because of stress and worry about Greta. She was on medication for depression.
Metaphorically, their house had been on fire, but the world, as Greta was discovering, was on fire too. The lack of action to address the climate crisis seemed to give her a reason to get out of bed in the morning. But for her mother and father it was never the environmental campaigning that mattered most, more the way it seemed to be making her happy again – more the way it was, frankly, keeping her alive.
SINCE those first strikes, Greta (17) has taken on American president Donald Trump, sailed to New York to speak at the United Nations, been named as Time magazine's Person of the Year cover and delivered a speech at the World Economic Forum in Davos, Switzerland.
World leaders listen to her – or in Trump's case, are forced to listen to her, irked as he is by the power of her voice on climate change.
But in the lead-up to her first school strike, her parents had real concerns about how her message would be received. Greta would say to her father, by way of preparing for any media interest, "Question me like you're one of them."
Svante said to her, "Did your parents put you up to this? You're going to get that question all the time."
"Then I'll tell it like it is," was her response. "I'm the one who influenced you and not the other way around."
In the days after her astoundingly successful first school strike, the family received the same criticism: that Greta was a mouthpiece for "someone, a PR agency", her mother recalls. Because, by the standards of her critics, how could this awkward young teenager be acting of her own free will? How could she be so instantly successful at getting across her message armed only with a hand-painted "Skolstrejk for klimatet" [School strike for climate] sign, an Instagram account and a picture of a polar bear?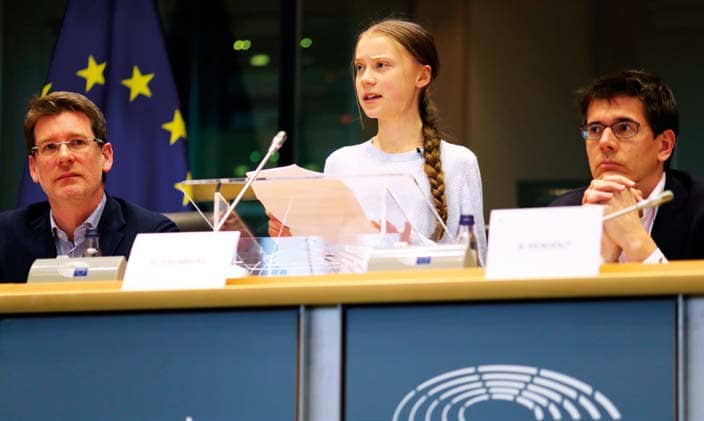 You can read upto 3 premium stories before you subscribe to Magzter GOLD
Log-in, if you are already a subscriber
Get unlimited access to thousands of curated premium stories and 5,000+ magazines
READ THE ENTIRE ISSUE
26 March 2020