'A HOSTAGE' AGAIN AFTER 20 YEARS
YOU South Africa
|
30 April 2020
Drawing on her 127 days of hell, Monique Strydom gives tips on how to handle lockdown
IT FEELS as though you're trapped in limbo. As the days of isolation stretch into weeks, you yearn to do all those things you used to take for granted – like going for coffee with friends and walking in the park.
You try to stay positive, but sometimes it's hard not to feel despondent.
Will life ever return to normal? And within this endless whirl of worry, there's also the fear that you or your loved ones could fall prey to the deadly virus wreaking havoc across the world.
If there's one person who understands this wild roller coaster ride of emotions it's Monique Strydom.
Two decades ago, on 23 April 2000, she and her now ex-husband, Callie, were taken hostage by a terrorist group while they were on a diving holiday on the Malaysian island of Sipadan and taken by boat to the remote island of Jolo in the Phillipines.
For 127 desperate days the Strydoms had to survive on tiny portions of rice, drink rainwater to quench their thirst and deal with being cooped up in a bamboo hut in the depths of the jungle while Abu Sayyaf militants, armed with machine guns and machetes, stood watch over them.
The weeks stretched into months as they, along with 19 other hostages, waited to be rescued, clutching at glimmers of hope that were so often dashed.
Twenty years on, Monique (56) thought she'd put all of this behind her – but when President Cyril Ramaphosa announced the Co vid-19 lockdown was being extended it brought back many memories.
Now, chatting to us from her home in Cape Town via Skype, she's just a face on a screen – just like she was in 2000 in the videos her captors released of her and Callie.
For months South Africans followed the couple's ordeal, watching as they got visibly thinner.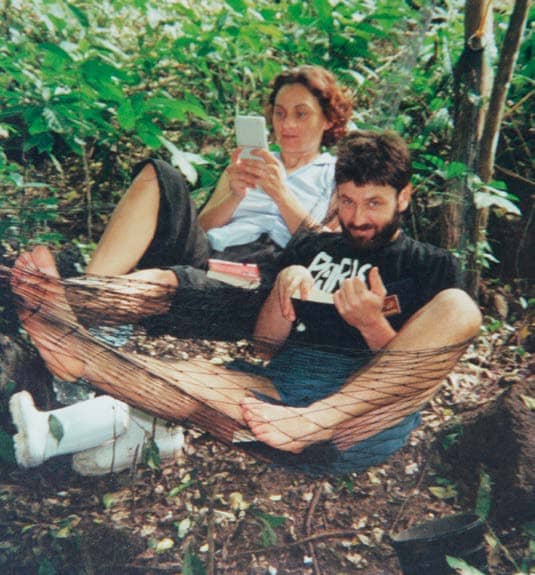 Looking back, Monique sees many parallels with the panic and uncertainty people are feeling now.
"Now, people's lives are in danger too but the intensity is different. In the jungle, we had to run for our lives at times. You're getting shot at and rebels are threatening to decapitate you.
You can read up to 3 premium stories before you subscribe to Magzter GOLD
Log in, if you are already a subscriber
Get unlimited access to thousands of curated premium stories, newspapers and 5,000+ magazines
READ THE ENTIRE ISSUE
30 April 2020