A FATHER'S IRON FIST
The ruler of Dubai has been found guilty of abducting his daughters and accused of a campaign of terror against his wife
IT'S a saga straight from the pages of an explosive thriller: an Arab princess being drugged and spirited away by helicopter. Her sister seized by a heavily armed commando in a high-speed chase on the Indian Ocean. Guns being left on pillows with their safety catches off and a helicopter swooping to try to abduct the terrified wife of a sheikh as her son clings to her legs.
But this is no make-believe story. This is just some of the extraordinary evidence recently presented to a UK court about Sheikh Moham med bin Rashid Al Maktoum, the mega-wealthy ruler of Dubai.
The testimony portrays a jaw-dropping abuse of power – with the sheikh's loved ones being on the receiving end.
The high court in London found Maktoum abducted and forcibly returned two of his daughters to his home in Dubai. He's also accused of conducting a campaign of intimidation against his wife Princess Haya after she fled and sought refuge in the UK.
After the judgments, Maktoum (70), who has a net worth of nearly R300 bil lion, unsuccessfully appealed to keep the findings out of the public domain.
His motivation – ironically – was his kids. According to the sheikh, the appeal was "made to protect the best interests and welfare of the children".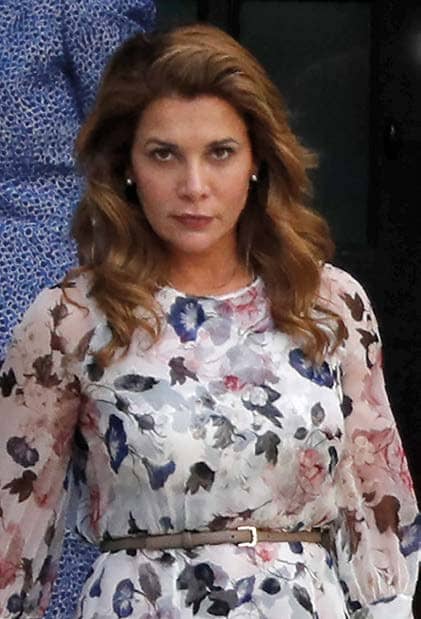 He also argued his position as the ruler of Dubai negatively affected him.
"As a head of government, I wasn't able to participate in the court's fact- finding process," he said. "This has resulted in the release of a judgment which inevitably tells only one side of the story."
THE stories that have emerged are damning to say the least.
The court found Maktoum orchestrated the abduction of two of the 23 children he has with his six wives after they tried to flee his iron grip.
Sheikha Shamsa Al Maktoum and Sheikha Latifa bint Mohammed Al Maktoum were both captured by Emirati forces and it's believed they're still being held captive in Dubai.
Princess Shamsa (now 38) was snatched from Cambridge in the UK by her father's hired heavies in 2000. She was then taken to Dubai where she was subjected to torture.
You can read upto 3 premium stories before you subscribe to Magzter GOLD
Log-in, if you are already a subscriber
Get unlimited access to thousands of curated premium stories and 5,000+ magazines
READ THE ENTIRE ISSUE
26 March 2020