Of Comics and Bipolar Disorder - A Conversation with Rachel Lindsay
World Literature Today|Spring 2020
Rachel Lindsay is a cartoonist based in Vermont and the author of a graphic memoir, RX, that was published in 2018 by Grand Central Publishing. RX explores the powerful interplay of word and image that resists biomedical prescriptivism and espouses the political potential of sharing subjective experiences of living with bipolar disorder through comics. Her comic strip "Rachel Lives Here Now" appears weekly in Seven Days, an alternative newspaper in Vermont. In our conversation with Lindsay, we discuss the pertinent issues surrounding mental health and the role of graphic memoirs in reclaiming the identity of the patient in a hierarchical biomedical system, specifically in the context of her recent memoir, RX.
Sathyaraj Venkatesan & Sweetha Saji
Sathyaraj Venkatesan & Sweetha Saji: What prompted you to create an autobiographical account of living with bipolar disorder in the comics medium? Were you into comics right from your childhood?
Rachel Lindsay: I drew comics from a young age, mostly comic strips, which I have done throughout my life. When this story presented itself to me, I knew it would be a comic because that stands as my longest and most satisfying way of communicating.
Venkatesan & Saji: How significant are visual metaphors for you in re-creating experiences that transcend literal expressions?
Lindsay: I leaned on visual metaphors a lot in the book in order to help communicate what was going on beneath the surface during my experience. In comics writing, you are always working with the principle of "show versus tell," negotiating what will be visualized versus written. I felt that it was important to have a very straightforward, unaffected narrator to shepherd the reader through the story, so I used the narration text as a more zoomed-out, hindsight-reflection voice and relied on the visuals to communicate the raw reaction and emotionality in a way that is more easily consumable. The visuals are, literally, the subtext.
Venkatesan and Saji: What choices did you make in presenting yourself in the memoir both visually and verbally? Do you feel that the comic avatar you created is more authentic than a realistic depiction of yourself?
I knew it would be a comic because that stands as my longest and most satisfying way of communicating.
Lindsay: I've been doing autobiographical and semi-autobiographical comics for about twenty years, and over time I've developed this way of drawing myself that is sort of an abbreviation of all my features with this inner-child quality in a physical sense. The cartoony-ness of my drawings enables me to have an elasticity to my character—my body and face, especially my eyes—that is the only way I can express the powerful emotions I felt. In many ways, that drawing does feel more like me than my physical body, because that character has represented me for so long in this static form, while my body has changed. However, after completing the book, I am feeling a desire to evolve that character as a reflection of this new stage of my life. I designed the narration, which is my hindsight voice, to be very removed and "sober" to offer a complementary way of expressing my thoughts and feelings that would be palatable to people who could not identify with the emotional aspects of being mentally ill and dealing with involuntary hospitalization, and to encourage them to see the bigger picture.
Venkatesan & Saji: How long did you take to complete the memoir? Would you share the significant aspects of the whole process?
Lindsay: I worked on the book bit by bit from the point of my hospitalization in 2011, but I didn't start working on it fulltime until I got my book deal in March 2016. I finished the book in December 2017. The process of writing the book was extremely traumatic. I was dealing with my usual cycles of highs and lows while simultaneously rehashing the worst time in my life. In addition to that—despite the fact that I had told this story verbally and written about it many times—making a full comic of this experience was like telling it for the first time, in the most honest way possible, in my own language of comics. Drawing my character of myself into these scenarios was almost like experiencing it for the first time, via this version of myself that feels strongly representative of my essential self. Three points during the development of the book really stick out. The first was drawing my father tackling me to the ground prior to being brought to the hospital. Drawing that moment was so upsetting that I had to get up and pace around my house every few minutes.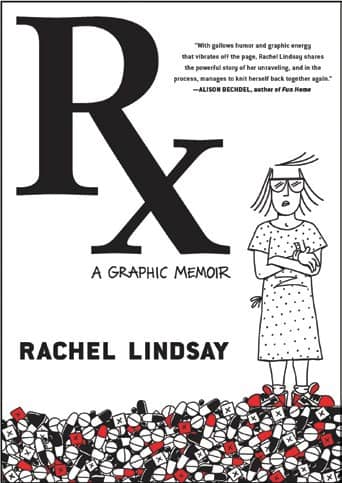 The second was the opening to the hospital section, "11N," in which I depict myself on a clipboard and then escaping, only to be caught by the "hand of God": the doctor/ medical personnel of the ward. I had been asking myself: how do I get the reader to still have full compassion for me, even as I am officially stamped crazy by being committed by the doctor, the unquestionable authority of wellness? I also wanted to integrate my hospital notes in some way but again found myself challenged by their clinical, one-sided perception of how I was presenting, which was totally devoid of the context of what I had just experienced—and what the reader had experienced with me. By showing the tension between my character's actions and this new reality of the clipboard, the reader is confronted with the conflicting perceptions of my identity that were active in my life and given the opportunity to reconcile them on their own, after having developed a relationship with that character over the first half of the book.
You can read up to 3 premium stories before you subscribe to Magzter GOLD
Log in, if you are already a subscriber
Get unlimited access to thousands of curated premium stories and 5,000+ magazines
READ THE ENTIRE ISSUE
Spring 2020