Tour De Force
After four decades, Star Wars is drawing to its epic conclusion. Lev Grossman goes behind the scenes with director J. J. Abrams and the cast for the first look at The Rise of Skywalker
There's a desert valley in southern Jordan called Wadi Rum, or sometimes "the Valley of the Moon." There are stone inscriptions in Wadi Rum that are more than 2,000 years old. Lawrence of Arabia passed through there during the Arab Revolt against the Ottoman Empire. More recently, J. J. Abrams went there to film parts of the latest Star Wars movie, The Rise of Skywalker, because it's largely uninhabited and starkly beautiful and looks plausibly alien, and one of the things that has always made the Star Wars movies feel so real—as if they had a real life of their own that continues on out beyond the edges of the screen—is the way they're shot on location, with as few digital effects as possible. George Lucas shot the Tatooine scenes from A New Hope in southern Tunisia. For Skywalker, it's Wadi Rum.

They don't do it that way because it's easy. Abrams and his crew had to build miles of road into the desert. They basically had to set up a small town out there, populated by the cast and extras and crew—the creature-effects department alone had 70 people. The Jordanian military got involved. The Jordanian royal family got involved. There was sand. There were sandstorms, when all you could do was take cover and huddle in your tent and—if you're John Boyega, who plays the ex-Stormtrooper Finn—listen to reggae.

But in a way that's the whole point: you're out there so the world can get up in your grill and make its presence felt on film. "It's the things that you can't anticipate—the imperfections," says Oscar Isaac, who plays the Resistance pilot Poe Dameron. "It's very difficult to design imperfection, and the imperfections that you have in these environments immediately create a sense of authenticity. You just believe it more." When Isaac arrived in Wadi Rum for his first week of shooting, Abrams had set up a massive greenscreen in the middle of the desert. "And I was like, 'J. J., can I ask you a question? I notice we're shooting on greenscreen.' And he's like, 'So why the hell are we in the desert?' And I'm like, 'Yeah!' And he said, 'Well, because look: the way that the sand interacts with the light, and the type of shots you would set up—if you were designing the shot on a computer you would never even think to do that.' There's something about the way that the light and the environment and everything plays together." It's that something, the presence and the details and the analog imperfections of a real nondigital place, that makes Star Wars so powerful.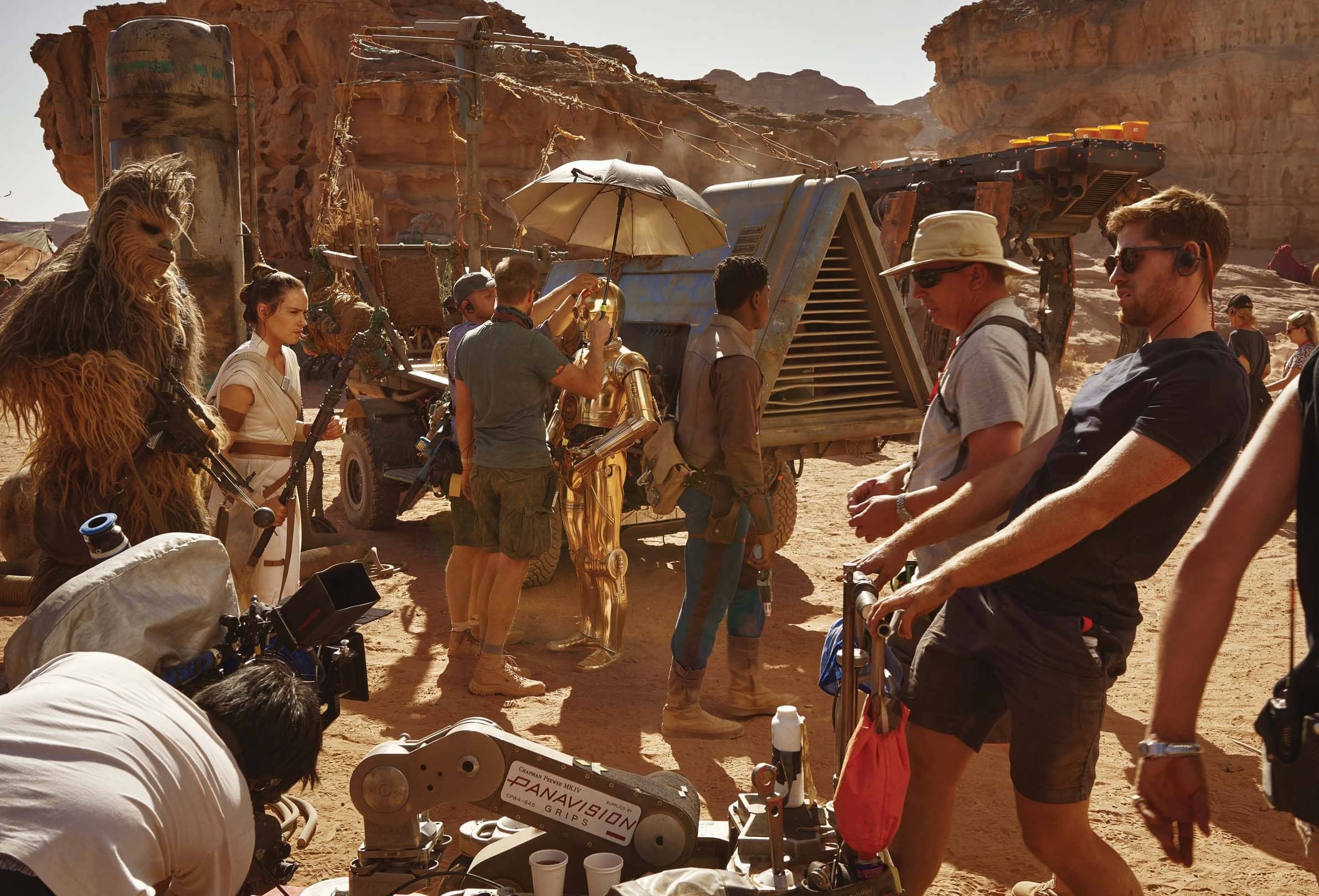 It was powerful enough to bring 65,000 people to Chicago in April for Star Wars Celebration, a fan convention where you could see a giant Stormtrooper head made out of 36,440 tiny Lego Stormtrooper mini-figures, which is a world record of some kind, though I'm not sure exactly what, and where people were dressed up as Muppets who were themselves dressed up as Star Wars characters. But the main event was the launch of the trailer for The Rise of Skywalker, which was held in a 10,000-seat arena and was such a big deal that even though the trailer was going to be released on the Internet literally seconds after it was over, I—an at least theoretically respectable member of the media—was not only tagged, wristbanded, escorted, and metal-detected, but sniffed by a K-9 unit before I could go in.
I sat down with Abrams a couple of hours later. For the occasion, he was wearing a suit so black and sharp, he could have been doing Men in Black cosplay, but his most distinctive feature is his dark curly hair, which is upswept in a way that is only slightly suggestive of devil horns. Abrams talks rapidly, as if he can barely keep up with the things his racing brain is telling him to say. When I told him that not only was Star Wars the No. 1 trending topic on Twitter, but that all 10 of the Top 10 trending topics were Star Wars–related, and that he personally was No. 5, he was visibly stunned.
Then he recovered enough to say: "Well, I aspire to No. 4." (For the record, No. 4 was the late Supreme Leader Snoke, who frankly did seem beatable. If you're curious, No. 11 was pro golfer Zach Johnson, who had just accidentally hit his ball with a practice swing at the Masters. Life goes on.)
Disney executives talk about how important it is to "eventize" Star Wars movies; i.e., to make them feel not just like movies but like seriously momentous occasions. They won't have much trouble with this one: The Rise of Skywalker isn't just the last movie in the Star Wars trilogy that began in 2015 with The Force Awakens; it's the last movie in a literal, actual trilogy of trilogies that started with the very first Star Wars movie back in 1977, which began the saga of the Skywalker family. The Rise of Skywalker will finally, after 42 years, bring that saga to an end.
We all thought the story was over in 1983 with Return of the Jedi, and then we really thought it was over in 2005 with Revenge of the Sith. But Star Wars has always been an unruly beast, too big and powerful (and profitable) to be contained in one movie, or even in a trilogy, or even in two trilogies, let alone numberless novels, TV shows, comics, video games, Happy Meals, and so on. Now Abrams has to gather all those threads and bring closure to a story that was started by somebody else, in an America that feels a very long time ago indeed. "That's the challenge of this movie," Abrams says. "It wasn't just to make one film that as a stand-alone experience would be thrilling, and scary, and emotional, and funny, but one that if you were to watch all nine of the films, you'd feel like, Well, of course—that!"
Like a lot of things that we now can't imagine life without, Star Wars came really close to never happening in the first place. In 1971, Lucas was a serious young auteur just five years out of film school at
U.S.C. He had only one full-length movie on his résumé, and that was THX 1138, which is the kind of visionary but grindingly earnest science-fiction epic that only the French could love. (They were pretty much the only ones who did.) Everybody expected Lucas to go on and make serious, gritty 1970s cinema like his peers, Brian De Palma and Francis Ford Coppola. At the time Lucas and Coppola were actively planning a radical epic set in Vietnam with the provocative title Apocalypse Now.
But Coppola would have to finish that one on his own, because Lucas went a different way. "I had decided there was no modern mythology," he said in 1997. "I wanted to take old myths and put them into a new format that young people could relate to. Mythology always existed in unusual, unknown environments, so I chose space." Lucas tried to acquire the rights to Flash Gordon (that would've been a dark timeline indeed), but when he couldn't, he came up with his own original science-fictional epic instead. He called it The Star Wars. Like The Facebook, it would have to shed a direct article on its way to glory.
Even though American Graffiti had made Lucas a bankable director, Star Wars still came together slowly. In the first draft, Luke was an old man, Leia was 14, and Han Solo was "a huge green-skinned monster with no nose and large gills." Fox executives were baffled by Star Wars, and they squeezed Lucas relentlessly for time and money. We forget now how jerry-rigged the first movie was: the cantina aliens weren't finished, and the monumental Star Destroyer that dominates the opening shot is, in reality, about three feet long. The Death Star interior is basically one set re-arranged several different ways. To make Greedo's mouth move, the woman in the Greedo suit had to hold a clothespin in her mouth. "What I remember about working on the first film," says John Williams, the legendary soundtrack composer, "is the fact that I didn't ever think there would be a second film." (He also, like everybody else, thought Luke and Leia were going to get together, so he wrote them a love theme.)
But wherever real mythology comes from, Lucas had gone there and brought something back alive. People wanted movies that gave them something to believe in instead of relentlessly autopsying the beliefs that had failed them. We'd had enough of antiheroes. We needed some anti-antiheroes. "I realized after THX that people don't care about how the country's being ruined," Lucas said. "We've got to regenerate optimism." Like American Graffiti, Star Wars is a work of profound nostalgia, a postVietnam, post-Watergate anthem of longing for the restoration of a true and just power in the universe—the return of the king. And at the same time it's a very personal hero's journey, about a boy who must put right the sins of his father and master the strange power he finds within himself, and in doing so become a man.
Star Wars is also an incredibly enduring vision of what it's like to live in a world of super-advanced technology. Science fiction often ages badly, turning into kitsch or camp—just look at Flash Gordon—but Star Wars hasn't. More than any filmmaker before him, Lucas successfully imagined what a science-fictional world would feel like to somebody who was actually inside it—which is to say, it would look as ordinary and workaday as the present. He even shot it like it was real, working close-in and mostly eschewing wide establishing shots, more like a documentary or a newsreel than a space opera. "It feels very grounded," says Naomi Ackie, who's making her Star Wars debut in Skywalker playing a character named Jannah, about whom she is allowed to say literally nothing. "There's the kind of spectacular-ness, and the supernatural move-things-with-your-mind magic stuff, but then there's also this really grounded, rugged nature where everything is distressed and old and kind of worn out and livedin. And I think playing with those two ideas means that you get this feeling that it could almost be real. Like, in a galaxy far away, it could almost be the case that you could have this."
When Lucas made the first Star Wars sequel, The Empire Strikes Back, he cheekily labeled it Episode V, then went back and re-labeled the first movie as Episode IV, as if the movies were an old-fashioned serial that the rest of us were all just tuning in to. Around that time, he also started talking about Star Wars as a nine-part epic—so in 2012, when Lucas retired and sold Lucasfilm to Disney, it wasn't exactly heresy that Disney announced more movies. At the time, Kathleen Kennedy had just been named co-chairperson of Lucasfilm, and she tapped Abrams to direct the first Disney-owned post-Lucas Star Wars movie. It was a bit like saying, Make the lightning strike again, please. Exactly here, if you could. Oh, and could you also earn back that $4 billion we just spent to buy Lucasfilm? (Narrator voice: He could.)
At first blush, Abrams's debut Star Wars movie, The Force Awakens, looked like an elaborate homage to the original. Just like in A New Hope, there's a young Force-sensitive person on a poor desert planet—that's Rey, played by Daisy Ridley—who finds a droid with a secret message that's vital to the Rebellion (or wait, sorry, it's the Resistance now). There's a villain in a black mask, just like Darth Vader, except that it's his grandson Kylo Ren (Adam Driver), né Ben Solo, son of Han and Leia. Kylo has a planet-killing weapon, much like the Death Star but way bigger, which becomes the target of a desperate attack by Resistance X-wings. There's even a bar full of aliens.
You can read up to 3 premium stories before you subscribe to Magzter GOLD
Log in, if you are already a subscriber
Get unlimited access to thousands of curated premium stories, newspapers and 5,000+ magazines
READ THE ENTIRE ISSUE
Summer 2019