J.Who?
THE GROUND IS QUAKING FOR THE BRAND BUILT ON POSH PREP. JENNA LYONS IS LONG GONE, MICKEY DREXLER HAS BEEN DETHRONED. CAN THE COMPANY FIND ITSELF—AND ITS CUSTOMERS— AGAIN?
On a sun-dappled summer day 10 years ago, a balding, slightly manic man threw open the door of the J. Crew Collection boutique on the corner of Madison Avenue at 79th Street and made a beeline for the first employee he spotted. "Hey, who are you?" he demanded of a college student—let's call her Emma—re-folding the stack of cashmere sweaters she'd folded a hundred times that summer. "Um, Emma?" she replied. "Emma! We have Emma!" the man exclaimed, his Bronx accent reverberating through the almost empty store. She looked around. Who was "we"? "O.K., Emma, whaddya think— how are we doing with these sweaters?" It took a second to spot his cell-phone headset, and another to realize that Millard "Mickey" Drexler, her boss's boss's (boss's boss's) boss, was conferencing this impromptu recon session back to corporate. Only later would she learn that such calls were piped through the entire company HQ, via Drexler's infamous intercom system. Emma wasn't just talking to the C.E.O. of J. Crew. She was talking to all of J. Crew.

In corporate fashion, where decisions tend to be handed down like decrees, Mickey Drexler reveled in the scrum. For 14 years, he paced—and sometimes biked—the halls of J. Crew's multi-story headquarters near Manhattan's St. Mark's Place, interrogating everybody he came across: salespeople, designers, the mail guy. Over fried artichokes at Morandi, or in the office, over sliced peaches he had flown in from California, he peppered business talk with colorful tales about, say, the submarine he once toured with the founder of Under Armour. When it was time to choose the cover of the next catalogue, he convened a room of employees and put it to a vote. Sure, everyone knew this was mostly an exercise— chances are, the creative whizzes would talk Mickey into the cover they'd picked from the get-go—but so what? Everyone was game. If you worked for Drexler, you did not merely pocket a paycheck. You wore, lived, breathed J. Crew. Quips a former employee, "We were a bunch of not-as-cute catalogue models."

Here's the thing about Kool-Aid drinkers: they work hard. Together with designer Jenna Lyons—his right hand and the brand's creative engine throughout most of his tenure—Drexler built a team that breathed an unlikely second life into a mid-tier catalogue label, erecting a powerhouse that enjoyed an extended stretch near the top of fashion's roller coaster. That stretch made Drexler rich—or richer, anyway. It made Lyons famous: she is as recognizable as Donna Karan, Vera Wang, or Tory Burch, women with their own names on their doors. And in what had been a dead zone between designer and mass fashion, it gave American shoppers a conveniently located, approachably priced land of notso-basics (peppy, preppy cropped Minnie trousers; slim Tippi sweaters) with real mojo (sequin-dappled tanks, cropped jacquard party pants)—so much so that buying them could feel a little like buying, and buying into, Fashion, or something convincingly close to it. For a time, J. Crew conjured a blend of relevance and emotional resonance that any brand, at any price, would kill to achieve.

But as anyone who has entered a J. Crew store recently can tell you—and as many insiders asserted in interviews— the only discernible feeling the company has evoked in recent months is ennui. The clothes and the imagery that once made them covetable have become hohum, somehow drained of spirit. And the headlines surrounding the company have been even worse. Since 2014, J. Crew has been steadily clacking back down the tracks it once ascended, shedding money and influence, not to mention executives—most notably in 2017, with the exit of Lyons, Drexler, and longtime men's-wear designer Frank Muytjens. When that losing streak continued this past November, with the departure of the guy who'd been brought in to fix it, C.E.O. Jim Brett—who lasted a mere 16 months—the forecast appeared ominous. Brett's tenure had been tumultuous and, to a team still loyal to Drexler and Lyons, bruising; senior employees report feeling as if they had a new boss every week. After Brett left, the company spent months in a no-man's land, run by a committee of executives described rather uninspiringly as the "office of the C.E.O.," its fashions designed until this past winter by Johanna Uurasjarvi, whose imprimatur, even to many inside the company, was hardly felt. All of which seemed possibly irrelevant anyway, given rumblings in the business press about an insurmountable debt that, according to a source in a Washington Post article, makes any turnaround plans the equivalent of "rearranging deck chairs on the Titanic." In addition to that nearly $2 billion debt load, the company reported a net income loss of $120 million for the last fiscal year.
Starting in February, J. Crew began implementing its latest attempt at self preservation. The company named 36-year-old designer Chris Benz V.P. of women's design. For Benz, who is coming off a four-year stint running the relatively small label of American sportswear legend Bill Blass, the gig is a homecoming of sorts. When he was fresh out of Parsons School of Design, Benz spent more than a year working under Lyons and Drexler at J. Crew, before departing in 2006 to launch his own now-defunct collection. Appointing a fashion-world darling known for his courtly charm and his penchant for undiluted color has the potential to both reinvigorate the aesthetic and stanch the bleeding. Even in his first few months on the job, Benz's presence has inspired some optimism within J. Crew's dispirited ranks. But Benz is somewhat untested, and the company's empty throne—vacated by the enormous presence of Drexler—remains only partially filled. In April, after talks to woo former Ralph Lauren C.E.O. Stefan Larsson fell apart—due, it is said, to Larsson's belief that the company coffers are too depleted to execute the necessary turnaround—J. Crew announced the appointment of an interim C.E.O., former president and C.O.O. Michael J. Nicholson, who had been one of the foursome running the "office of the C.E.O." The highs and lows of J. Crew tell not just a tale of a retail giant now desperately in need of re-invention—though they do that, too— but one of power, personality, and the evolution of American style.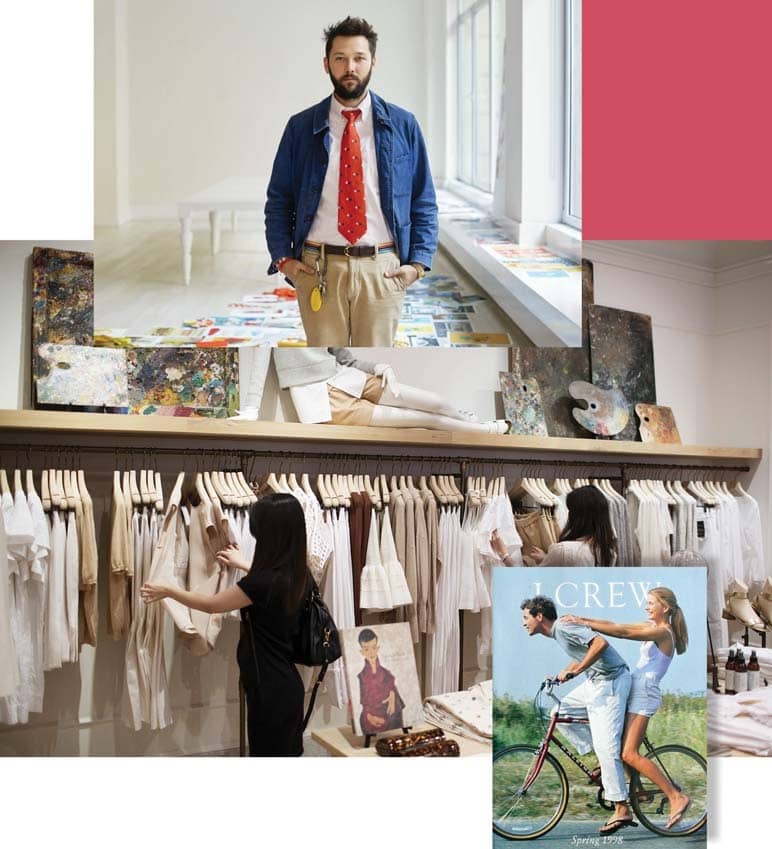 J. Crew was born in 1983, three years after Lisa Birnbach crystallized the world of boarding school, Top-Siders, and pearlwearing Muffys in her seminal Official Preppy Handbook. Founder Arthur Cinader conceived J. Crew as a chicer women's alternative to newly successful cataloguers Lands' End and L. L. Bean—that would sell the Ralph Lauren look at half the price. Ralph had already laid claim to the landedgentry sport of polo, so Cinader settled for crew, added a J for flourish, and shot the first catalogue at Harvard's Weld Boathouse, home of the women's crew team. J. Crew has always been about context, and viewed in the bosom of casual privilege, simple roll-neck sweaters, weathered chinos, and rough-hewn barn jackets spoke to Ivy Leaguers and aspirants alike. The brand became, as The New York Observer once noted, a "proselytizer for the sun-splashed, ruddy-cheeked American Dream"—in an America that extended precisely, according to a 1989 catalogue, from "Kennebunk to Nantucket, Narragansett Bay to Amagansett, and points South and West." (South and West being, presumably, Connecticut.)
Over the years, countless style tribes have adopted, deconstructed, and reconstituted whatever "preppy" means, but at its core, J. Crew has always implied collegiate, polished, privileged. The narrowness of the world the company first opened a window to is now, thankfully, a thing of the past. There is no one way to look or dress "American." So how do you resuscitate a brand built on this definition? And is there still room for it?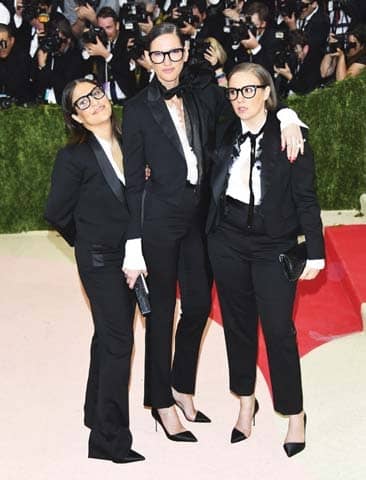 The son of a Garment District fabric-and-button buyer, Mickey Drexler grew up sleeping in the foyer of his family's Bronx apartment and dreaming of finer things. He started out at Bloomingdale's earning $11,500 a year, made his name at Ann Taylor, and beginning in 1983, engineered a turnaround that made retail history. At Gap, Drexler overhauled Banana Republic; launched bread-and-butter offshoot Old Navy; and, at the mother ship, even made the humble khaki seem kinda sexy. A $480 million jeans-and-tees business morphed into a $14 billion behemoth, earning Drexler a sobriquet that has stuck: the Merchant Prince. But in 2000, sales plummeted; stocks sank more than 75 percent. In 2002, Drexler was out.
Drexler took his $100-million-plus in Gap stock and bought, among other things, his own Gulfstream. But he passed over a multi-million-dollar severance package that would have entailed a non-compete clause. The Merchant Prince wasn't going out like that. Within months, he'd taken over as chairman and C.E.O. of J. Crew. It was less than one-twentieth the size of Gap, and had just cycled through four C.E.O.'s in five years. But.
The day Drexler walked in the door, every employee knew they were auditioning for their jobs. Drexler had been tipped offby a colleague to look out for Jenna Lyons, then V.P. of women's design. On day two, he had her go through a lineup of new looks, selecting only the items she believed in. As rejects piled up, "I was so confused, and I was scared, but I was also a little bit excited," Lyons later said. "All the things that I liked and that I thought were brand-right he was leaving up on the wall. And I was like, Is that good, is that bad? I don't know."
The brand's beleaguered design team, accustomed to a spreadsheet mentality— churn out X chinos in Y colors, repeat—were suddenly given what felt like creative carte blanche. Drexler "put the product and the design before the business, in a way," recalls a former employee. "He made the creative drive the business."
You can read up to 3 premium stories before you subscribe to Magzter GOLD
Log in, if you are already a subscriber
Get unlimited access to thousands of curated premium stories, newspapers and 5,000+ magazines
READ THE ENTIRE ISSUE
Summer 2019