NEW ADVENTURES IN Sound
"We like sounds that are slightly askew and wrong!" says Biffy Clyro's guitarist/vocalist Simon Neil. With the band's powerful and experimental new album, A Celebration Of Endings, released this month, he discusses his love of the Strat and his "life-changer" new pedal, his go-to gear and tones, the influence of Soundgarden and Rush, and the art of writing a rock anthem...
W
hen
Total Guitar
tells Simon Neil that his lyrics for latest single
Instant History –specifically the line 'This is the sound that we
make, I love the sound when it breaks' – feel like a reference to his stadium-conquering crunch tones, the Biffy Clyro singer/guitarist grins with excitement.
"That's absolutely what I mean!" he explains. "I managed to get a Sunn O))) Drone pedal, that's what you're hearing through the chorus and it's honestly one of the best bits of kit I've ever bought – just really twisted and an absolute life-changer. It was a limited edition one, which cost a small fortune, but I think they make another version now. I cannot recommend it enough. Which is why I liked sticking it in such a pop song. So I totally agree... And it's a little ironic that I'm singing that when it's a song that doesn't probably sound too much like what we're doing. But that key line represents where Biffy sits in the world of things. We like the sounds that are slightly askew and wrong!"
That flair for all things unexpected and off-kilter stretches back to the experimental math-rock the Scottish trio started out playing, though – now in their 25th year as a band – it's the latter half of their career that has seen them evolve into one of the most admired rock acts of the modern age. Talking to us ahead of the release of ninth opus A Celebration Of Endings, in an interview that runs well past its allocation, the Biffy Clyro frontman is as gracious and forthcoming as it gets, with no shortage of revelations and tips to share...
You're one of the biggest British songwriters of a generation. What have you learned about penning anthems? "
Normally when I start writing a record, the stranger and more defining characteristics come out in my initial songwriting spark. That will usually be 10 to 15 songs to start with, letting me know where my mind is sitting and where the music is going. As for tweaking, I've learned to be more efficient with the flow of a song. If it has that moment where your goosebumps are going and it feels like the wind's been knocked out of you because of a melody or key change, I will do whatever that moment needs. Some songs should be five minutes long, they need a few climaxes to build into that last minute as its most important part. For other songs, it's literally just one melody making you feel all sorts of ways. You learn how to maximise that only through writing music over years."
During which you become less precious about your ideas?
"Exactly. Sometimes the initial spark or riff will end up being removed from a song entirely. Take Sunrise from our movie soundtrack [2019's Balance, Not Symmetry] – the actual main offended up getting cut and it turned into a more complex tune. Maybe when I was starting to write, I would have said, 'Well, no, that bit needs to stay in because it's where the whole song came from!' Sometimes, the simpler a song is, the better. Now I can hear something and know if it needs to sound open and widescreen, or twisted and tightly knit, and arguably less friendly. It's about letting the song tell me what it needs and not being afraid of being brutal with it."
You've been using a Strat since day one. What makes it the instrument that speaks to you?
"For me, it's always been about the dynamic of a Stratocaster. I've always played guitar with a really heavy right hand. Because I learned violin before guitar, I ended up using my fourth finger for every chord, it was always all fingers on! That can give me a more beautiful chord or something more atonal. There's also that rhythmic dynamic from one guitar, especially playing in a three piece. We have the bottom end filled out by the bass, so I never felt like I needed a Les Paul in our band. I need something more abrasive and attacking. I honestly couldn't imagine stepping on stage with another guitar. If I got handed a Les Paul, I'd need a top hat or something! I like my Strat to sound like someone losing their mind and clawing at the door, trying to get the f*ck out of the room!"
So, what was the main one for this album, then?
"I've been lucky to have a good few over the years, but for the last few records, I've been using a Michael Landau reissue Strat.
I swear I've used that on every single song since discovering it. The sound of that thing is just perfection – the intonation is perfect, it sounds as good on the 15th fret as it does open and I can get a lot of weight out of it. For a lot of Biffy songs I tune down to an open C or DADGAD or something similar, and sometimes Strats can struggle a bit if you tune low. But this Michael Landau signature can handle everything I throw at it. Actually, the opening song, North Of No South, is the first I've recorded where there's only one track – it's that guitar going into a JHS pedal called The Kilt and a Vox amplifier with one mic. We wanted it to be as lo-as possible and it gave that Strat a potency I've never achieved on any record. You get the heaviness of the bottom end but it still sounds like a Fender!"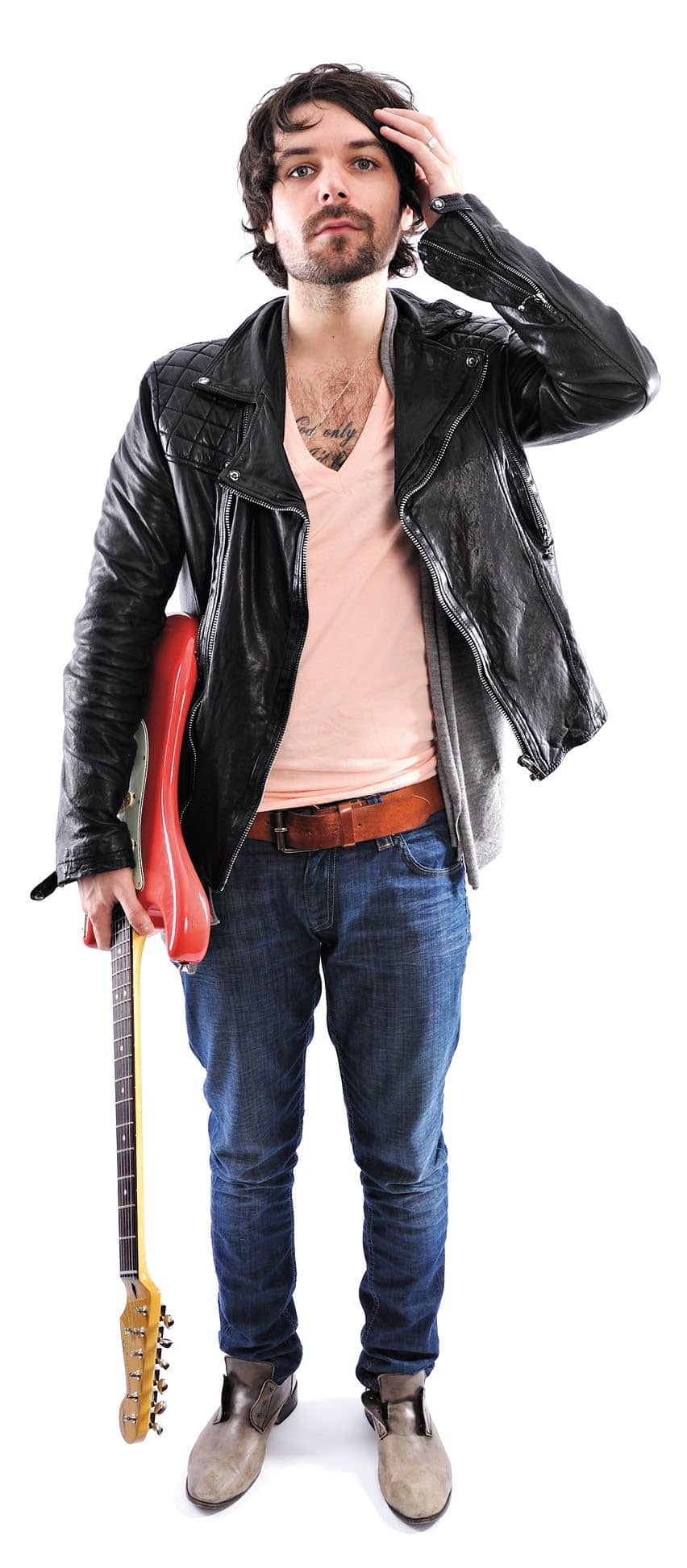 You can read up to 3 premium stories before you subscribe to Magzter GOLD
Log in, if you are already a subscriber
Get unlimited access to thousands of curated premium stories, newspapers and 5,000+ magazines
READ THE ENTIRE ISSUE
Summer 2020