Man of The World
Total Guitar
|
September 2020
IN HIS HEARTFELT TRIBUTE TO PETER GREEN, METALLICA'S KIRK HAMMETT EXPLAINS HOW THE FORMER BLUESBREAKER AND FLEETWOOD MAC GUITARIST'S VIRTUOSO PLAYING, EAR FOR DARKNESS, AND LEGENDARY '59 LES PAUL – AKA GREENY – CHANGED HIS LIFE, AND WHY IT WAS SO IMPORTANT THAT HE TOOK IT ALONG FOR A SPECIAL REUNION
K
irk Hammett knew that paying visit to Peter Green was the right thing to do, and yet the Metallica guitarist couldn't shake the feeling that it could all go wrong. As "the caretaker" of Peter Green's stage-weathered 1959 Gibson Les Paul, aka Greeny, the famous 'Burst with a magical tone secret that Green sold to the late Gary Moore in 1970 for $300, Hammett felt it in his bones. He would visit the former Bluesbreaker and Fleetwood Mac guitarist at Green's home in the Isle of Dogs, London. He would take Greeny, pay his dues, and talk shop with the player whose preternaturally gifted feel and tone gave BB King "the cold sweats" and set the benchmark for British blues. And yet the whole idea was giving him the heebie geebies.
"To be honest I was a little bit nervous and... Scared!" Hammett laughs. "It's hard to gauge how someone with a reputation like that was going to react to meeting someone like me. On my way over there, the unpredictability of the situation was driving me crazy the whole time." The psychic weight of this encounter is written all over the excitable cadence in Hammett's voice some six months on.
"When we first got there and we walked in, it was kind of, like, he was looking at me, I was looking at him," Hammett continues. "We were just kinda checking each other out, seeing what the energy level was, what the emotional state of mind was. After about 10 minutes or so I started bringing up the fishing in Hawaii, and poles, fishing reels, y'know... Fish! [Laughs] That really broke the ice with him, and after that, he was much more conversable and the mood in the room was much, much better."
The pair had a lot to talk about. There was Greeny. That guitar is but mahogany and maple, metal and hide glue, and yet it has assumed a mythological importance pop culture, the connective tissue joining three evolutionary strides in the blues-rock continuum. Peter Green's dynamic, trailblazing style; Gary Moore's muscular chops and molten sustain; Kirk Hammett's hyper-kinetic leads and the spectacle of stadium metal: Greeny has been on a journey.
"It was really important for me to come in, meet Peter, and let him know that I had this instrument that he had 50 years ago that he wrote all these amazing songs on," says Hammett. "It was important to let him know that the guitar was in safe hands and that I was a huge fan of his."
They shared a moment. Hammett laid it all out. "I sat down and I looked him straight into the eye," says Hammett. "I said, 'Peter, y'know, I just need to tell you this on behalf of myself and guitar players all over the world, your influence is still felt everywhere, and it is just as huge, if not bigger, than it has ever been, and you continue to inspire generations of guitar players.' [Pauses] And he just looked at me, shook his head, and changed the subject!"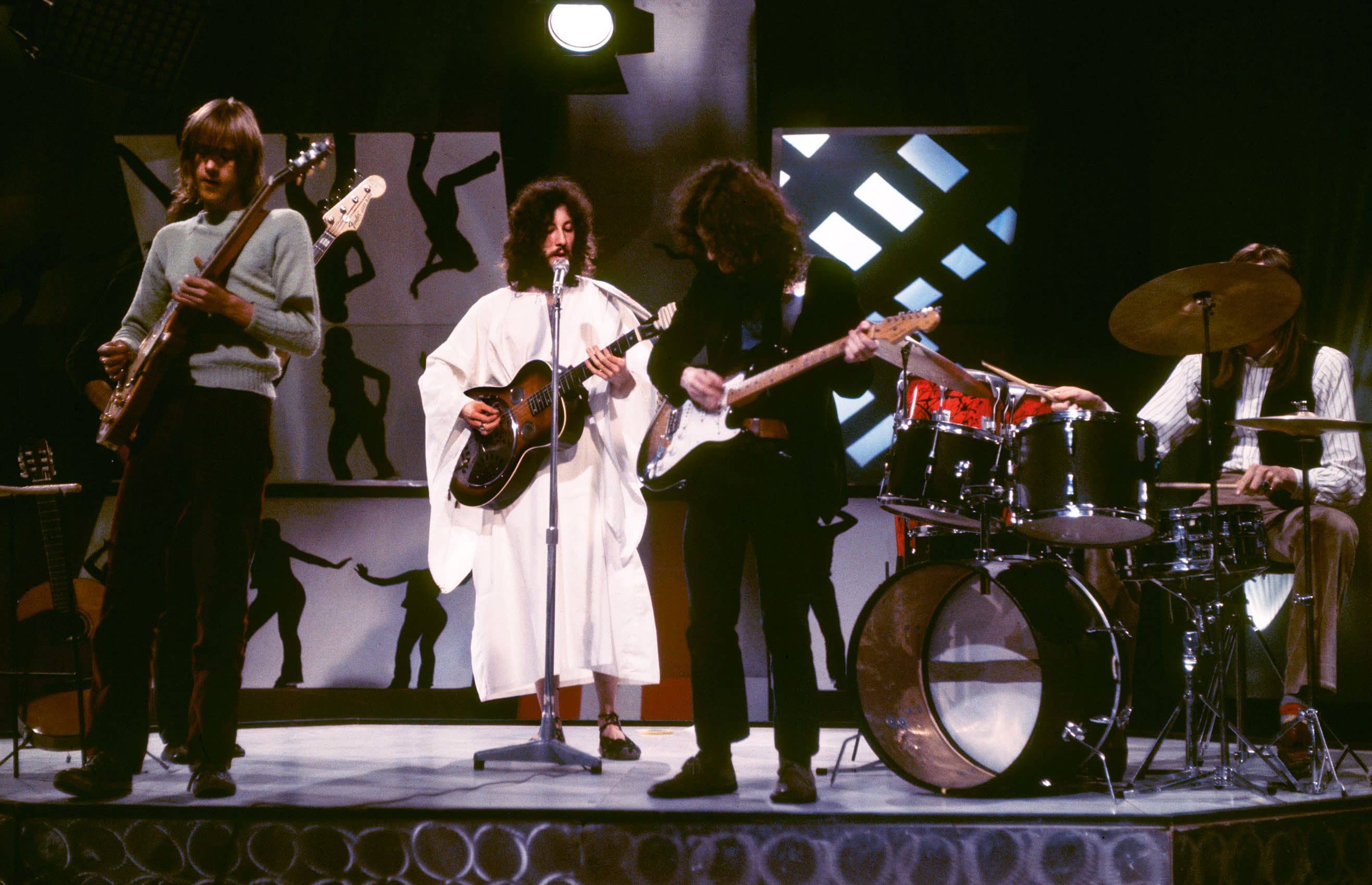 The Green Manalishi And the Hellhound That Barks Still...
Hammett is laughing at the memory, at underestimating the stolid reserve of a septuagenarian Englishman. "It made me feel really weird, but I could tell it touched something in him," he protests. "It was really, really cool, and it ended up being a really nice visit." Green might not have been visibly moved by his tribute but Hammett is 100 per cent correct. Green's influence is profound. In recent years, perhaps accelerated by online discoveries, or brought into focus by the coming 50th anniversary of Green's departure from Fleetwood Mac, there has been a growing interest in Green's life.
You can read up to 3 premium stories before you subscribe to Magzter GOLD
Log in, if you are already a subscriber
Get unlimited access to thousands of curated premium stories, newspapers and 5,000+ magazines
READ THE ENTIRE ISSUE
September 2020