EVERYTHING IN ITS RIGHT PLACE
Total Guitar|May 2020
With his debut solo album released this month, Radiohead guitarist Ed O'Brien welcomes TG into the London studio where the album was recorded, and talks in depth about his creative process, the vast array of guitars and gear he uses, the influences that shaped his new music – from electronica to Keith Richards and Rush – and his role in one of the world's most important guitar bands...
"It's magnificent... Like an old Rolls Royce," says Radiohead guitarist Ed O'Brien, pointing to the Cadac desk which once belonged to his main band and ended up being sold to producers Alan Moulder and Flood. It was here at West London's Assault & Battery Studios, with Moulder and Flood, that O'Brien recorded and mixed parts of his first solo record as EOB. Prior to that, the analogue console had resided at Wessex Sound Studios and was used to track some of the greatest rock albums of the late 70s, including the Sex Pistols' Never Mind The Bollocks, The Clash's London Calling and Queen's Sheer Heart Attack. This old console has earned its place in history – and the same could be said of O'Brien himself.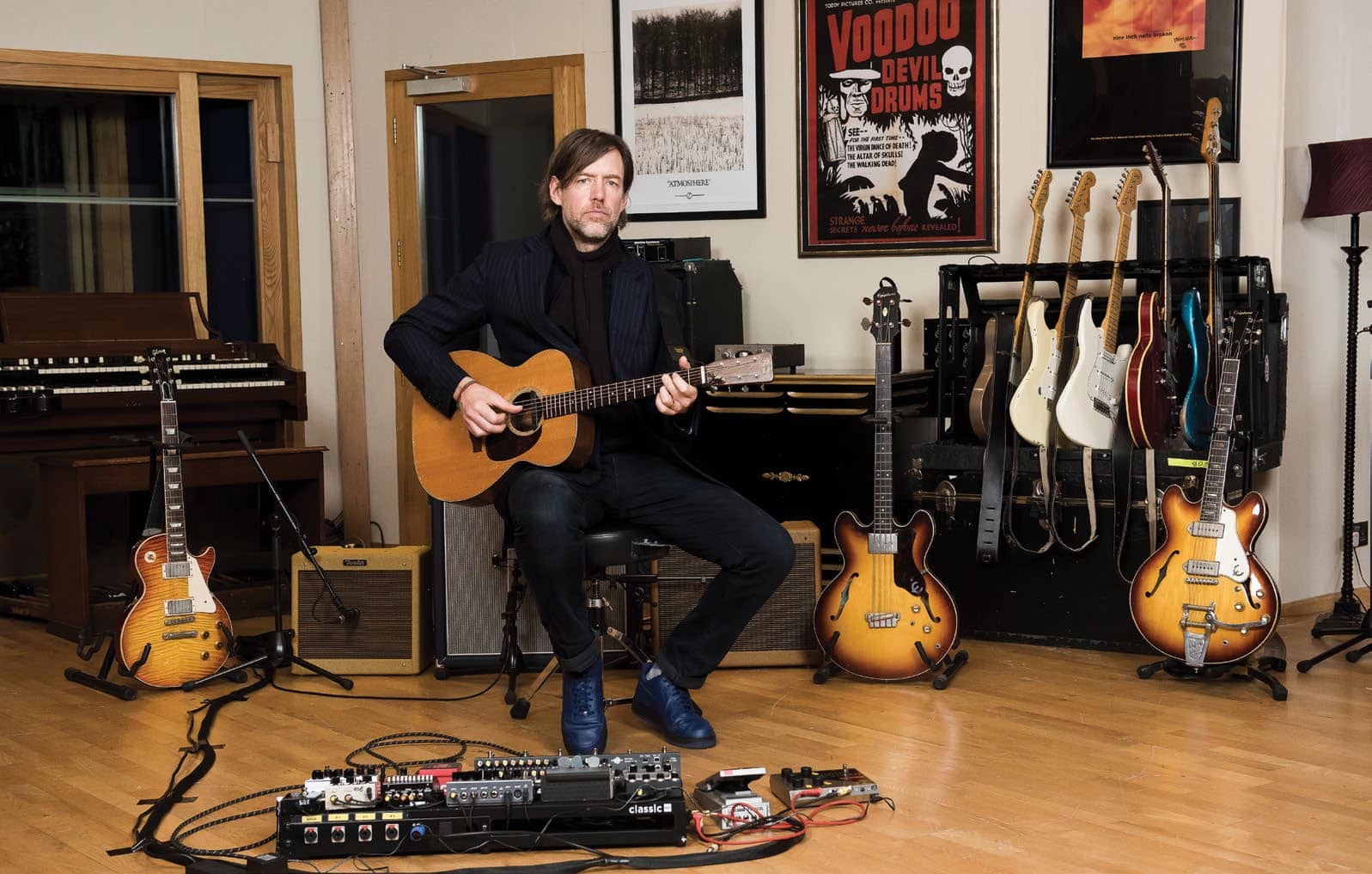 As a founding member of one of the most important guitar bands in popular music, O'Brien has been the recipient of countless awards and accolades, although he chooses not to dwell on such merits. Instead, he is the kind of musician who prefers to live in the present – you quickly get the impression he only measures himself on what he has in front of him right now. Over an afternoon of walking TG through the guitars, amps and pedals used on Earth, plucking through Beatlesy closer Cloak Of The Night on his Martin during our photo shoot, the Radiohead guitarist is every bit as earnest and sincere as the music he is known for.
"It's funny, because people thought this would be more of an ambient album or textural kind of thing," he says, when told this latest work is surprisingly guitar-heavy in places. "Maybe that's what they see as my role in Radiohead. A lot of the responses so far have been like, 'I had no idea you'd do something like this,' which is always great to hear. With this, I wanted to make something very direct, but I guess with all that texture and colour, too..."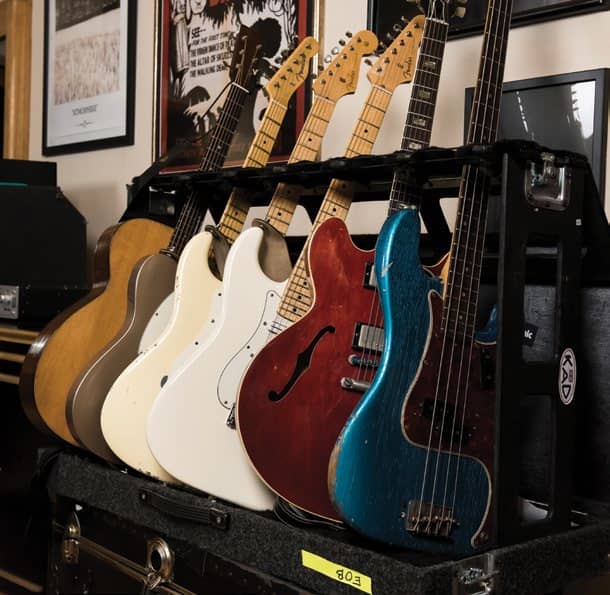 You started writing in Brazil. Was the environment reflected in what you came out with?
"For me, being in Brazil made me feel like I had time... And it had been years since I felt like that. I could dedicate myself to being a songwriter because I never really had the time before or worked out how to do it. I'd written bits and pieces like getting the computer out, a lot of electronic gear and making something electronic, but after about six weeks I wasn't getting anything back. Normally you get over the hump of things and know where to give it a start. Then I saw my Martin 000 sitting in the corner and I realised all I wanted to do was pick it up and start playing it. And so I did – I thought, 'Fuck this, let's do what I want to do rather than what I think I should be doing!'"
So the foundation was more guitar than synth?
"It was a real eye-opener, which started the process. When we moved back to Britain in 2013 – playing that Martin acoustic in my shed, that's when things really started happening. I found a way of writing that worked for me. I got out of the way, basically. I let it happen and stayed in that semi-meditative state that this stuff gets written in. Once I started demoing with Ian Davenport at Courtyard Studios in Oxfordshire, it was like, 'Okay – yeah, I want to make a solo record now'. I didn't know if I would be singing or someone else would, it was more a case of one step at a time, so I did some guide vocals which were enough to start dreaming it all up."
What's the story behind the Martin?
"I bought it in LA around 2009. We were there for the Grammy Awards as In Rainbows was up for Best Album. I had a bit of a spree during that trip; I just felt like I needed some new instruments. I bought that, a '72 Tele and an old '68 Fender amp, some kind of 6x10 Silverface. I actually bought the Martin from that big store on Sunset, Guitar Center, because they had a big vintage section. I don't really know what the good shit is, I'm somebody who picks things up to find out. I felt there was a nice tone to it. I wanted something old, wood and folky. It had to feel like it was of the trees and woods."
Speaking of which, there's a folky side of you on these recordings that we hadn't quite heard in Radiohead...
"That's probably because it's never been in Radiohead! Those parts were the kind of thing that Thom would come up with – he'll have written a song on his acoustic guitar so those kinds of rhythm picky bits he would play. I mean, Street Spirit (Fade Out) is the only thing I can think of which he had written but I played. I did the arpeggio thing, but I can't remember why I ended up playing it. So those are traditionally his parts. My role in Radiohead is different. One of the things I've loved about this whole project is I get to play all the guitars! I love all the sonics and sound stuff, but I really love playing rhythm guitar and bass, too."
The guitars on opening track Shangri-La get pretty hairy at points. What exactly are we hearing?
You can read up to 3 premium stories before you subscribe to Magzter GOLD
Log in, if you are already a subscriber
Get unlimited access to thousands of curated premium stories and 5,000+ magazines
READ THE ENTIRE ISSUE
May 2020