MARK RYLANCE
Total Film|July 2020
Beloved by Spielberg and Nolan, Mark Rylance has been called the greatest stage and screen star of his generation. Now the British chameleon from Bridge Of Spies and Dunkirk is back, with Satan, Sorkin and Johnny Depp on his dance card. Total Film meets the most modest actor around.
'I DON'T FEEL I HAVE MORE INTEGRITY THAN OTHER PEOPLE… I'm LUCKY TO NOT HAVE TO DO THINGS JUST TO SURVIVE. THAT'S JUST GOOD FORTUNE, ISN'T IT?'
Mark Rylance pads into a hotel room in Zurich. Wearing his trademark trilby, the British actor looks markedly different from the last time Total Film saw him. Last year, he was hosting the 20th-anniversary concert for Peace One Day at Shakespeare's Globe, where he was artistic director for a decade before he stepped down in 2005. This annual call for a global ceasefire saw him dressed up as the BFG, large ears, and all, singing 'The Last Ship' with Sting.
Reprising the Roald Dahl-created giant he played in Steven Spielberg's 2016 charmer underlines Rylance's sense of humor about his work. But no doubt, it's work of the highest quality. He's become a Spielberg favorite ever since he played Soviet agent Rudolf Abel in Bridge Of Spies, winning him an Oscar for Best Supporting Actor. "He's a very gentle soul," the director noted, before casting him for the third time as the game designer in Ready Player One.
If that wasn't enough, Christopher Nolan cast him as the unflustered 'little ships' captain in his 2017 World War 2 movie Dunkirk, while his Sir Thomas Cromwell in the BBC's Wolf Hall brought living room recognition (and a BAFTA).
It's a remarkable run for an actor who, until recently, was more heralded for his stage work – winning two Olivier Awards and three Tony awards, including one apiece for his electric turn as the eccentric Johnny 'Rooster' Byron in Jez Butterworth's Jerusalem.
Easing his way between the West End and Broadway must've felt natural. Born in Ashford, Kent, Rylance grew up partly in America, after his English teacher's parents moved to Connecticut and later Wisconsin when he was young. By the late 1970s he returned home with ambitions to act. The stage became his lifeblood – even founding his own theatre company in 1990 with his wife, director-playwright Claire van Kampen – while film was largely kept on the backburner.
It's only now, as Rylance turns 60, that he's being fully embraced by movies – and that means leading roles, at long last. In Waiting For The Barbarians, from Embrace Of The Serpent's Ciro Guerra, Rylance is typically powerful as the liberal official presiding over a desert outpost during colonial rule. No question, his understated approach outshines the more villainous turns from co-stars Johnny Depp and Robert Pattinson.
Also arriving in time for awards season is Aaron Sorkin's ensemble 1960s-set civil rights drama The Trial Of The Chicago 7, in which Rylance plays real-life activist lawyer William Kunstler opposite Eddie Redmayne. Then there's The Last Planet for Terrence Malick, a story about Christ in which he plays none other than Satan. For the softly spoken, self-described "peacenik", it's a delicious prospect.
He was also taking the lead on stage this summer in Doctor Semmelweis – a real medic from 1840s Vienna who discovered the benefits of hand-washing – until, ironically, it was postponed due to coronavirus. Stage work keeps him grounded, it seems. "That's the only thing that's really quite difficult about moving from the theatre into films," he muses. "You get tempted into looking at yourself." That's Mark Rylance alright… a real gentle giant.
The last time Total Film saw you in the flesh, you were on stage at the Globe dressed as the BFG and hosting the Peace One Day concert…
It turned out OK, didn't it? I was very nervous about it. I had to sing with Sting! I know Sting and I'm very good friends with the organizers and eventually, they said, 'The only person that Sting will respond to is you. Would you please ask him if he would come?' And so I did. And he said he would. But he said, 'I'll come if you'll sing with me.' So what could I do? I had to sing. I couldn't say no when he'd said yes because I'd asked him. So then I thought, 'But I'll sing as the BFG. And if I don't sing very well, it will be alright. It won't be me. It'll be the BFG!'
What got you involved?
When I was artistic director, and people came to me with miraculous ideas, I would encourage the Globe [that] we should support people like that. And this particular idea… this young actor [Jeremy Gilley] I knew did convince all the nations – or he was a spark – that they all got together and agreed that 21 September will be the Day of Peace. And so this was the 20th anniversary of that day. And there are ceasefires all over the world. So the BFG, who's a pacifist, turned up!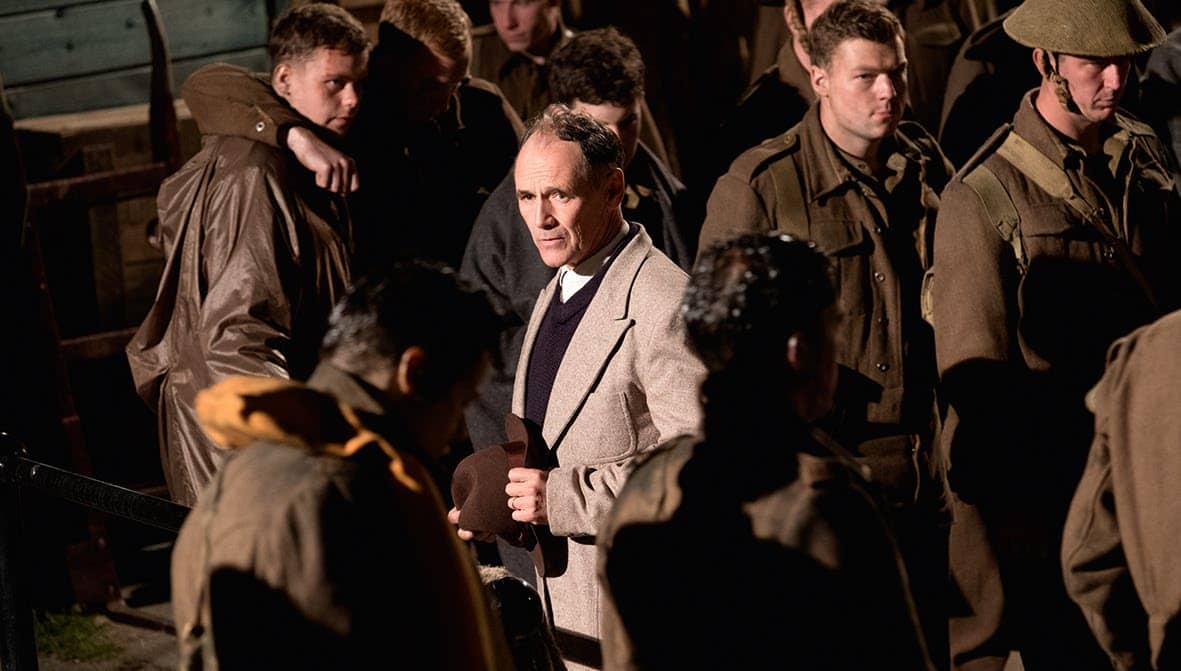 Film-wise, it's been a busy time for you, starring in Ciro Guerra's Waiting For The Barbarians. What did you like about playing the Magistrate?
That I liked about him? It's a good question. I've found it difficult to watch actually because I didn't like him much. But actually, when I think about it, I suppose I like his ability eventually to accept the truth.
What were your impressions of working with Johnny Depp?
Very gracious. Very present. He gets shy in press conferences. I can see that he takes a long time to find his words. It's not like that when you're working with him. He's very articulate and eloquent. Very funny. He's just had a very extraordinary life. He's a musician primarily too. He's a wonderful actor but he began as a musician and fell into acting. So he brought a little guitar to the set. And he'll play it very beautifully. He plays with JeffBeck, his friend. So he plays very beautifully, quietly, and then we will get up and act. And so I had the impression that he was playing with me, like in a duet of a piano and violin or bass and drum. He was very responsive. Also, you forget with beautiful, handsome film stars… what a wonderful voice a great film star has. He's got the most amazing deep, seductive voice. And he was no trouble at all. Unfortunately, I have to confess I went into it with people saying to me, 'Oh, it's going to be difficult.' And that wasn't the case at all.
Was that you actually performing the scene where the Magistrate is hanging from a gallows?
You can read up to 3 premium stories before you subscribe to Magzter GOLD
Log in, if you are already a subscriber
Get unlimited access to thousands of curated premium stories and 5,000+ magazines
READ THE ENTIRE ISSUE
July 2020