KEIRA KNIGHTLEY
Keira Knightley has never been one to adhere to the rulebook. Shooting to blockbuster stardom as a teenager, she survived the glare of the spotlight, and character work and Oscar nominations duly followed. Ahead of the release of Misbehaviour – the true tale of a Miss World contest disrupted by activists – Total Film meets the English star unafraid of shaking things up.
It's a crisp February day when Total Film catches up with Keira Knightley in London ("My favourite", as she describes the capital). Her latest film, Misbehaviour, tells the true story of an activist group sabotaging the 1970 Miss World ceremony, which was watched by over 100 million TV viewers. "You really realise that it was such a ballsy move," she grins. "Going in and disrupting something that is literally the biggest show on Earth." It's a feminist, socially conscious film, delivered with a light touch. It's easy to see what attracted Knightley to the role of real-life historian and activist Sally Alexander.
The 34-year-old British star became one of the most famous people in the UK, practically overnight, starring in surprise 2003 hit Pirates Of The Caribbean: The Curse Of The Black Pearl. But after the literal rollercoaster ride of that experience (and its sequels), Knightley has largely shied away from blockbuster material in favour of period pieces, indies, and, especially recently, dramas with pertinent messages (Colette, Official Secrets), choosing films by her own taste rather than an agent's masterplan. "If it's small budget, you have to hit the ground running, and just go for it," beams Knightley. "You just have to dive in."
Growing up in the public eye, Knightley faced all the negative attention that entails; she recently admitted to having a breakdown aged 22, when she was diagnosed with post traumatic stress disorder. But despite allowing herself a couple of periods of respite, her work ethic has never slackened, and she has also spoken out on a number of issues.
Acting's in her blood; her mother's a writer (she penned Knightley's 2008 romantic drama, The Edge Of Love) and her father an actor. "We went to the theatre all the time," she remembers. "It was always a world that I found totally magical and very inspiring."
Knightley had no formal training herself, and honed her craft on the job. "That way of learning is quite… 'brutal' is maybe too much. But it's the only word that I can come up with. And, you know, you do learn," she laughs, "if you're interested – and I was desperate to get better, and I was desperate to find people that could teach me."
That learning curve took in work with directors like Joe Wright (Pride & Prejudice, Atonement, Anna Karenina), David Cronenberg (A Dangerous Method) and Tony Scott (Domino), as well as Oscar noms for P&P and Morten Tyldum's The Imitation Game.
Misbehaviour features an abundance of female voices behind the camera (in the directing, writing and producing roles) and in front (Jessie Buckley, Gugu MbathaRaw, Lesley Manville, Keeley Hawes), and gifts Knightley the role of a powerful and determined working mother unafraid to shake up the male-dominated status quo. "I think because of the subject matter of this, there was a real sense of togetherness," she smiles. "And a sense that we women know how rare it is when you suddenly realise that there are more women on set than men..."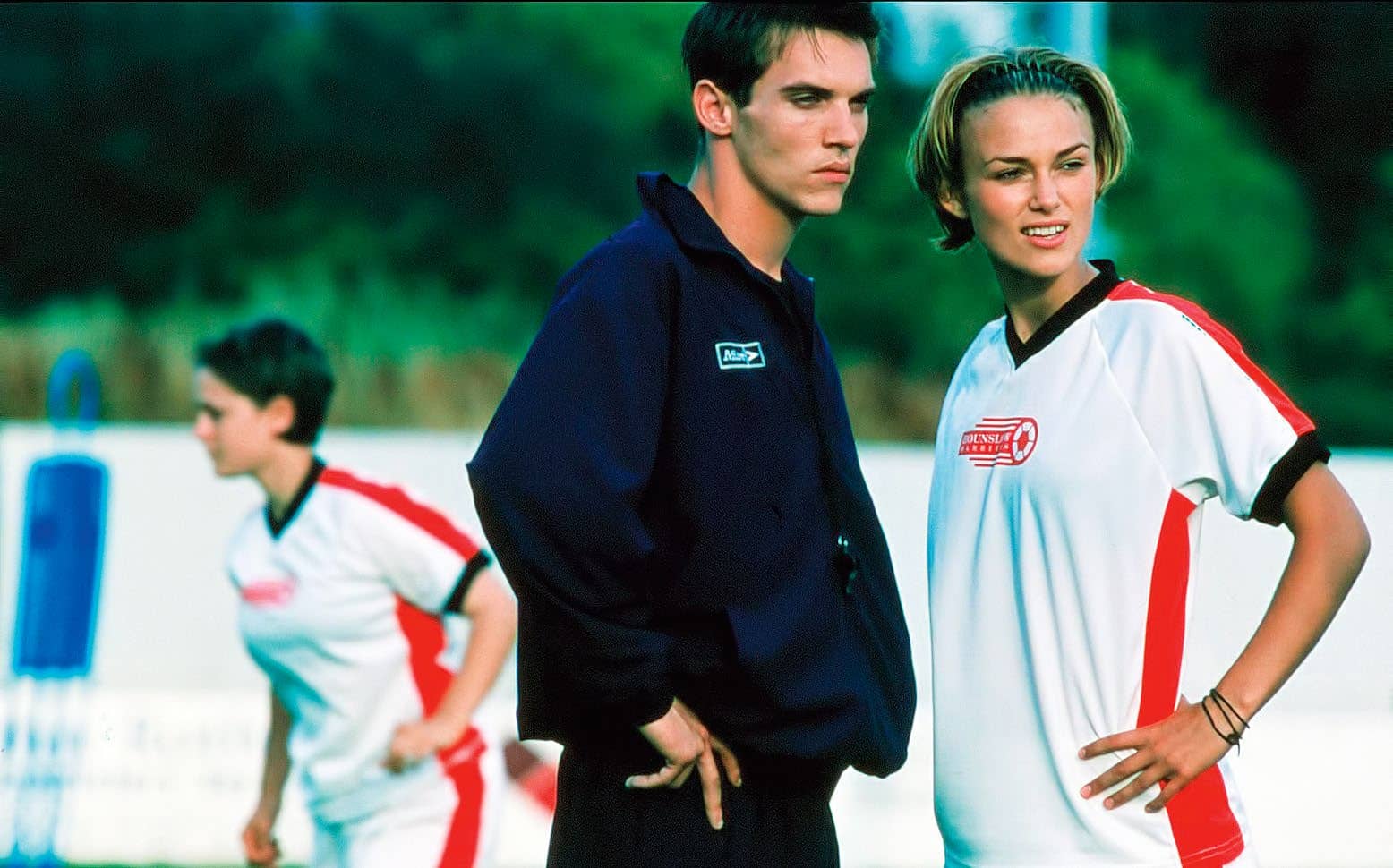 Misbehaviour feels very much like a film destined to start conversations. Is that how you felt when you first read it?
Yeah, I think so. I didn't know anything about it when I first read it. It was all new to me. And I really liked the fact that it didn't feel preachy. It felt like the film itself was a kind of conversation.
So you weren't at all familiar with the real story beforehand?
I didn't know about it at all. I was aware of the world and it being a thing. But I'd never seen it [the Miss World competition], and I didn't know anything about this. I spoke to my mum about it, and she remembered it happening. It's such a weird world anyway. In doing the research, I watched quite a few of them. They seem of another time. It's a little bit like the Eurovision Song Contest. They're these weird, extraordinary things. And I didn't realise how large it was. It had the largest [number of] viewers of anything. It was huge. So the fact that they managed to stop the biggest show on Earth, I thought was kind of amazing.
In the film, Sally Alexander has to face an all-male panel, and has to balance her career with childcare. Is that something you really responded to?
Yeah, I did. I think it's hard not to if you're a woman and a mother. I think that all of that felt very current. It's not necessarily that you can't get into the room for the interview, but that it is always a very male environment. And then even if you do get on to the course, trying to get your voice heard is a whole other thing. I think most women who work will recognise that. I did recognise certain things. And within that discussion of objectification, it's again something that we're still sort of wrestling with now. As much as it feels very of the '70s, it equally felt like all of the conversations – and also obviously the conversation about racism and visibility of different people of different ethnicities – that felt very current as well.
How was it working with Jessie Buckley? As she's newer to the industry, did you find yourself giving her any advice?
No, you don't need to give Jessie any advice. And I wouldn't know what fucking advice I'd give to anyone. Jessie's terrific. It was really lovely to work with her. It was a really happy job. I know that every actor always says that, and often it's not true, but on this one it actually really was true. So it was really nice to have loads of stuff with her. And then equally Philippa Lowthorpe, the director – she is just wonderful. And she is just so calm. She has this sort of unflappable, really lovely air about her.
What are you looking for in a project these days?
You can read upto 3 premium stories before you subscribe to Magzter GOLD
Log-in, if you are already a subscriber
Get unlimited access to thousands of curated premium stories and 5,000+ magazines
READ THE ENTIRE ISSUE
March 2020