FRESH PRINCE
Total Film|July 2020
DC's warrior goddess returns in Wonder Woman 1984, a sequel that gives her new friends, new foes, new threads, and a whole new decade to contend with. But just how will Diana Prince cope with the era of excess and decadence? Total Film meets director Patty Jenkins and stars Gal Gadot, Chris Pine, Kristen Wiig and Pedro Pascal to find out.
All the world has been waiting for a Wonder Woman sequel since the long-overdue 2017 film smashed expectations. That wait has been extended a couple of times, first by a release-date shift that saw the film moved from November '19 to June 2020, giving director Patty Jenkins valuable additional post-production time, and then when the Covid-19 pandemic pushed the opening back to a planned August debut.
''It's such a bummer because of course, I wish it came out in the fall, in retrospect of everything that's happened in that way," smiles Jenkins when Total Film catches up with her in May. "But the truth is, for us to come out in the fall was going to put us on a much tighter schedule than we had on Wonder Woman. And I was able to do so much more, and better work, in December and January in the film, because we had the extra time. Having the right amount of time to finish a film makes a massive difference to everything. It's still worth it to me. I'm still happier to have the film we have."
The real-time between the first film and its sequel is nothing compared to the time elapsed in the film world. Save for present-day bookends, Wonder Woman was set during WW1, in 1918. If the backdrop of the Great War helped to distinguish the film from more generic superhero fare, Wonder Woman 1984 is set in an equally distinctive, albeit diametrically opposed era. We'll meet Diana Prince again in the decade where greed was good, fashion was gaudy and neon was everywhere. Expect big action, big hair, larger-than-life villains, and Hans Zimmer's electric cello riff cranked up to 11.
Sixty-six years after the events of the first film, where Diana's love Steve Trevor (Chris Pine) made the ultimate sacrifice in a high-altitude explosion, how will a hero like Diana, whose kindness and inherent goodness set her apart from other superheroes, cope with the decade of unchecked capitalism and monstrous egos?
SUPER GAL
Of course, Gal Gadot returns as Diana. The Israeli star's life has also undergone a significant shift since she was the first cast as Wonder Woman for a supporting (and scene-stealing) appearance in Batman V Superman: Dawn Of Justice, which opened in 2016. Immediately catapulting her from secondary player in the Fast & Furious universe to international star, it was followed in close succession by her industry-reshaping standalone and another Bats/Supes team-up in the maligned Justice League.
If it feels like the world's been waiting a long time to see Gadot as Wonder Woman again, that's not quite how it feels to the actor herself. "I had an identity crisis," says Gadot, when we meet the cast in a swish LA hotel in January 2020 (before the pandemic had affected the movie industry). "I didn't know who Gal was… no, I'm just kidding," she laughs. "It has been back to back, especially after, you know, getting pregnant between the movies, and having a baby and all that. That was very… that was a lot."
Today, Gadot is the definition of utilitarian glamour in a trenchcoat-style jumpsuit and black high-heeled ankle boots, her hair tied up in a tight bun. "I had a break between Batman V Superman to Wonder Woman," she continues. "But then I shot Wonder Woman and Justice League literally back to back, which I will never do again and got pregnant. And then I had the baby. But eight weeks later, I promoted Wonder Woman. And then a few months later, I promoted the Justice League. And then a few months later, I started prepping for Wonder Woman [1984]." She laughs again. "Maybe I did have an identity crisis."
It became a cliché on the first movie with the cast and crew saying that Gadot was Wonder Woman, with her wide-eyed optimism and guileless character. So has she changed in the interim? "What is really noticeable is what a tremendous actor she's becoming," says Jenkins. "She really has gotten better all the time. She was great in the first place, but now she's like a top-shelf actress. She and I were working on such subtle things in this movie. It was interesting how successful she was at nailing these performances. And everyone who sees the film, or sees footage of it, walks out and is stunned. Because it's not a superhero performance. It's an incredible performance she gives."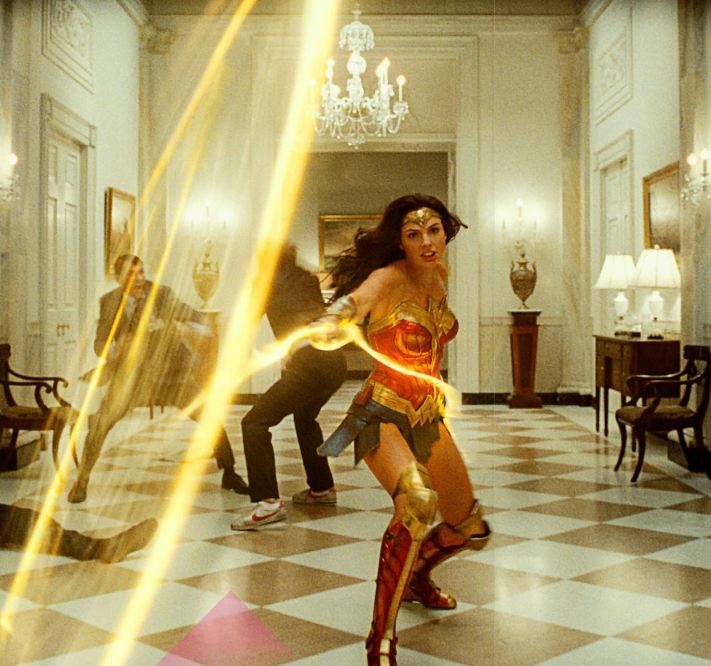 Thankfully, that's the only change Jenkins pinpoints. "She's not gotten any more jaded or tired," the director laughs. "We're still having a great time working together. And she's still just wonderful Gal." Gadot's spirit is very much in evidence when TF meets her, and she's as likely to burst into song or crack a joke as she is to give a straight answer.
Chris Pine, who returns as Steve Trevor (more on that later…), concurs. "She's happy. She's optimistic. She's raising two babies. She works insane hours. She's not a complainer. She's a unique woman." The playful relationship they had between takes on the first film spills over here. "I try not to make fun of her, but I'm definitely, you know, at this point like an annoying little brother – or a bigger brother, rather."
As for how Diana herself is handling the '80s, Gadot says she's evolved between 1918 and 1984. "In the first movie, she really is a fish out of the water, coming from Themyscira into man's world, and learning about the complexities of human life, really," she says. "In Wonder Woman 1984, she's been around. She's wiser. She's more mature. She's guarded. She lost all of her friends throughout the years. But she's still doing the right thing. But she is different than when we last saw her."
Hailing from the all-female island of Themyscira, Diana hadn't met a man until falling for Steve in their joint effort to end the war. She's lived a somewhat guarded existence since then. "She lives a very lonely life," confirms Gadot solemnly, before launching into the opening refrain of Ace Of Base's 'All That She Wants': "She leads a lonely life!"
That means she hasn't had a significant relationship since Steve. "She's kept herself to herself," Gadot sighs, before reprising Ace Of Base again, erupting with laughter. "She leads a lonely life…"
Steve is of course returning, though the finer details on how that's been possible – after that airborne explosion – are being kept under wraps. Of course, Pine – who's very much not dressed for action today in a denim shirt unbuttoned more than halfway, revealing a gold medallion – can't reveal much about how Steve finds himself among the bumbag wearing masses in 1984, although his return wasn't as much of a surprise for Pine as it was for us. "Patty, towards the end of the first one, had been marinating on an idea," he says. "So yeah, I had an idea that I would come back. I think she may have even started to break the story while we were promoting [the first film]."
You can read up to 3 premium stories before you subscribe to Magzter GOLD
Log in, if you are already a subscriber
Get unlimited access to thousands of curated premium stories and 5,000+ magazines
READ THE ENTIRE ISSUE
July 2020