Summer in the Dales
We reveal the big stories heading your way...
EMMERDALE
MONDAY, WEDNESDAY & FRIDAY / ITV / 7PM / SOAP
Road to reunion?
Moira's brush with death brings her and Cain closer together…
Something colossal was always going to have to happen to convince Cain to take back Moira following her affair with Nate. Could her neardeath hit-and-run experience be the catalyst?
No one was more panic-stricken than Cain when Moira was mowed down, and no one has spent as much time at her hospital bedside. The moody mechanic even declared his love as he willed her to pull through.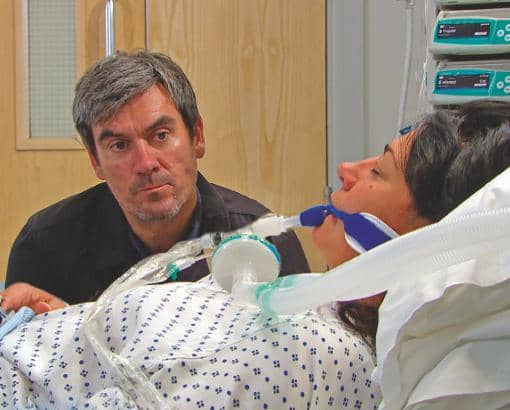 As Moira is discharged from hospital in upcoming scenes, and returns to Butlers Farm, Cain instinctively wants to support her as she struggles to remember anything about her accident, and he takes charge when she makes a discovery about business partner Rhona…
'Cain has still got massive feelings for Moira,' says Jeff Hordley, who plays him. 'If she'd died, he'd have been devastated. She gives him a grounding that nobody else has ever given him.'
Unbeknown to Cain, Moira heard his declaration of love. She had previously accepted that their marriage was over, and taken an interest in restaurant owner Ricky. Now, however, there's something worth fighting for.
But a reunion can't happen unless Cain can forgive and forget her infidelity. Has too much water passed under the bridge for a reunion?
'I don't know if water under the bridge covers it – it's more like a tsunami!' laughs Jeff.
'He's finding it really hard to get over what she did. Every time he looks at Nate, he just sees what happened with him and Moira.'
'The accident draws her and Cain closer,' adds Natalie J Robb, who plays Moira, 'but what the outcome will be, I don't know. They've got a lot to get over…'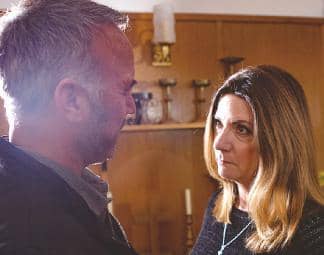 Harriet the Pariah?
She's forced to face the music as her affair with Malone is exposed
You can read up to 3 premium stories before you subscribe to Magzter GOLD
Log in, if you are already a subscriber
Get unlimited access to thousands of curated premium stories, newspapers and 5,000+ magazines
READ THE ENTIRE ISSUE
July 18, 2020