Designing Star Trek: Picard
Jeff Lombardi, property master in the art department on Star Trek: Picard, takes sfx on an all-access tour of the 24th century
GUN FRAMES
That's a super-early mock-up of the Federation's phaser rifle, for me to see how the ergonomics were working out. That's just the raw frame of the gun, essentially. It doesn't have the main barrel there, or the scope put on yet.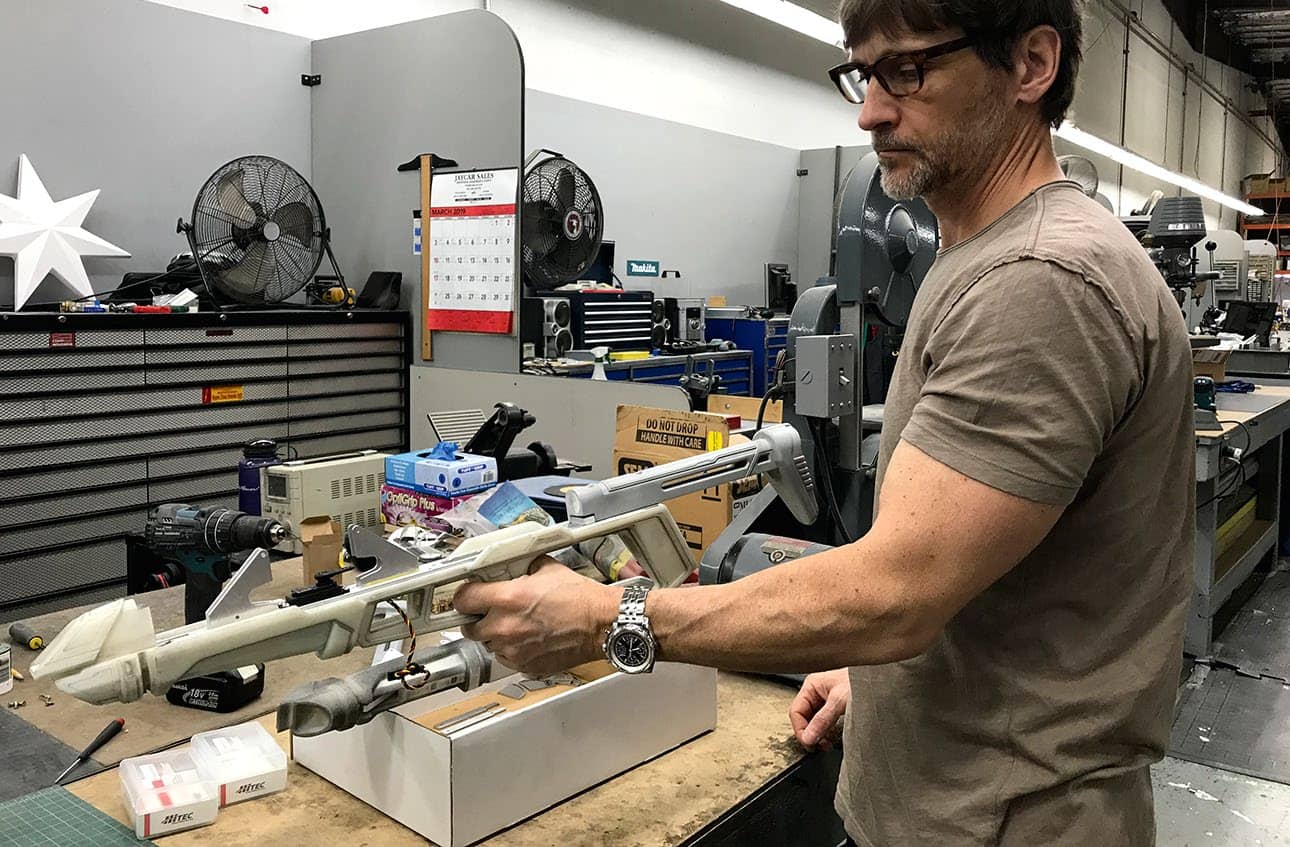 This was the black market Romulan disruptor that Laris and Zhaban have stowed inside of the château. As the Romulan weaponry evolved, I was building it for this military faction that's on the Borg cube. The idea early on with the writers was that the Romulans are scattered across the galaxy in different factions, and so they're just claiming whatever old stuff they have. So something that would have been like where it was maybe 15 or 20 years ago. So instead of Zhat Vash weaponry we call this Tal Shiar, the idea being these old Romulan guns are all just sold on the black market now.
REMOTE CONTROL PHASER
None of the creatives wanted to do the "remote control phaser" from The Next Generation. Patrick didn't want to either. Jonathan Frakes didn't want to, beyond Alex Kurtzman and Michael Javan. It's not even just a design thing. It was looking back at how that weapon works – you couldn't aim it, so there's a lot of shots of people holding the phaser and yet the shot is beaming in some odd angle. It's a weird thing, like a boomerang essentially.
We went to the drawing board. I had John Eaves conceptualise some new shapes, just pencil shapes, of what the new phaser could be for this period. There's this one where the grip was forward, closer to the barrel and then a long stalk on back, and it just felt right and Alex loved it. We designed it from there. In the last little bit they wanted to kind of riff off that concept from the JJ movies where an oscillating barrel went from stun to kill, and they could switch it. Instead of an oscillating barrel, I had this concept of you have a fingerprint and have control on it, and it snaps the coiling back and engages it into the kill setting.
So there's a closed setting – that's its standard setting, always in stun unless you have the rights to this gun and can activate it, when it'll go into its kill setting. So in other words, if somebody disarmed you on the Enterprise, they could only stun you with the gun. They couldn't kill you with your own gun. That was the concept. It's never shown in the show, but it's there. That was what I tried to do with a lot of the stuff: y'know, put some kind of ingenuity into it, so that whether or not it was shown later at least we knew that there was something to it – there was a reason behind it. Rather than something just put there superfluously to look cool.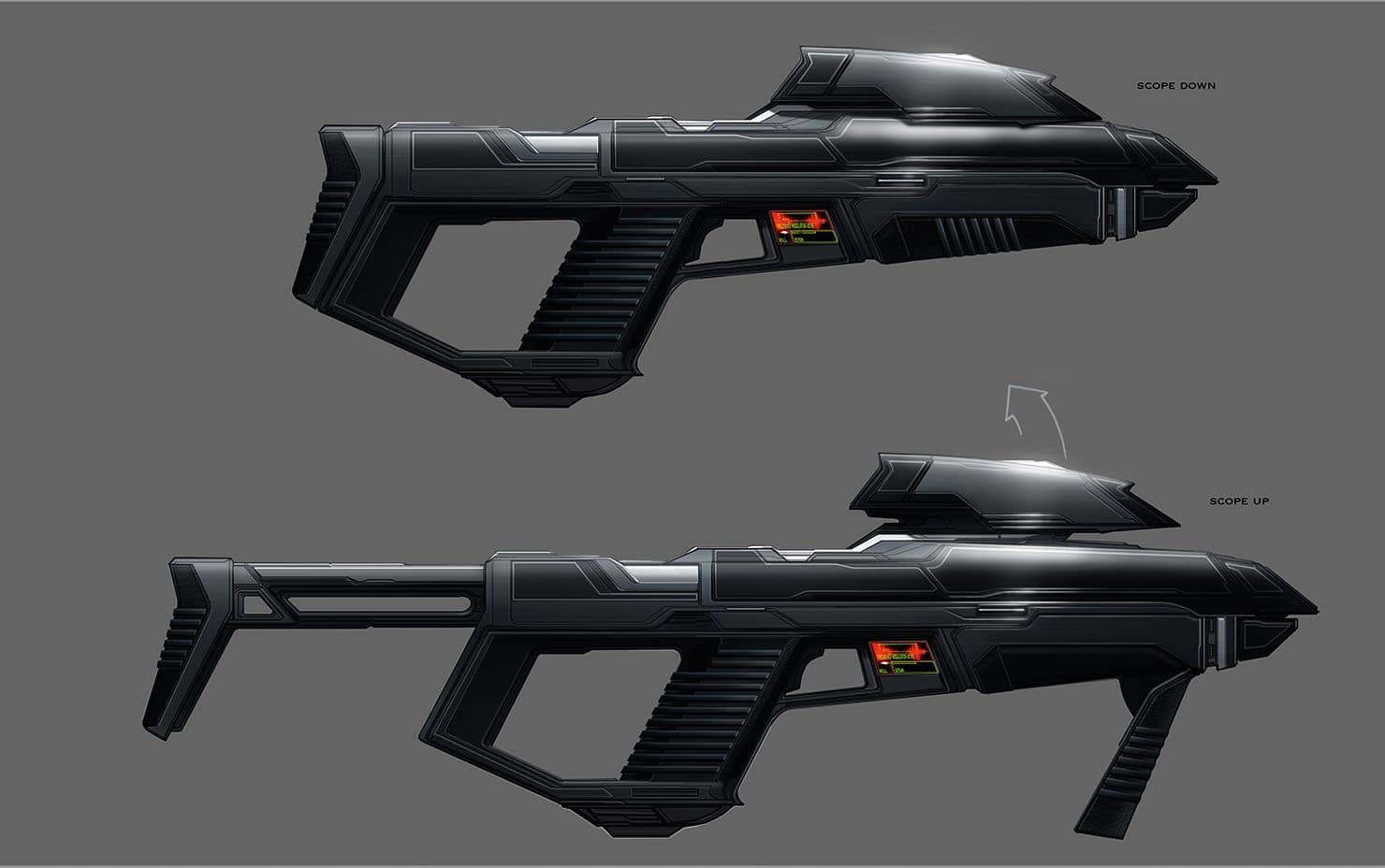 FEDERATION PHASER RIFLE
The Federation phaser rifles, you don't see a lot of their features either but they were built with stalks that are able to pull out the forward hand grip that rotates down. So you can actually extend the gun from a smaller compact gun to an elongated sniper rifle. The scopes are electronically triggered to raise up and down, and there's flashlights in them as well, just like they have in First Contact.
The side panelling, the concept behind that was that you could switch from stun to kill as well, where your trigger finger is also activating these control panels on the side – but also you would be phase-modulating there as well, which in the past, they had to crack open the phasers to do.
So they're the ultimate Borg killers in this future timeline. The phaser rifles are really designed for taking out Borg because that's kind of the only threat at this point the Federation has. I mean, they're the main threat that we know of…
You can read up to 3 premium stories before you subscribe to Magzter GOLD
Log in, if you are already a subscriber
Get unlimited access to thousands of curated premium stories, newspapers and 5,000+ magazines
READ THE ENTIRE ISSUE
October 2020