Boogie Boogie Nights
"HE'S A LOT OF FUN! HE WEIGHS HALF A TON!" WE LOOK BACK AT THE LOVEABLE ROBOT WHO ALWAYS TOOK THE MICKEY IN HIS SATURDAY TEATIME ITV SITCOM, PULLING UP TO 12 MILLION VIEWERS AND HELPING TO BLOW DOCTOR WHO OUT OF HIS TRADITIONAL TIMESLOT
ONCE R2-D2 AND C-3PO HAD popularised cute robots in the late '70s, every TV show was chasing android action; Doctor Who had K9, Battlestar Galactica Muffit the daggit, and Buck Rogers In The 25th Century had his little pal Twiki. But Britain's cheekiest robot entertainer was Metal Mickey, created in 1978 by record producer (and one-time guitarist for David Bowie) Johnny Edward as a robotic pop star. Andy Thompson and Chris Verner of effects company Theatrescene built a sophisticated remote-controlled robot, voiced and operated by Edward himself.
Mickey quickly became a star in some ITV regions, co-hosting Saturday morning show The Saturday Banana with Bill Oddie from autumn 1978, before making a bid for pop stardom with a cover of '50s doo-wop ditty "Lollipop" (it didn't break the Top 40).
In spring 1980, BBC1's Jim'll Fix It presented Mickey to not only a wider audience but also to Humphrey Barclay, comedy boss at ITV franchise London Weekend Television. Barclay had recently rejected the idea of a Metal Mickey show, after Edward pitched him a tape of Saturday Banana highlights, but a Fix It clip, showing Bracknell youngster Stuart Finn with Mickey in his local supermarket, finally clinched the deal.
Barclay engaged Micky Dolenz, former drummer with the Monkees, to produce and direct (prompting Dolenz to switch to using Michael, "so people wouldn't think that I was the robot"). Writer Colin Bostock-Smith, meanwhile, had scripted for The Basil Brush Show before joining LWT. "I'd written for their disastrous series Bruce Forsyth's Big Night," Bostock-Smith tells SFX. "I was still under contract, and I'd casually wandered into Humphrey's office. On his desk was a picture of Metal Mickey and I said, 'Oh, that's Metal Mickey, isn't it?'. He said, 'Yes, we're thinking of doing a show with him, would you like to try out to be the writer on it? I'm going to try several writers for sample scripts and see which is the best.' But I don't actually think he tried anybody else!"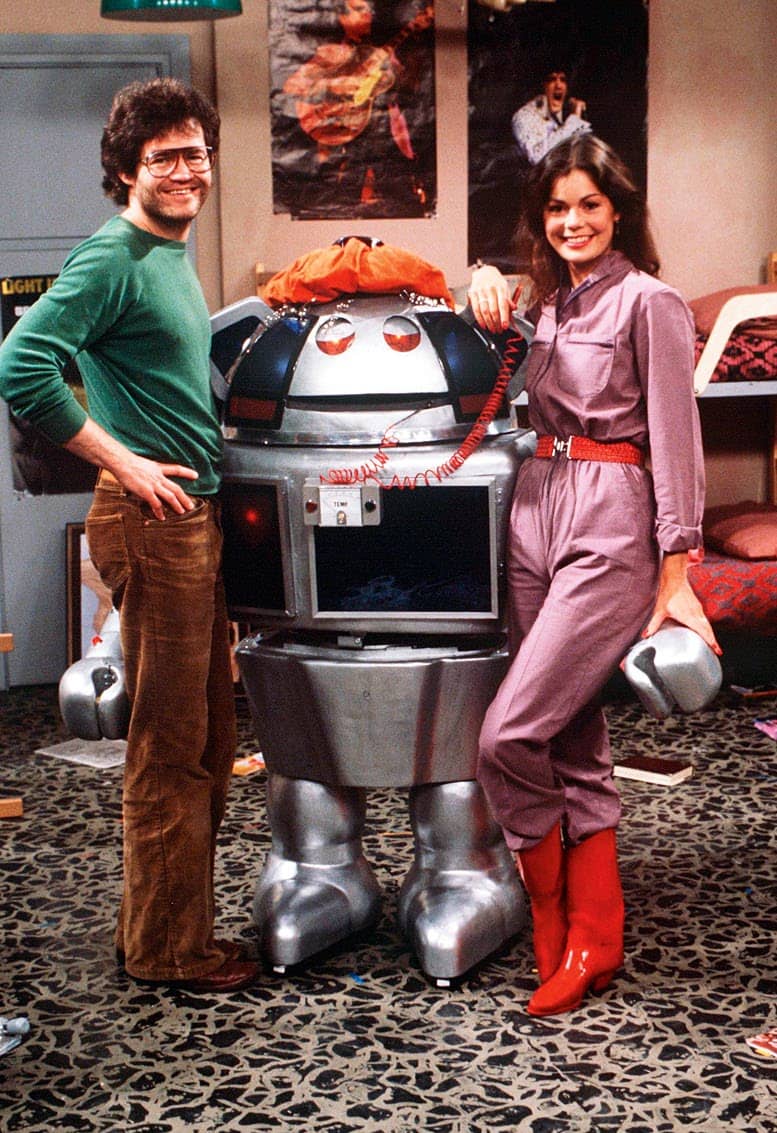 Barclay was set on a domestic sitcom format. "He said, 'I want this to be about a family, I want there to be a mother and father, and there's got to be three children in the family, and the girl next door, and also I'm trying to get Irene Handl to play the granny'. It was all laid out for me.
"It was quite difficult to service those seven actors and Mickey, and give them each enough in an ITV half hour to make them come alive. I wasn't at all experienced in writing TV sitcom, so it was a learning process, and I wouldn't like to be closely examined on many of the early scripts now! I think I got better as the series went on."
Sniffing a hit, Barclay rushed the show into production, with the cast meeting their chromium-plated co-star at a press call on 21 May 1980. Ashley Knight, today a stage musical performer and pianist but then an experienced 21-year-old juvenile lead, played Mickey's teenage inventor. He recalls this fateful meeting: "We were on the pavement outside LWT and I hadn't met this robot before. We were all quite puzzled by this robot that twiddled around and had a real-life conversation with us. We wondered how it knew what we were going to say.
You can read up to 3 premium stories before you subscribe to Magzter GOLD
Log in, if you are already a subscriber
Get unlimited access to thousands of curated premium stories, newspapers and 5,000+ magazines
READ THE ENTIRE ISSUE
October 2020