Pop Stuff: The Last Supper
RollingStone India
|
September 2020
When we cross the crisis, restaurants will come back with gusto, greeting us with gastronomic hugs, feeding us meals to write home about
IT WAS THE KIND OF Winter's day in the city where a lightness in the breeze foreshadowed Spring. The air was crisp and clean as a starched shirt and the sky on the West Side, where the sun had just set, turned from indigo to inky black. Reaching for the vestibule door, I glanced at the bare cherry trees that lined Columbus Avenue and imagined I could see tiny buds silhouetted on the branches. Inside, shielded from the cold, I stuffed my gloves in a pocket and took off my beanie, a chunky number with thick-looped, orange and navy zig-zags stitched over cream wool, an ironic hipster look, that I decided to spare the hostess. Shaking out my hair, I clasped the familiar curve of Gari's large, wooden door handle and grinned at the one gentleman and two women standing patiently behind the tiny stand, just large enough for a single screen displaying reservations, blinking like Pac-men, for the tightly packed restaurant that hummed around them. '7.30pm for two at the bar. Under Soleil,' I said leaning in close to be heard over the group that had formed behind me, 'My friend should be here any minute', I white lied.
The gentleman manager ignored me even though we had seen each other countless times before. Hopeless of me to announce my arrival before the complete party was here, he was thinking. The older woman, a petite, immaculately dressed, Japanese lady with a high bun, nodded at me knowingly with a mix of grace and admonition that was appropriate for tiny school children and late dinner guests. The younger hostess assigned to deal with me, smiled a brief, warm smile and offered to take my coat before gesturing to a single chair outside the entrance to the restroom. Grateful, I sat beneath hooks dripping with outerwear and checked my phone exchanging a few quick messages with Chiara. A few minutes away – They should have two spots at the bar for us – I'm almost pulling up – Hurry because it looks like a wait if they give them away – Ok xx – See you soon, kissyface emoji. I put my phone away and looked across the sushi bar, over the two rows of diners on squat wooden chairs at sturdy, oak tables and out past the tall sheet glass windows of the restaurant. It was a Friday night in Manhattan, late in February. The last normal Friday.
Through the glass, instead of seeing the familiar storefronts and boxed windows of a tall high rise or flood-lit cornices of the kind of pre-war buildings that underpin New York's Upper West Side, even as it marches into a future of sleek lines, I saw an expanse of green blanketed in darkness, tall trees reaching up like dancing figurines. Gari, my favourite sushi spot in the city, sits on Columbus Avenue between West 77th and West 78th streets, facing the park that surrounds the American Museum of Natural History. In a time that seems like eons ago, a time when plane travel wasn't fraught with Covid-19 restrictions and travel bans, I would bring my nephew, who lives in Mumbai, to the museum during his Summer holidays. We would walk up the grand steps of the front entrance, one avenue over on Central Park West, and he would marvel at the enormous dinosaur skeletons before we moved on to the main event – the space show in the Hayden Planetarium.
The museum lays closed and quiet now, quiet that is aside from its involvement in the heated national debate over statues. The next time I visit, the bronze statue of Theodore Roosevelt on horseback that presides over the entrance, flanked by a Native American man on his right and an African American man on his left, will be gone. In the wake of America's furor over racism in the aftermath of the police killing of George Floyd, one more in a steady stream of unarmed Black men murdered by authority figures, the museum made the overdue decision that the hierarchical composition of the statue was entirely inappropriate for a loved and revered institution, let alone one that represents the pioneering spirit of discovery. The next time I can visit a public institution, thronging with people all shoulder to shoulder, we will be in a new world in more ways than one.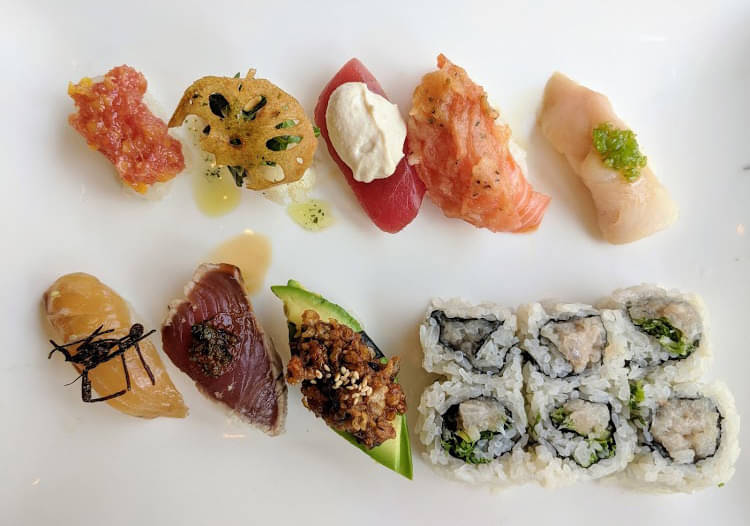 It seems fitting that Gari shares an avenue block with the Museum of Natural History. For many, myself included, it is another beloved New York institution, not quite a museum, but a little giant in the world of restaurants. Gari's founder, Masatoshi 'Gari' Sugio, is himself no stranger to a pioneering spirit. He arrived in New York in 1978 as a Japanese immigrant, having spent several years in Tokyo, where at the age of nineteen he first became a Sushi Chef. After working for a number of restaurants in the city, Sugio grew frustrated seeing customers repeatedly dunk their sushi in soy sauce. It rankled him to see a sublime piece of raw fish reduced to the stature of a donut. He decided to perfect exquisite sauces that could be incorporated into the sushi to compliment the fish without overpowering it. When Sugio took the plunge and opened his flagship restaurant, Sushi of Gari, on the Upper East Side in 1997, he became a leader in the movement towards avant-garde sushi in a city that would soon be bursting with it.
A few years later, when I was barely justifying my business card at my first job in New York, a chef friend insisted on dragging me Uptown for a midnight meal at Sushi of Gari, which like any respectable chef hangout, was open into the wee hours. The restaurant was small, white-walled and unartfully minimalist. I barely noticed the too-bright lights, the smattering of orchids or the diners greeting Sugio with reverence, because the sushi was the best I had ever tasted. It was a meal I savoured, knowing I would not be able to afford it on my own dime till many years later. By the time I could justify the splurge, Sugio had opened what would be the second of four restaurants in the city, Gari, on the Upper West Side. In 2006, I took a speedy 1 train Uptown from my Greenwich Village brownstone, sat down at a table with friends, all of us charlatans amidst the literati that frequented the place, and fell in love at first bite. Fourteen years later, waiting for Chiara, Gari felt like a comfortable marriage. Today, unsure of when restaurants will bustle again, or if many will even survive, the separation has provoked longing.
You can read up to 3 premium stories before you subscribe to Magzter GOLD
Log in, if you are already a subscriber
Get unlimited access to thousands of curated premium stories, newspapers and 5,000+ magazines
READ THE ENTIRE ISSUE
September 2020