On Earth Day, A.R. Rahman Combines Forces With Global Music Icons for Climate Change
RollingStone India|May 2020
The celebrated composer collaborates with legendary 'We Are The World' creator Ken Kragen and tech entrepreneur Neil Morgan to link the planet
ON THE 50TH annual Earth Day (April 22nd), the globe grapples with the debilitating COVID-19 pandemic; the future uncertain. It's then that A.R. Rahman joins hands with legendary music manager and activist Ken Kragen and immersive entertainment entrepreneur Neil Morgan to appeal to humanity to stand by each other. "Thinking about future challenges is very important because when they do arise, they freeze the whole world into nothing," says the Grammy and Oscar-winning composer.
Intending to unite the world to combat climate change—even the people who 'don't believe in global warming'—the trio along with musicians, visionaries and philanthropists from all over the planet launched 'Hands Around the World,' a global fundraising and technology initiative. The project hopes to help people actively engage with the environmental emergency while raising funds and awareness to curb the irreversible effects of unchecked climate degradation.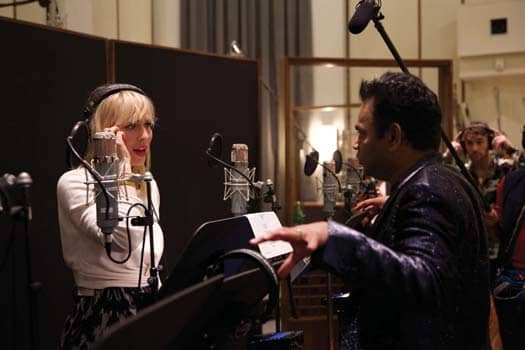 Kragen, the force behind the historic 1985 collaboration "We Are the World" and 1986's human chain initiative Hands Across America, tells Rolling Stone India that back in the Eighties too, the world faced much of the same situation it does today with "a powerful group of world leaders, corporations and individuals denying the issues of hunger and homelessness." Kragen sought to change things as they stood, first banding major artists together for a global anthem and then millions of people to hold hands at one moment in time from New York to Los Angeles. Strife and solidarity rallied people together for change, forcing authorities (the then President Ronald Reagen too notably joined the U.S.-wide human chain) to acknowledge the seriousness of the situation. "'Hands Around the World' is constructed to do the same for all the environmental issues that make up climate change," says the 1985 UN Peace Medal awardee.
You can read up to 3 premium stories before you subscribe to Magzter GOLD
Log in, if you are already a subscriber
Get unlimited access to thousands of curated premium stories and 5,000+ magazines
READ THE ENTIRE ISSUE
May 2020