Kamasi Washington On Black Lives Matter, Sneaking Into The Hollywood Bowl, Kendrick Lamar And More
The American saxophonist was recently in India for two shows in Mumbai and New Delhi
CATCHING UP WITH Kamasi Washington was as delightful as it could get. As much as the American tenor saxophonist loves bringing the house down with his incomparable skills – whether it's working with rapper Kendrick Lamar or performing with legendary pianist Herbie Hancock – when you sit down with him he is soft-spoken, relaxed and exudes warmth and positivity.
After completing a North America tour run with Hancock, Washington was in India for the first time this past August to play two sold-out shows in the country along with his band, courtesy of Mumbai event and artist agency Third Culture.
We attended his Mumbai gig at The Royal Opera House where he performed tracks off albums such as The Epic and Heaven and Earth, putting on quite the stellar performance with sizzling sax solos accompanied by a thumping backing band which included his father Rickey on flute, bassist Miles Mosley, drummers Ronald Bruner Jr. and Tony Austin, trombone player Ryan Porter, pianist Mayasuki Hirano aka Big Yuki and vocalist Patrice Quinn.
Growing up in Los Angeles, Washington always had music around him because of his musician father Rickey. "I was kind of born into it," he says. "I remember the first album I ever bought was an N.W.A. tape, I had to hide it from my parents because they wouldn't let me have it," the saxophonist says with a laugh. Since Washington had plenty of records at his house, he states that he went on to influence jazz to other kids in South Central L.A. He explains, "There was this one school where everybody was into The Jazz Messengers because I showed them that a Tribe Called Quest sample came from the Jazz Messengers and they just liked that."
In this interview with Rolling Stone India, Washington opens up about his own music, sneaking into the Hollywood Bowl when he was younger, working with Kendrick Lamar, being the jazz voice of the Black Lives Matter Movement and more. Excerpts:
You've finished a run of gigs with Herbie Hancock – what was that experience like for you?
One of the most amazing experiences of my life. I grew up listening to Herbie. You know that band that he played in with Miles [Davis] and all his own records. I was very much aware of his past and I was aware of his present as well but to play music with him every night and to see him every night still reaching, still pushing further, still growing. He's almost 80 years old, it made me kind of really understand how infinite music is. I heard him every night and I was like, this is someone who has done so much for music already and he's still pushing it. He's further than he's ever been. Who does that at 80? Or 79? It was super inspiring; he's such a beautiful person too and is still willing to share his wisdom, his understanding, all the stories and all that kind of stuff.
Miles Davis' Kind of Blue recently completed its 60th anniversary and one of your biggest influences, John Coltrane, played on that record. Tell me about how Coltrane impacted your life.
Coltrane has definitely been the biggest influence musically for me. He wasn't my first influence but he was definitely my biggest influence. Art Blakey and the Jazz Messengers were like my first. My dad had been trying to get me into John Coltrane the whole time but it was too heavy for me when I was younger. I was like 11, I didn't understand it. When I was 15 I got this record called Transition. I already liked John Coltrane at that point from records like Kind of Blue and the stuff he did with Miles. Some of his early records like Giant Steps; I was already a fan because of that. When I got Transition it was like, 'Oh wow, I get it now.' His music is very powerful and it, like, hits you in the chest when you open to it. It kind of made me rethink about how powerful music is. It was like hitting me in the heart. It kind of made me want to play music in that way like really from the heart.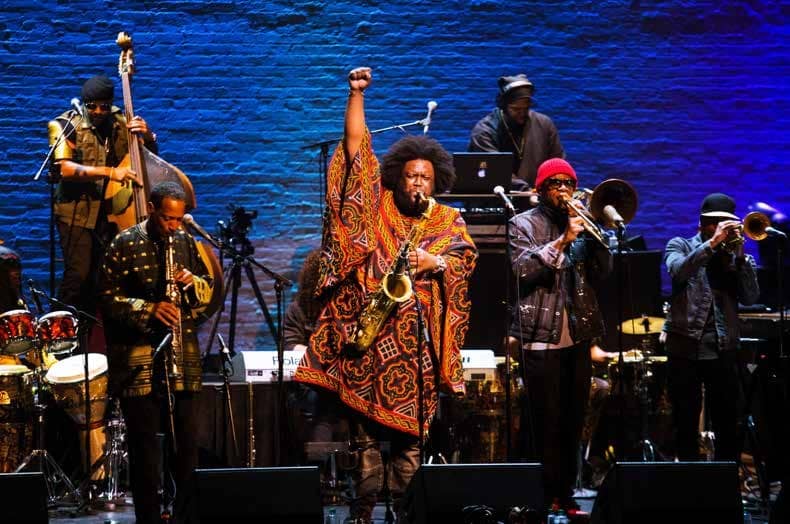 People like yourself, Esperanza Spalding, Thundercat, Trombone Shorty are keeping jazz alive and sort of reviving it. Do you see yourself as a torchbearer for the genre?
You can read upto 3 premium stories before you subscribe to Magzter GOLD
Log-in, if you are already a subscriber
Get unlimited access to thousands of curated premium stories and 5,000+ magazines
READ THE ENTIRE ISSUE
October 2019