Billie Joe Armstrong – Mi vida en 5 canciones
Rolling Stone - México
|
Marzo - Abril 2020
El líder de Green Day cuenta las historias detrás de sus clásicos más grandes, desde el punk en West Oakland, hasta su fama mundial, corazones rotos y furia política
BILLIE JOE Armstrong recuerda haberle hecho una pregunta a su maestro de guitarra que le cambiaría la vida. "Le pregunté: '¿Cómo se escribe una canción?"", dice el cantante y guitarrista de Green Day, de 47 años, en su estudio en Oakland. "Todo lo que dijo fue: 'Es verso, coro, verso, coro, puente, verso, coro, mézclalo como quieras'". Eso era solamente en lo que Armstrong pensaba. Sus himnos de tres acordes sobre crecer –con toda la soledad, ansiedad, consumo de drogas y masturbación– resonaron en la generación de 1994 cuando el álbum Dookie obtuvo el certificado de Diamante por sus ventas y llegó más lejos. Ya sea que esté escribiendo canciones punk o una ópera rock de potente política, Armstrong tiene las mismas reglas: "Es muy importante tratar y ser lo más honesto posible con tu público", dice. "Cuando las personas encuentran una conexión profunda, es porque estás tratando de encontrar tu propia conexión dentro de ti. Creo que eso es lo que realmente termina trascendiendo". Algunos éxitos le han llegado en cinco minutos, otros tardan más. Recientemente, terminó una canción a la que ha estado dándole vueltas desde 1993.
Después de 30 años de carrera, Green Day presentó un nuevo sonido emocionante en su decimotercer álbum, Father of All... Armstrong dice que viene de darle un golpe al soul –Motown, Prince, Amy Winehouse y otros– y "pasarlo por el filtro de Green Day". En el tema principal, canta con un falsete mientras el baterista, Tré Cool, golpea salvajemente un beat al estilo de Mitch Mitchell, que Armstrong califica como "una de las cosas más locas que jamás haya tocado".
"Billie se estaba presionando para llegar a un lugar más nuevo", dice el bajista Mike Dirnt. "Y tuvimos que perseguir eso. Lo cual es normal, porque nadie cava más profundo que Billie".
En la conversación, Armstrong es amigable, pero también un poco reservado, haciendo largas pausas entre las respuestas sobre su proceso. "No quiero sonar como un primate", dice. Cool, su compañero de banda y amigo desde hace tres décadas, quien una vez lo describió como "dotado y atormentado. El cerebro de Billie es como 18 grabadoras que se reproducen simultáneamente en un círculo. Luego trata de tener una conversación... y él te mirará a los ojos diciendo '¿Eeeh?'".
"¡Vete a la chingada!", dice Armstrong, con una sonrisa, después de escucharlo. "¿Tú qué sabes?". Pero Armstrong admite que no está muy seguro de cómo funciona su cerebro cuando se trata de escribir canciones. A pesar de haber compuesto tantos temas, todavía se pone ansioso cuando no ha escrito uno en mucho tiempo. "Te sientes como: '¿Volveré a escribir otra canción?'. Entonces, de repente, surge algo y pasas de sentirte un perdedor, al rey del mundo".
409 in Your Coffeemaker
SLAPPY EP, 1990
Acababa de dejar la secundaria y me sentía realmente perdido, como un soñador que se estaba quedando atrás. No sabía cómo iba a ser la vida. Creo que cuando me siento perdido soy más honesto como compositor. Así que tomé este sentimiento triste y lo convertí en algo más estimulante: "My interests are longing to break through these chains/ These chains that control my future's aims". Mis canciones trataban sobre la obsesión de ese momento. Esta era como una versión diferente de quién soy. Recuerdo que cuando comenzamos a tocarla, la gente era muy receptiva, especialmente los punks que estaban en la escena en ese momento. Habíamos sacado nuestro primer álbum y un EP, pero aquí es donde sentí que realmente había encontrado mi ritmo como compositor. Tenía 18 años.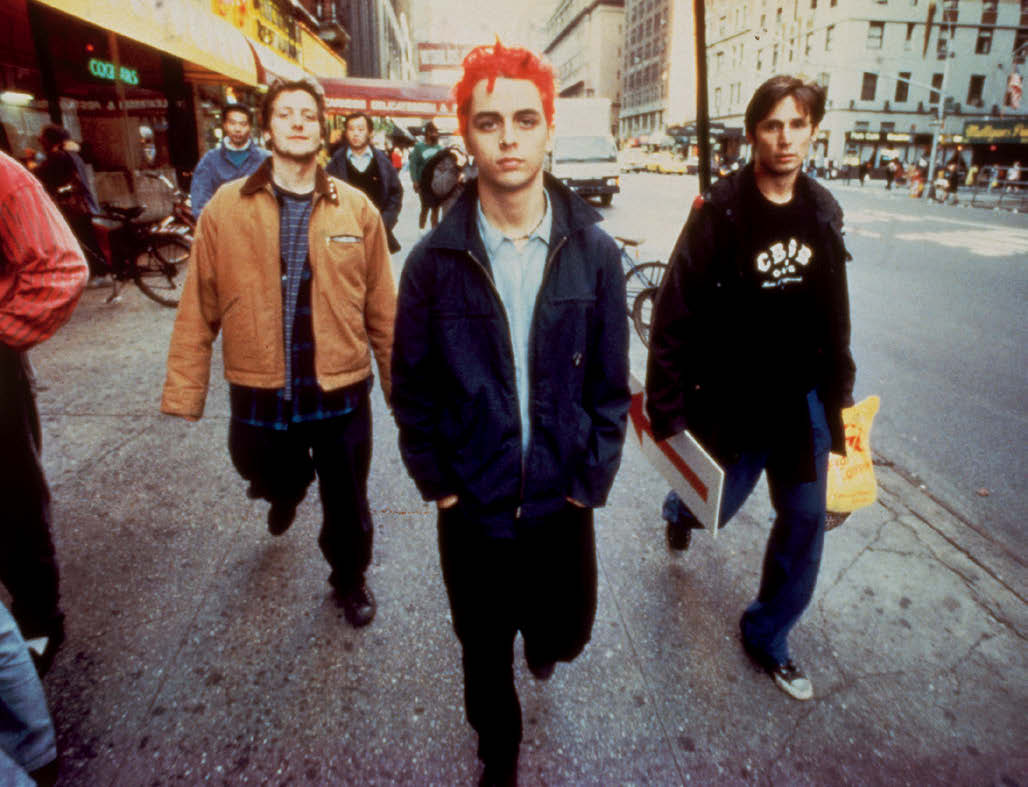 2000 Light Years Away
KERPLUNK, 1992
En la primera gira que realizamos, conocí a mi esposa, Adrienne, en una fiesta casera en Minneapolis. Ella nos pidió una dirección porque nos habíamos quedado sin vinilos. Luego empezamos a escribirnos y fuimos amigos por correspondencia, luego tuvimos largas pláticas, juntando recibos de teléfono.
Entonces, hicimos una mini gira. Manejamos de California a Minnesota. Nadie sabía realmente por qué íbamos en coche hasta allá a tocar como cuatro shows, pero realmente iba para verla. De regreso escribí "2000 Light Years Away". La canción salió sola. La toqué con una guitarra acústica y le envié un casete. Cuando escribes una canción para una persona de la que te estás enamorando, no sabes cuál será su respuesta. Lo último que quieres es que alguien diga: "¡Eres un acosador!", pero ha sido un tema básico en nuestro set desde entonces, y ha llevado a muchas, muchas, muchas otras canciones que he escrito sobre ella en estos 30 años.
Welcome to Paradise
KERPLUNK, 1992; DOOKIE, 1994
Me mudé a West Oakland, a un almacén lleno de ratas, era un vecindario realmente jodido, con muchos punks y amigos locos. Pagaba $50 dólares al mes de renta, lo cual fue genial, porque, estando en una banda, te pagaban un par de cientos de dólares, así que era fácil pagar la renta, comer ramen y comprar hierba.
Fue una experiencia reveladora. De repente, estaba solo, fuera en uno de los barrios más retorcidos de Oakland. Cuando miras a tu alrededor, ves calles agrietadas, hogares quebrantados, barrios de guetos y estás en medio, asustado y piensas: "¿Cómo salgo de aquí?". Entonces, de repente, comienza a sentirse como en casa. Hay una especie de empatía que tienes por tu entorno cuando estás cerca de drogadictos, personas sin hogar y peleas de pandillas. "A gunshot rings out at the station/ Another urchin snaps and left dead on his own", estaba describiendo exactamente lo que era mi entorno. No hay una parte de esa canción que no sea cierta. Es un gran tema para tocar en vivo. Creo que la musicalidad [del puente] es un presagio de lo que nos esperaba en el futuro, lo supiéramos o no.
You can read up to 3 premium stories before you subscribe to Magzter GOLD
Log in, if you are already a subscriber
Get unlimited access to thousands of curated premium stories, newspapers and 5,000+ magazines
READ THE ENTIRE ISSUE
Marzo - Abril 2020