They Gave Millions To Charity
Reader's Digest US
|
February 2019
In life, they were humble SECRETARIES, TEACHERS, and JANITORS. When they died, they were richer than anyone knew—and they GAVE MILLIONS TO CHARITY
Whenever Jane Lockshin went out to lunch with her elderly aunt Sylvia, she made a point to pick up the tab. After all, Sylvia Bloom was a modest secretary, a widow of more than a decade who lived in a one-bedroom Brooklyn apartment and took the subway everywhere, including to her job at a Manhattan law firm. She worked there— full-time—until she was 96. Simply put, Lockshin didn't want Aunt Sylvia to blow her budget on lunch.
So when Bloom died in 2016, at 97, it was something of a shock to discover that she'd left behind a multimillion-dollar estate. Almost as shocking: She had chosen to give $8.2 million to charity. Six million dollars went to educational programs at the Henry Street Settlement, a social services organization in New York City. An additional $2 million went to scholarship funds, including at Bloom's alma mater, Hunter College. "She had millions," says Lockshin, "and no one suspected it."
Bloom's bequest to the Settlement, the largest in its 126-year history, will help fund a program for disadvantaged students. "The gift has been transformative not just because of the good we'll be able to do with it," says David Garza, the agency's executive director, "but because of the selflessness and the humility behind it."
Sylvia Bloom's story is indeed extraordinary, but it's not as uncommon as you might think. Working-class benefactors—secretaries, teachers, janitors, and more—make headlines with awe-inspiring regularity. In 2015, a retired grocer in Milwaukee left $13 million to a local Catholic high school. The year before, a former JCPenney janitor from Vermont left a nearly $5 million bequest to a local hospital. Their stories are as rich and as full as their hidden bank accounts. "In a world that is in many ways survival of the fittest, they're certainly a special class of people," says Garza.
These unassuming philanthropists share some qualities. The most obvious is that they often have no children. That's one reason many of them were able to save so much of their humble paychecks. It also means they had no direct natural heirs. "People who are single are thinking about what good they can do with their money and what legacy they want to leave," says Stacy Palmer, editor of the Chronicle of Philanthropy.
Often that legacy touches on helping the children they never had. As a kid in Milwaukee, Leonard Gigowski took the 6:30 bus every morning to get to St. Francis Minor Seminary, a Catholic high school that later became St. Thomas More High School. After a stint in the Navy, Gigowski went on to become a butcher and a grocer. He never married—and he never forgot St. Thomas More. Gigowski visited regularly and sometimes would eat lunch with the students in the cafeteria. One time, he stood up and started singing the school cheer. His "kids," as Gigowski called them, grinned and joined him. On his 90th birthday, in 2015, administrators arranged a surprise assembly for him. The kids sang "Happy Birthday," and Gigowski led them in prayer.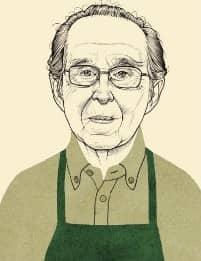 The Grocer
You can read up to 3 premium stories before you subscribe to Magzter GOLD
Log in, if you are already a subscriber
Get unlimited access to thousands of curated premium stories, newspapers and 5,000+ magazines
READ THE ENTIRE ISSUE
February 2019