WWE Star Triple H Gets Candid About His Career
Muscle & FitnessApril 2016
Known as The Game, 14-time WWE champ Triple H is at the top of his in the ring and the boardroom.
ON PAPER, PAUL LEVESQUE APPEARS to be just another busy businessman with a family living in the burbs. He's 46 years old, wears a suit to the office, works late hours, lives in connecticut, and is happily married with three kids. He even finds the time to exercise. But Levesque isn't your ordinary paper-pushing number cruncher. At 6'4", 255 pounds, he's kind of a big deal - literally - that's because Levesque, World Wrestling Entertainment's Executive Vice President of Talent, Live Events & Creative, is also Triple H, current WWE Heavyweight Champion. We spoke with the Kings of Kings as he prepared to appear in his 20th WRESTLEMANIA, ON APRIL 3, covering topics that include his upcoming title bout, dealing with promatch jitters, his family life, retirement, and craving macaroni and cheese.
MF: How does it feel to enter WrestleMania as the WWE World Heavyweight Champion?
HHH: To be the WWE champion is a huge honor, but at the same time the pressure is immense.
What should we expect from WrestleMania 32?
It's going to be big in Dallas at AT&T Stadium. Our goal is to break the WrestleMania 3 all-time indoor attendance record for entertainment. I have to think of something good for my entrance.
What are your prematch rituals to get pumped up?
When you get to WrestleMania, with more than 90,000 people, there's nothing you need to do to get excited. For me, it's trying to keep calm. That overexcitement, that overadrenaline is what wears you out during the day. Usually you're extremely nervous right up until the point you're about to go through the curtain, and then you just get into performance mode. I've had younger talent say to me, "I'm sure you don't get nervous any more." If you get to a point in your career when you're not nervous anymore, you should start thinking about doing something else, because you have stopped caring.
How has your workout routine changed as you've aged?
When I was younger it was about getting into the gym and lifting heavy and training from a bodybuilder's stand point. As long as the look was there it was all good. As I have gotten older, I realized it's all about athletics, health, and feeling good; the look just comes along with it.
Are your daily workouts different from when you're preparing for a match?
From a strength component not necessarily, other than I probably pick up the pace and add a little more volume. I add in a lot of cardio and then I start boxing two days a week. I can't do the stairclimber or elliptical. It's mind-numbingly boring to me.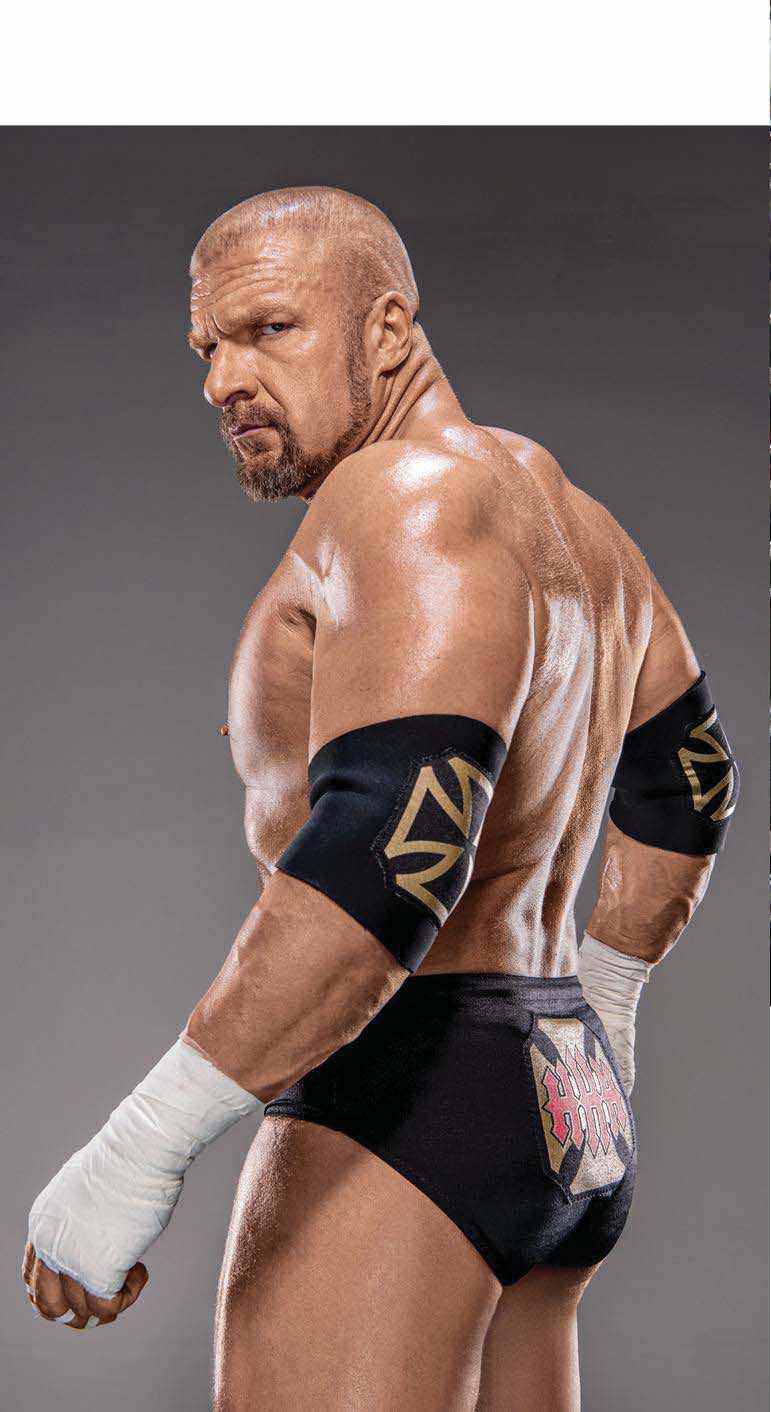 Between your commitments to being a Superstar and running the company, how do you find time to train?
You can read up to 3 premium stories before you subscribe to Magzter GOLD
Log in, if you are already a subscriber
Get unlimited access to thousands of curated premium stories, newspapers and 5,000+ magazines
READ THE ENTIRE ISSUE
April 2016