Discover Hidden Austria
Lonely Planet Magazine India|April 2017
If you're in a hurry, the Wachau Valley is not for you. The jewel of Lower Austria is the perfect take-it-easy destination. This 33km stretch along the Danube has all the quintessentially Austrian elements – ancient structures, quaint villages, and, of course, some of the best vineyards in the country. Go here with some time on hand, and an attitude that'll make the lazy in you proud.
IT'S 9.30 in the morning, and I've just thrown my bicycle to the ground. I stand holding my head in disbelief. I really don't think I can take much more of this. First, it was the cobbled paths of Krems an der Donau and the old quarter of Stein, lined by buildings dating back more than a century. This gave way to the insanely scenic cycling track along the River Danube. We then ducked into a little village called Unterloiben, complete with quaint inns and wineries. And, as we came out onto the open road again, there lay before me acres of vineyards, with turgid bunches of the famed Grüner Veltliner grapes, with an archetypical crumbling Austrian castle in the distance. In less than 7km, I had traversed some of the most spectacular scenery I'd ever witnessed. Sure, it was definitely aided by the fact that I was doing it at the perfect speed of about 10kmph, on a bicycle, with a group of delightful strangers for company, but no, I really couldn't take much more.
I've just realised that there is actually a thing called too much happiness.
Soon, there is another joyous assault on my senses. We've almost reached Dürnstein, and there's a wine tasting on the cards. Now, I don't understand wines much. I'd thought about learning a few years ago. But, the teacher wasn't too encouraging. I believe the fact that I was a smoker, one with a penchant for spicy food at that, meant that she didn't fancy my chances. But I've quit the death sticks since, and, as fate would have it, less than a year later, I find myself in arguably the best wine region in Austria, trying to wrap my head around the differences between a steinfeder, federspiel, and a smaragd. Fortunately, they mostly grow just Grüner Veltliner and Rieslings here. I don't think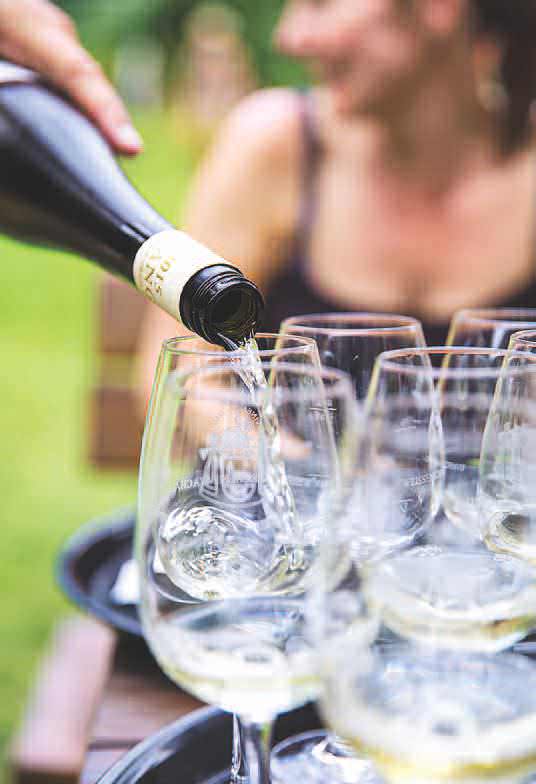 I could have managed to process many more permutations. But I manage to pick a favourite: I absolutely love the Grüner Vetliner smaragd. As it turns out, I have a nose for good wines. It seems the Grüner Veltliners from Wachau have been making waves on the fine-wine circuit for a while now, getting picked over the more celebrated Chardonnays in blind tastings, especially the smaragds. This, I'm told, is largely owed to the unique geology of the region. Steep terraces carved into the hillside barely retain any soil, and the ground has crystalline rock with a very high mineral content, which brings out the best characteristics of the grapes, resulting in expressive, opulent wines that age outstandingly. The vignerons of Wachau are well aware of the quality of their produce, and implement a strict code to safeguard this treasure. All the wines produced here are made exclusively from grapes grown in the region, and bottled in the valley itself. In fact, premium quality wines aren't even sold outside the region in barrels or tanks. None of the wines can be concentrated or aromatised, and no additives can be added. To say that they're very particular about this stuff in these parts would be an understatement.
You can read up to 3 premium stories before you subscribe to Magzter GOLD
Log in, if you are already a subscriber
Get unlimited access to thousands of curated premium stories and 5,000+ magazines
READ THE ENTIRE ISSUE
April 2017