Corsica
Lonely Planet Magazine India|January 2019
Look to the bottom right of a map of France, then go a bit further – Corsica will be there in all its rocky splendour. Take the time to discover its plentiful beaches and coastal citadels, forest valleys and mountain heights, on a road trip that circles round this herb-scented and vividly scenic Mediterranean island.
Head to Ajaccio and the west coast to begin with contrasts of city life and unspoiled shoreline
ON A BEACH SOUTH OF AJACCIO, THE COWS AND BULLS ARE sunbathing. At least, it seems that way. Why else would a dozen- strong herd be standing placidly along the shore of Plage de Mare e Sole – the Beach of Sea and Sun? Corsica faces the French Riviera across a hundred blue miles of the Mediterranean, but the island's coast has little in the way of high-rise hotels and beach condos. Most of it remains wild or at least – like the cattle – feral. Corsica is one of France's most sparsely-populated regions and there is not one kilometre of autoroute on the island. Although it was the destination for the first true package tours in 1950, attention soon swung to the Spanish costas. Today, visitors to Corsica can bask in a corner of the Mediterranean that has dodged many of the region's mistakes, even if the price is having to drive a more curvaceous route from A to B – or to give livestock on the beaches some personal space. Ajaccio is as urbanised as Corsica gets. Standing in its palm-shaded main market square, local guide Catherine Lehmann points out how small the historic core is. It was founded in 1492, the same year Columbus reached the Americas, by settlers from the explorer's home city of Genoa in Italy. Originally, native Corsicans could not live within its walls. "The Genoese maintained Corsica as poor as possible, so nobody else would want it," says Catherine. In Ajaccio's heart stands the Maison Bonaparte, birthplace of its most famous son. Napoleon had an ambivalent relationship with Corsica, but he didn't forget Ajaccio, making it the island's capital in 1811.
Catherine stops to greet a local painter who is working on a view of the Rue Cardinal Fesch, but she is keen to head west of the Old Town to show a part of Ajaccio that fewer visitors know: the Quartier des Étrangers (Foreigners' Quarter). Its mid-19th-century villas, some in candy stripes, were built under Napoleon's nephew, Napoleon III. "He wanted to make Ajaccio into a winter resort for British tourists," says Catherine, pausing on the historic irony. It's a Sunday morning and the flea-market stalls are out along the seaside promenade. Old brassware and crockery jostle for space with Napoleonic tin soldiers and record covers sporting the face of another favourite son of Ajaccio, the singer and film actor Tino Rossi. "We are lucky in Corsica, because, in mainland France, the professionals come at 5am and buy everything that's good," says Catherine. "They don't come here."
Ajaccio is on a little bay ringed by the local equivalent of urban sprawl – meaning that after barely more than a mile, you're in the hills amid the aromatic scrub known as the maquis. On the map, the west-coast road would appear to be the quickest route from Ajaccio to Calvi, but, as the rocks turn redder and the turns grow tighter, drivers realise that scenery, not speed, is the aim here. Beyond the town of Piana are its famous calanques – sharply defined valleys of pink porphyry running down to the sea within blankets of pine forest. This primary-coloured landscape makes fruitful ground for pareidolia: the scientific term for 'rocks that look like things'. Here is a blink-and-you-miss-it hole in an outcrop that reveals a sky-blue heart. There is a dog's head, ever alert.
The road just about copes with the challenges posed by the Calanques de Piana, but there would be no chance in the Réserve Naturelle de Scandola. The only way to see these cliffs is by boat; even hikers cannot set foot in the reserve. It's a World Heritage site, like the calanques, and has been key to the survival of ospreys in France. Tour boat captain Jordane Muzet points out a nest atop a crag and other less lofty signs of the area's biological health: along the waterline is lithophyllum – sensitive algae that grows only two centimetres every 100 years. The rocks here are a deeper shade even than those in the calanques. Jordane weaves the hybrid-engine boat between cliffs and rock stacks, and noses it into inlets, always ready with a prompt before some curiously-shaped natural feature: "Can you see the dragon's face? No? You can get some beer from the bar below to help."
Around Calvi and La Balagne, you'll find top local produce and revived farming traditions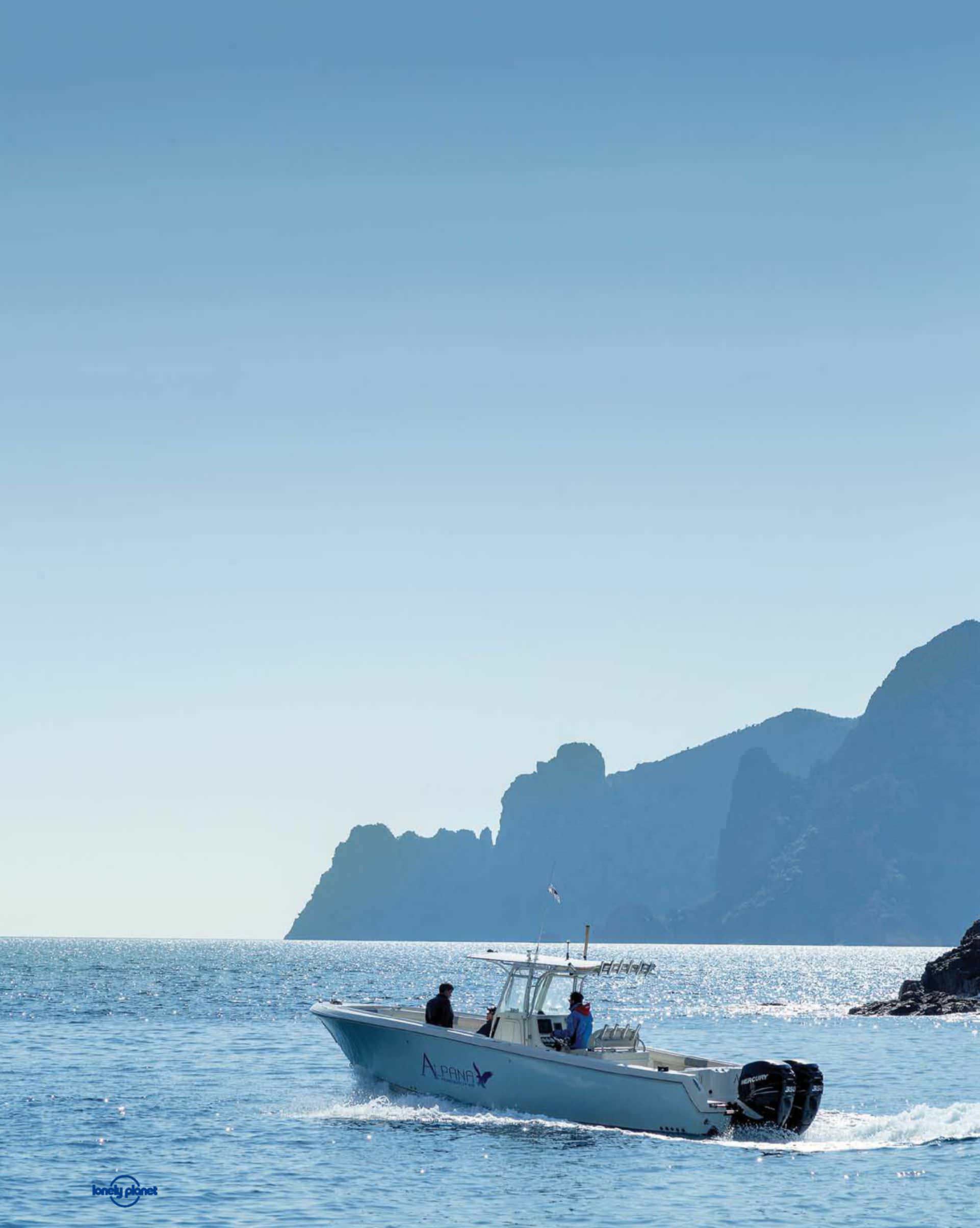 You can read up to 3 premium stories before you subscribe to Magzter GOLD
Log in, if you are already a subscriber
Get unlimited access to thousands of curated premium stories and 5,000+ magazines
READ THE ENTIRE ISSUE
January 2019