Best In Europe 2019
Lonely Planet Magazine India|July 2019
It's that time of year when we reveal our top ten destinations in Europe, as decided by Lonely Planet's experts. The countdown starts right here, by the shores of the Adriatic…
10 Istria Croatia
There's something regal about Istria's heart-shaped peninsula, with its limestone riviera, grand monuments and abundant fine produce. Perhaps that's why the Romans, Venetians and AustroHungarians tussled over this beautiful, fertile land for centuries. Begin with the history: Pula's Roman amphitheatre and Pore's UNESCO-listed mosaics.
Then laze, with dozens of beautiful beaches to idle on, from Mulini, with its relaxed atmosphere and beach bar, to secluded Felsen Strand. Diversify with a gourmet cycle tour during spring, music festivals in summer, and truffle-hunting excursions come autumn.
FRESH FROM THE SEA
The Istrian peninsula is surrounded by the Adriatic, inhabited by more than 400 species of fish. The main fishing ports on the west coast include Faana, Novigrad and Rovinj (pictured), where the daily catch includes anchovies, sardines, red and grey mullet, scampi, shrimp, spider crab, octopus, squid and sea urchins. Traditionally, fish is prepared very simply, grilled with olive oil, so its quality is to the fore.
Konoba Astarea is a good place to try freshly-grilled seafood, where you can watch your choice being cooked over an open fire. The fish is all caught by local fishermen that morning or the previous evening. A highlight of the menu is the deliciously delicate and simple scallops, grilled with olive oil, konjac root and wine (00-385-5277-4384). F For something a little more sophisticated, make a pilgrimage to Konoba Batelina on the outskirts of Pula, run by father and son team Danilo Skoko and David Skoko. Father Danilo is a fisherman, and 60 per cent of the seafood served in the restaurant comes from his morning catch. The menu changes according to what's available that day, and the restaurant closes in August, when local fishing doesn't have the capacity to sustain it. Son David is the chef, and became famous locally after appearing on Masterchef (dinner only; 00-385-5257-3767).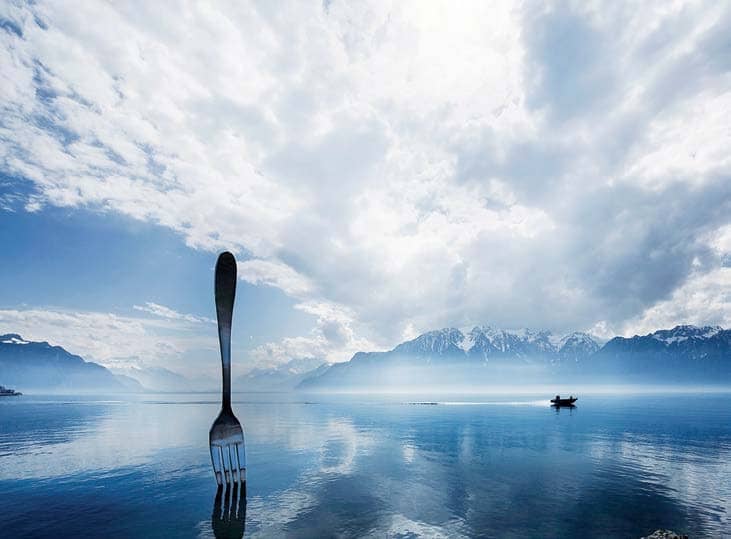 9 Vevey Switzerland
Vevey will be popping even more corks than usual when the Fête des Vignerons takes place in July. Held once every generation – every 20 years or so – this three-week wine festival is one of the biggest of its kind, an all-singing, all-dancing ode to bountiful harvests, wine-growing culture and grand cru grapes. Expect costumed shows, cowbell-clanging parades, Alphorn concerts and, above all, the chance to sample local pinot and chasselas at pop-up stalls and open-door cellars. It's not just its wine pedigree that makes this Swiss town so appealing. On the edge of Lake Geneva (pictured left), the tiny Old Town is crammed with places to eat, serving everything from 20-course tasting menus to cheap and cheerful fondue. You can work off lunch with a swim in the lake or a walk along the edge of the vineyards.
The World Heritagelisted Lavaux vineyards surrounding Vevey are among the steepest in the world, staggering up the hills above Lake Geneva, with the dreamy views you might expect. Never heard of them? That's because Lavaux wines are so select and special that the Swiss keep most of them to themselves.
The Romans planted the first grapes in the region, then Benedictine monks got down to business in the 11th century, slashing down woodland to plant vines.
It's said the grapes are blessed by three suns: the one in the sky, the one on the lake and the one radiating heat from the dry-stone walls. Look out for chasselas, a very old varietal with which the Swiss produce crisp, fresh and mineral whites.
After a dégustation (wine tasting) or two, meander on roads that lope around 41.8km of shore, or take the Lavaux Panoramic Train (www.lavauxpanoramic.ch), though the best way to see the Lavaux is to walk. Little trails dip into the vines all over the place. A highly recommended hiking route leads 11.2km from St-Saphorin to Lutry. For a great primer on Lavaux wines, stop off at Vinorama in Rivaz (www.lavauxvinorama.ch), in a born-again bunker that's undergone an ultramodern revamp.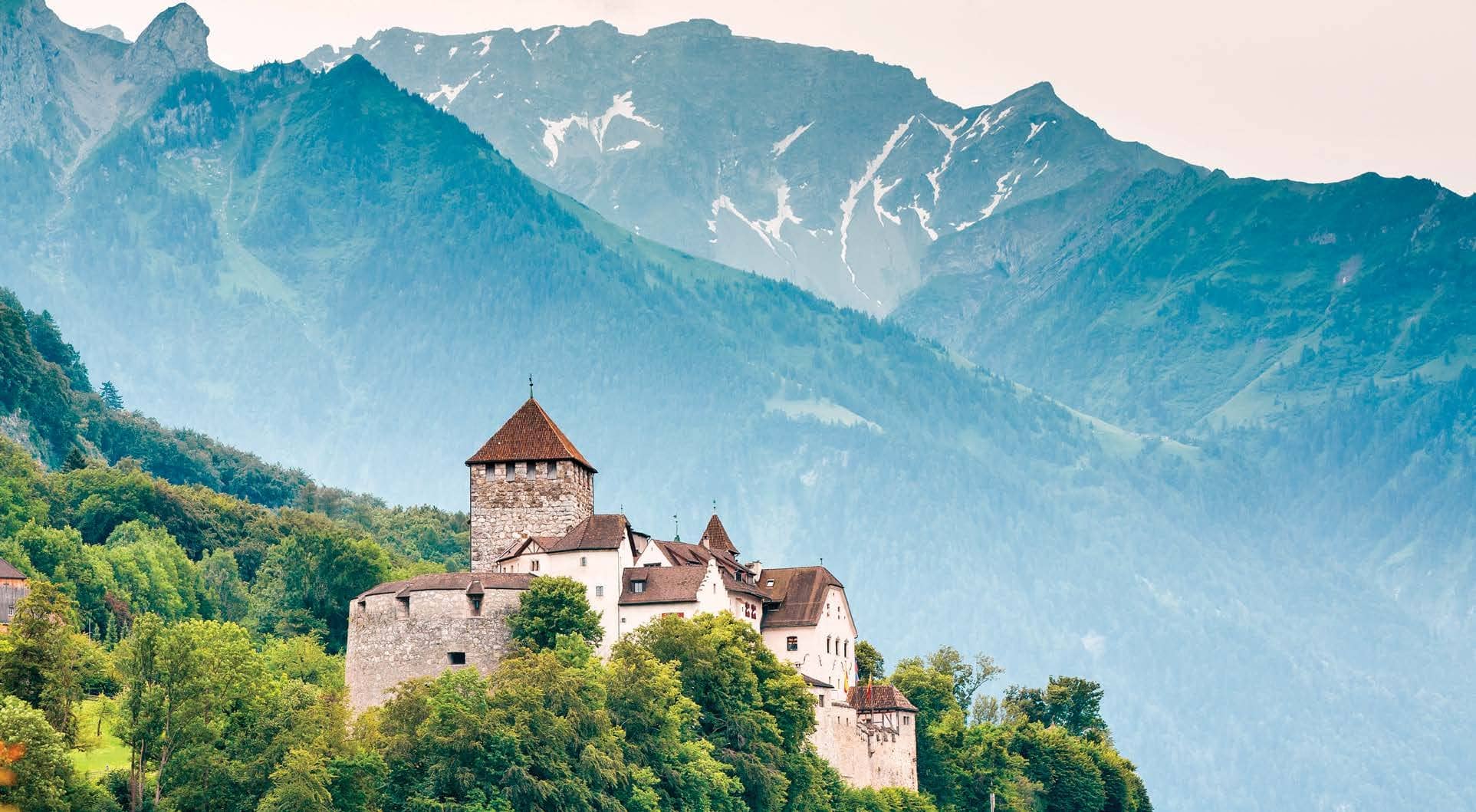 8 Liechtenstein
Fancy walking around an entire country on a weekend? That's the prospect on offer in little, lovely Liechtenstein. As part of celebrations to mark 300 years of sovereign nationhood, the country will open the Liechtenstein Trail, a scenic 75.6km hiking path that twists over peak and pasture on a route that takes in all 11 of its municipalities. Even if you leave the hiking boots at home, Liechtenstein is a fascinating place to visit: a rural yet rich state ruled by a prince from a hilltop castle (pictured) above the petite capital of Vaduz. The anniversary is an added incentive to go, with special exhibitions (such as highlights of the Princely Collections at the Museum of Fine Arts) and parties, the biggest bash falling on the country's National Day, August 15.
CIRCUMNAVIGATE A COUNTRY
Easily spread across two to three days of walking, the hike kicks off in Vaduz and winds through vineyards and pastures, along the banks of the Rhine, and over moor and mountain. En route, there are castles to ignite medieval fantasies, such as ruined Schellenberg and turreted Gutenberg in Balzers. You'll also get to experience natural highs such as the wildlife-rich peatlands of the Ruggeller Riet and the mountain ridge of Eschnerberg, with deep views into the Rhine Valley (www.tourismus.li).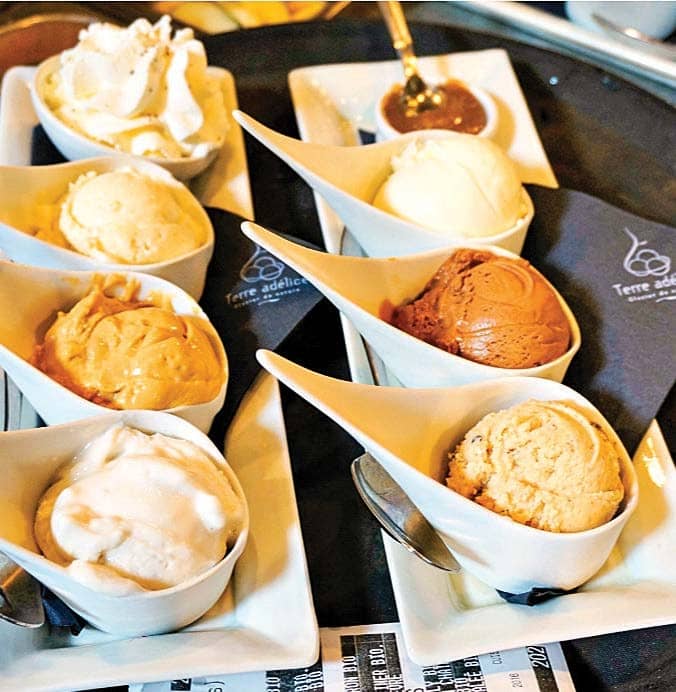 7 Lyon France
Industrious Lyon may not have Paris's heart-throb reputation – or major crowds – but it does share some of its winning traits. It's beautiful, with two hills (Croix-Rousse and Fourvière) and two riverfronts (Rhône and Saône), and food-obsessed, with its scores of legendary bistros and bouchons (small bistros).
It's also highly cultured, with a miscellany of museums ranging from the new science and ethnology hub at Confluence to the pretty garden and puppets of Musée Gadagne. Thanks to the remodelling of the Confluence district virtually from scratch, and bold architecture projects galore, this is a city transformed. Go now, before it wins the international darling status it deserves.
KNOW THEIR ONIONS
"I don't recommend the onion," wisecracks one of the assistants at Terre Adélice (pictured above), as he gestures a silver scoop across two freezers of multicoloured ice cream. At this cult ice-cream parlour, burrowed among wrought-iron balconies, ornate streetlamps and medieval cobbles on Rue Saint-Jean, not only is there an onion flavour, but its kick is as pungent as a soil-covered bulb from the farmers' market.
You can read up to 3 premium stories before you subscribe to Magzter GOLD
Log in, if you are already a subscriber
Get unlimited access to thousands of curated premium stories and 5,000+ magazines
READ THE ENTIRE ISSUE
July 2019