COLOURING YOUR PAINTING DIGITALLY
ImagineFX|July 2020
Discover how Abigail Larson makes use of digital colouring tools to enhance her traditionally painted artwork, based on a 19th century poem
This piece, The Goblin Market, is a recent reworking of a piece that I made several years ago, when I was still developing my style with watercolour. It's inspired by the poem of the same title by the 19th century English poet Christina Rossetti.
Because it's a Victorian fairy tale, I wanted to make sure my character looked period-appropriate, but that the art itself evoked a nostalgic whimsical setting. I normally start my pieces with rough sketches, but I knew what I wanted to do for this one. I also had the benefit of having my older drawing to reference. So I began the figure sketch and arranged the goblins around her in a way that would encourage the viewer's eye to move around the piece.
Once the drawing was finished, I began the ink drawing on a clean sheet of watercolour paper, and added a light watercolour wash over the page to add texture. Then I scanned it and added colour digitally in Photoshop. This stage is where I select elements of the piece and start the values of the piece in black and white, and then select areas to colour individually.
How I create…
A FIGURE IN A FOREST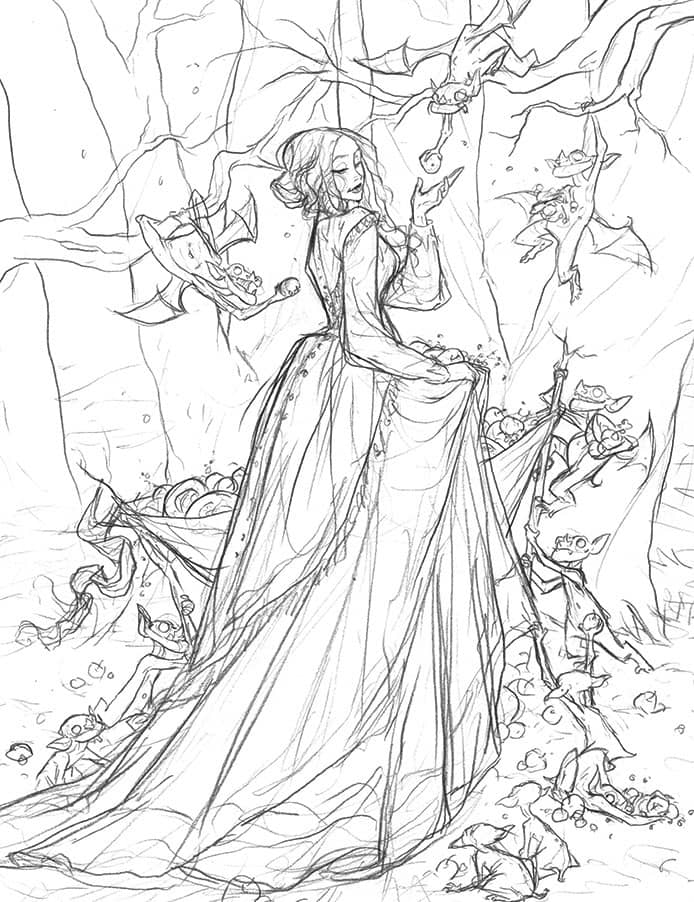 You can read up to 3 premium stories before you subscribe to Magzter GOLD
Log in, if you are already a subscriber
Get unlimited access to thousands of curated premium stories and 5,000+ magazines
READ THE ENTIRE ISSUE
July 2020