8K TV given a picture polish
Home Cinema Choice|May 2020
John Archer believes Samsung has made huge improvements with its new 8K QLED flagship
While some companies still sit on the 8K TV sidelines, Samsung has already reached its third generation of 7,680 x 4,320 flatscreen. As expected, this year's offerings promise to be better than ever, both in terms of AV prowess and aesthetics – and more affordable to boot. If you've always viewed the question of upgrading to 8K as 'when' not 'if', perhaps the answer is 'now'.
One detail that might sway you (or might not) is the seal of approval from the industry body the Consumer Technology Association (CTA). Samsung's top-of-the-range 2019 8K sets hit a stumbling block when the CTA announced its 8K certification programme in September – and the Korean brand's screens didn't pass mustard when it came to a criteria known as contrast modulation (CM), which tests a display's ability to distinguish a pattern of alternating, one-pixel-wide, white and black lines. Samsung's employment of a new wide viewing angle technology caused them to fall short of the desired CM measurement. Not surprisingly, the company has put this right, and the QE75Q950TS auditioned here passes all current 8K TV 'definitions'. As a result, its viewing angles aren't quite as high as those of last year's 8K sets; pictures lose a little contrast now from angles of around 35 degrees off-axis. In every other way, though, it improves on its predecessors.
So what experience does a 75in 8K TV deliver? Predictably, its pictures are gloriously detailed and sharp. This is, of course, especially true if you feed it native 8K material. For the purposes of this review, such content was predominantly a high dynamic range (HDR) showreel of nature scenes created by Spears & Munsil. Every single frame of this looked more textured, more immediate and simply more real than it did on last year's Q950R model.
There's still scepticism about 8K's benefits. But to my eyes the advantages are clear, at least on 75in screens and above. Even from typical viewing distances there's a cleaner, more detailed look to images.
With native 8K content practically nonexistent at the time of writing, though, the most important improvement the QE75Q950TS delivers is its improved upscaling. Viewing the 4K Blu-ray of the beautiful Blade Runner 2049 transfer on Samsung's new model, head-to-head with last year's 75Q950R is like watching the film in two completely different resolutions. The amount of extra sharpness, texture, skin detail and subtle shading delivered on the Q950TS is incredibly obvious.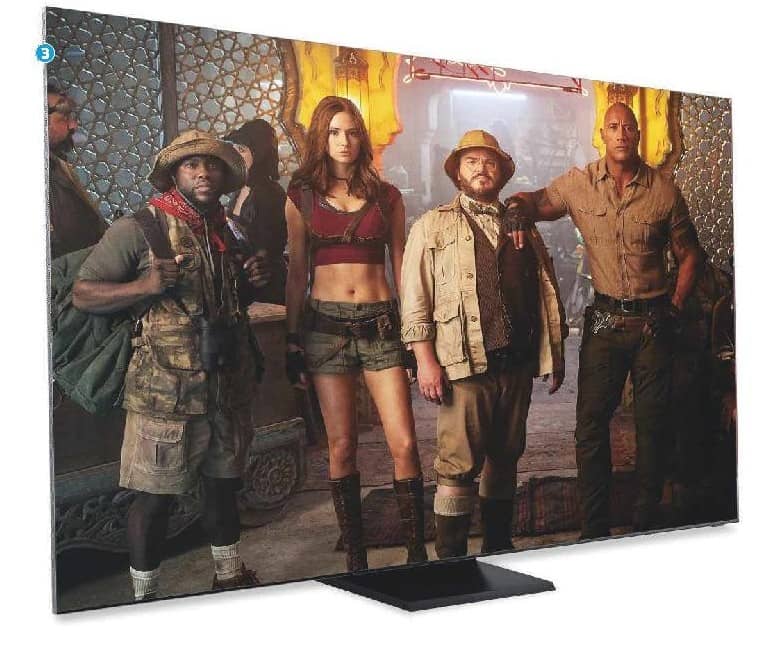 Panel beater
Some of this picture performance boost is due to a revamped panel design. Getting up close to the screen, and using highly detailed shots, reveals that where edges and small details are 'blurred' on last year's set by a noticeable horizontal line structure, a more straightforward square pixel structure this year results in edges and details looking much finer and more defined.
You can read up to 3 premium stories before you subscribe to Magzter GOLD
Log in, if you are already a subscriber
Get unlimited access to thousands of curated premium stories and 5,000+ magazines
READ THE ENTIRE ISSUE
May 2020