The Power Of Laughter
They have had us in splits within moments; we have nodded our heads constantly, identifying with what they say on stage. They have left us wanting for more, long after their gigs ended. This year, Femina's humour issue brings you some of the country's most popular stand-up comics, telling their tales in the vein they know best
THE CALL of SATIRE SEJAL Bhat
FROM CRACKING JOKES ON HERSELF TO TRYING ALMOST EVERY JOB, SHE TELLS HER STORY
I discovered comedy as a child, although I didn't consciously know it at the time. I ended up going through a series of education shifts, job changes, and even career switches in my hunt for a true calling.
Growing up, I was considered argumentative and always talked back to my parents. It was a thrill to beat someone in an argument with a perfectly-crafted comeback. At school, I was generally hyperactive throughout classes. I was a small kid who wouldn't swear and I remember being picked on a fair number of times. I particularly remember this one instance where a kid was poking fun at my last name and I retorted, 'Please don't push it or this Bhat will crack'. It got more laughs than the bully's joke. I remember thinking that if I made fun of myself better than anyone else, I had won. Over the years, comedy became my security blanket, and I could comfortably be the 'Bhat' of my own jokes!
As the years rolled on, I pretended to make up ambitions, as a way to convince myself that's what I wanted to be. One day I was going to be a neurologist, the next, an astronaut or a gynaecologist. My focus even shifted to engineering at IIT. But instead of prepping for the entrance exams, I spent inordinate amounts of time reading everything else but my textbooks, and even listened to music. My mom thought I was always upto something; she just didn't imagine the innocence of it. This one time she 'caught' me on the internet looking at X-rated content. Fortunately, I was committing the lesser crime of downloading pirated music when the ad popped up. Mom, if you're reading this, I wasn't watching porn that day!
Anyway, my interest/passion/career choices kept fluctuating, and you could say I was a jack of all trades. Name the job, and I've probably held it. Whether it was journalism (I hold a degree in the subject, FYI), or being a business analyst at Goldman Sachs, I've tried it all. But, something was always amiss.
While switching jobs, a friend suggested I try my hand at stand-up. Soon, I started attending open mics but was too chicken to go up on stage. A comedian friend pacified me by saying the audience wouldn't really remember me, whether I bombed or not; that helped me calm my nerves, and I gradually learnt to enjoy the adrenaline rush every time I'd get up on stage.
Over time I realised all those temporary callings were fantasies about the destination, not the journey. With comedy, for the first time, it became about the journey. I enjoyed the process of creating a joke, and refining it—that's the fantasy—about doing an honest job and getting better. That's how I finally know I'm right where I belong!
—As told to Kalwyna Rathod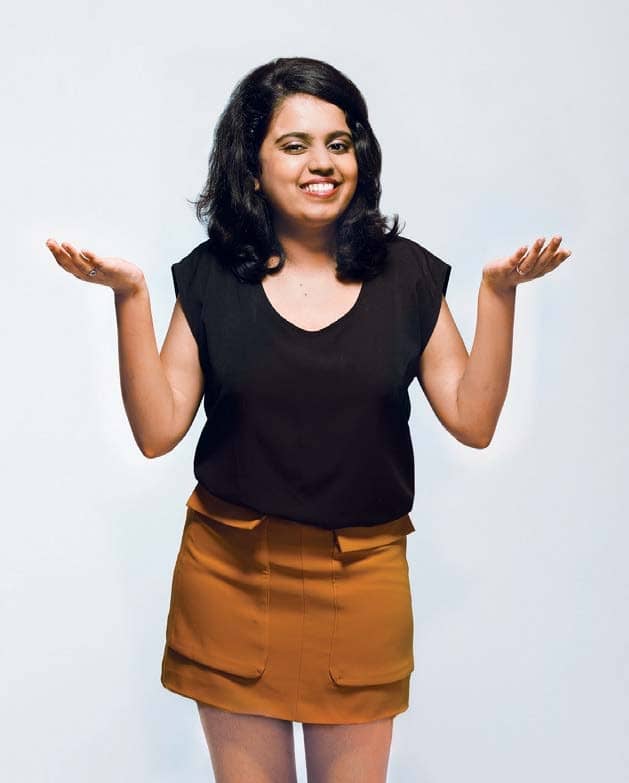 'WHO'LL MARRY A COMEDIAN?'
AISHWARYA Mohanraj
DESPITE HER PARENTS' MISGIVINGS, SHE DECIDED TO QUIT HER JOB AS A RESEARCH ANALYST AND VENTURE INTO THE FIELD OF STAND-UP COMEDY. THE REST IS HISTORY IN THE MAKING
If you ask me which comedians I grew up watching, I'd draw a blank. While I had a hushed liking for it even as a kid, comedy and I found each other much later in life. Plan A was to have a normal (read: conservative) career that was anything but creative. This, of course, was supported by society-approved logic, and my mother's words, 'Comedian se shaadi kaun karega?' But that's how you a have stand-up comedian with a sleeping (read: non-functional) MBA.
We're all rushing to grow up: when in school, college life seems better; in college, having a job looks good. It's only when you hustle to get to that 'dream job' that you find yourself wondering what you've gotten yourself into! I just couldn't imagine myself sitting in front of a computer all day, every day, doing only what I was expected to do. To fill this void, I started sharing jokes on Facebook. Soon, writing humour pieces on social media became a hobby. With every new like on my post, my confidence escalated, drawing me towards the big question: why not do an open mic? That was the final pull.
I joined the comedy bandwagon in June 2017, and quit my job in October the same year. Of course, it was not without my fair share of apprehensions: 'Kyun karna hai? Job toh hai.' You can't quit your job, right?. But the voice in my head said 'How about quitting now?' when I applied to Comicstaan, and it grew louder when I was selected. While my mother was adamant on me being the potential bride, I managed to get a year-long buffer from my father. My first gig was at a cafe in Mumbai. I prepped for a month in front of the mirror before I stepped on stage, I spoke about my school crush and mother. Exactly 10 of my friends turned up, and watched with an expression as blatant as 'Arre ek mauka to de hansne ka'. As it turns out, Facebook posts don't do quite as well when you read them out loud, not without those dramatic pauses, or that voice you used in the elocution contests. Fortunately, as every comedian will experience, first open mics or shows will never be as funny as they think, but give it time.
That's precisely my giveaway to aspiring comedians. You might be good, even better than most, but you need to remember that there will be days when you will bomb. I assure you, your audiences will be ruthless; they'll tell you that you weren't funny, making sure you hear them loud and clear. But take that first step; it's the only way you'll get better. The audience will not laugh at everything; more often than not you won't know which jokes need work. You have to keep going.
As for me, I am in the process of creating more content to stay relevant. So the next time you stumble upon one of my videos, you should say to yourself, 'Oh! Yeh comedy karti hai, yaad hai!'
—As told to Hemchhaya De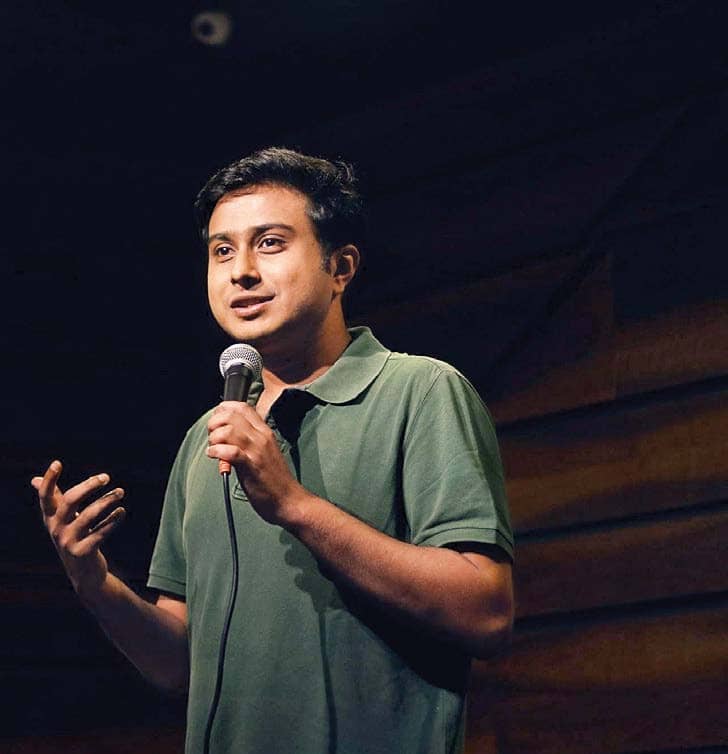 THE BACKUP MAN
ANIRBAN Dasgupta
LOVE FOR WRITING HUMOUR ORGANICALLY GREW INTO A PASSION FOR HIM. HERE'S HOW HE STAGES HIS JOKES TO ENVELOP THE AUDIENCE IN LAUGHTER
You can call me Mr Runnerup. In my group of friends, I was not the funniest; on the debate team, I was the substitute—I was always the back-up plan. I started off as a sales professional before I steered into comedy, and nothing much has changed since. The plea that started as, 'Kahin se bhi order aa jaye', now sounds a lot like, 'kahin se bhi inspiration aa jaye'.
My hometown, Kolkata, is a unique place to pursue comedy. After seven years of the culture of stand-up, the craft is still not thriving! That's just the beauty of Cal; everything happens in its own sweet time. I was studying in Pune when I felt comedy's call, and I began following some popular comedians on Twitter. Later, I landed a job in Mumbai and could witness the rise of comedy clubs. However, a job transfer made me move back to Kolkata, and once again comedy shrunk to virtual gratification, until an open mic event popped up.
Typically, as a start, one would expect a small setting of 20 to 25 people. Kolkata tunes in differently; our first ever open mic took place in an auditorium, in front of 20 people and 580 empty seats for a winning prize of one lakh. The cash was to lure the comedians to enroll, which it did— three entries in total. To add insult to injury, I lost, and I lost to someone who quit comedy soon after. At the time my job involved a lot of travelling, and every time there was an important event, I was away on business. I was trying to make a similar living with my jokes, before I quite my full-time job. As fate's line-up would have it, the gigs dried up soon after I quit my job.
Over the years I have developed my comic style. I believe I get my humorous streak from my mother, who is quite the situational comic. Imagine this: she wants me to give her a grandchild, so whenever we talk, she finds a way to bring it up. Once, we were discussing cricket and she coolly said, 'Oh Rohit Sharma IPL jeeta, uske paas bhi bachcha hai'; she always manages to crack me up.
Let me tell you what works for me.
One evening, I had a gig at a hotel's nightclub, and we had taken over the dance floor. In the middle of the event, a seemingly drunk (and visibly-agitated) lady decided to join me on stage. She proceeded to interrupt my set, saying, 'This is a nightclub. Why are there so many chairs?' I replied, 'You can dance to our jokes if you like'. Naturally, like her alcohol, my comeback didn't sit too well with her, and we began to argue. The two of us were in what felt like a boxing ring. I guess she just wanted to beat me to the punch…line!
The sphere of comedy is both, welcoming and rewarding. Just have fun on stage, lose yourself in that sea of laughter, and bask in the validation.
—As told to Shruti Shukla
PLAN C for COMEDY
SONALI Thakker
You can read up to 3 premium stories before you subscribe to Magzter GOLD
Log in, if you are already a subscriber
Get unlimited access to thousands of curated premium stories, newspapers and 5,000+ magazines
READ THE ENTIRE ISSUE
August 9, 2019