Self-care In Testing Times
Femina|May 24, 2020
While beauty may seem only skin-deep, conscientious enthusiasts are well aware that a passion for all things personal care is way more than looking good. It is about treating your body right and taking care of it to feel beautiful inside and out, finds Shruti Shukla. Read on for feel-good beauty practices, the role of diet in promoting holistic wellness, and testimonies from team Femina
These are strange times. We began the year raging into a new decade with an untameable pace, and a huge amount of stress. Three months into 2020 and we found ourselves cooped up inside our homes, again, with elevated levels of stress. The fact remains that one's mental wellness directly impacts one's physical being. As a result, this mental unrest is bound to take a toll on your overall health. While pale skin, outbreaks, and hair fall are some of the first and most visible signs you may come across, the problem goes much deeper.
Taking care of yourself at this time can significantly shape how you feel. Cosmetic dermatologist Dr Simal Soin, founder of Aayna Clinic, says, "Under these exceptional circumstances, it is easy to slip into despair and depression due to a lack of routine. Remaining healthy is of topmost priority, and this is the time to develop a self-care regime. Maintaining a good skin and hair care routine can boost your self-confidence, and help productively utilizing your time."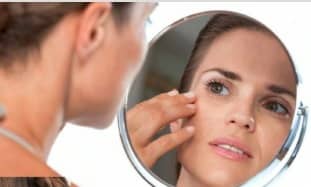 How Anxiety Affects Your Looks
Acne and oily skin are the most common side effects of stress. "When our body is stressed, it releases cortisol—the stress hormone. It weakens the skin's immune system, leading to oxidative (free radicals) stress. This manifests itself as wrinkles, fine lines, and lack-lustre skin. It also increases inflammation in the body and conditions like eczema, rosacea, and psoriasis can flare up," explains Dr Geetanjali Shetty, consultant dermatologist and cosmetologist at Cetaphil India.
Just as feelings of distress quickly reflect in the way you look, investing in beautifying yourself can have a therapeutic effect, thereby promoting positive feelings.
The Role Of Proper Diet
They say, you are what you eat. Poor dietary choices significantly affect how you look and feel. If your body isn't getting ample nourishment, topical treatments will only bring temporary happiness.
Dr Shetty warns, "The lockdown can result in redundancy, as your physical activity will be down by notches. This can cause your digestive system to slow down, leading to skin issues. It is recommended to stay away from fried and spicy foods. Instead, load up on vitamin E—the superfood for skin and hair. Almonds, corn oil, cod-liver oil, hazelnuts, peanut butter, salmon steak, and sunflower seeds are some rich sources of vitamin E."
In addition, fruits play a vital role in keeping the skin healthy as they are rich in antioxidants and vitamins. Berries, flax seeds, beetroot, and sweet potato are other beautifying foods that you can include in your daily diet for that au naturel glow.
FEEL-GOOD BEAUTY PRACTICES
Listing ways how you can use the path of beauty to fight feelings of anxiety.
Tidy Your Beauty Drawer Ever heard of the phrase, if you want to tidy up your mind, start with your room? Take this as an impetus to rearrange your products in an orderly way. Consider this as a meditative process that will offer you some me-time as you go through your beauty essentials. As you organise, you will also feel your mind declutter. This will not only have a healing effect now but will also simplify your life in the days to come.
Give Away What You Are Not Using
You can read up to 3 premium stories before you subscribe to Magzter GOLD
Log in, if you are already a subscriber
Get unlimited access to thousands of curated premium stories and 5,000+ magazines
READ THE ENTIRE ISSUE
May 24, 2020