Love And Other Drugs
Femina
|
Femina Volume 60 Issue 3
Experiencing the first flush of love is probably one of the most thrilling emotions in the world. You jump in excitement as soon as your phone buzzes, hoping it is your partner, and get butterflies in your stomach at the thought of seeing them. But what exactly is going on in your brain when you fall head over heels in love with someone and why are break-ups so damn hard? Ruchi Chopda talks to experts to find out the science behind love and sex
Love, they say, makes the world go around. And all those who have been in love would agree. Those newly in love are like aliens who have just arrived on a spaceship. They are happy all-day long (including monday mornings), talk over the phone
For hours at a stretch with their partner instead of simply texting, and go out to meet them practically every day (so much for socialising!). So happy and
Mirthful is a person in love that you can spot him or her from afar.
But why do otherwise rational beings behave so out of character when in love? Why are they willing to fight the world à la romeo and juliet just to please their lovers and be with them? Why, in spite of there being plenty of fish in the sea, do they prefer to spend their time with one person, day in and day out? The answer lies in science, at least, partly!
LOVE IS ADDICTIVE
In her famous 2014 TED Talk, American anthropologist Helen Fisher, leading expert on the biology of love and attraction, referenced her first study of people who were happily in love. According to her, the researchers found activity in the A10 cells of the brain's ventral tegmental area (VTA) among the subjects. A10 cells are responsible for making dopamine—a chemical released by nerve cells to send signals to each other. The VTA is part of the brain's reward system related to wanting, motivation, craving, orgasm, and intense emotions relating to love, among other things. In fact, it is the same brain region which becomes active when you feel the rush of addictive drugs and is involved in the early, obsessive stages of love. This is probably why romantic love, much like drugs, is addictive.
But before you get addicted to a person, your brain does a lot of behind-the-scenes work to gauge their compatibility as a lifelong partner. Unlike in the meet-cute romantic films, where the protagonists fall for each other the instance their eyes lock, romantic love is a tad more complicated. Dr Dinesh Bhugra, Emeritus Professor of Mental Health and Cultural Diversity at the Institute of Psychiatry, Psychology, and Neuroscience at King's College London, explains, "Romantic love is influenced by a number of factors, right from physical attraction to emotional attachment with clear cultural and social norms. In the Indian context, couples often marry in an arranged setup and love emerges gradually, rather than at first sight. Similar attitudes, family backgrounds, etc. can contribute to a sense of affection, which gives way to love. Love at first sight occurs, but rarely."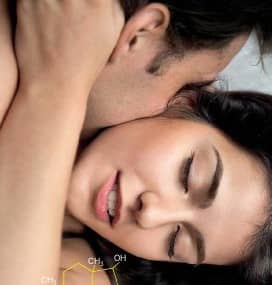 THE BIG THREE
You can read up to 3 premium stories before you subscribe to Magzter GOLD
Log in, if you are already a subscriber
Get unlimited access to thousands of curated premium stories, newspapers and 5,000+ magazines
READ THE ENTIRE ISSUE
Femina Volume 60 Issue 3