THE SECRET'S OUT
Drum English|4 June 2020
After keeping everyone guessing about their relationship, Hungani and Stephanie Ndlovu let us into their lives as a married couple
FOR years he's simply been known as the guy who plays the underdog in Scandal!. He's had fans raving about his mastery and he's recently even been compared to The Professor in Money Heist by some.
She's been part of the Scandal! family for five years, playing the sweet, quiet Ingrid who barely makes waves.
Together, they've become known as one of SA's newest It couples, who managed to keep their relationship and wedding a secret from even the most prying of eyes. The first South Africans knew of their marriage was when the couple posted rings on their new YouTube channel, which already has hundreds and thousands of subscribers.
Days later Hungani (25) and Stephanie (28) Ndlovu posted their wedding video, and it had over a million views within a couple of weeks. When the country went into lockdown, they had just celebrated their one-year wedding anniversary.
For the first year, they kept their marriage a secret, preferring to spend that time learning what makes the other tick.
They then decided to let their fans in by sharing details of their big day, and it caused a social-media meltdown.
It's been an interesting time to be newlyweds, Hungani and Stephanie tell us.
They've been enjoying the flow of their relationship as they navigate being in lockdown. They anticipated being confined together at home could be problematic, but they spoke about it and it's been a breeze. "We don't have a set routine for anything, we just let things flow. Some days I'm moody, some days he's moody and on other days we're both moody and that's okay," Stephanie says.
"We just let it be and when it's time for us to be okay, then we'll be okay. Giving each other space has helped."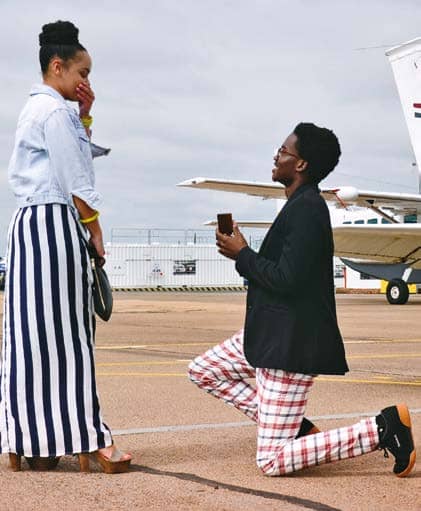 Hungani says having two TVs in the house has also helped because then no one is forced to watch something they don't want to. "She can be in the bedroom binge-watching her own things, laughing out loud without being disturbed and I can do the same in the living area," he says.
You can read up to 3 premium stories before you subscribe to Magzter GOLD
Log in, if you are already a subscriber
Get unlimited access to thousands of curated premium stories and 5,000+ magazines
READ THE ENTIRE ISSUE
4 June 2020