Marc Anthony's Mogul Moment
Billboard|April 30, 2016
He has sold more than 10 million records, survived a high-profile marriage to J.Lo and is now — from a lavish new home base in Miami — building a management company of musicians and athletes to rival Jay Z's Roc Nation. As he "steps up" against Trump, the GOP and music-business-as-usual, the odds are in his favor. "There are 610 million Latinos on the planet. If it works, we'll be miles ahead of a lot of people."
MARC ANTHONY HAS SEEN the future, and it's sitting next to him on a couch. It is three in the afternoon in Miami, on the kind of gorgeous, blustery spring day when the South Florida scenery — sky, sea, swaying palm fronds, pastel-painted buildings — seems to have been arranged by a meticulous set designer. Anthony is holding court in a small office on the second floor of the spiffy new headquarters of Magnus Media, the entertainment company he launched in March 2015.
The room is packed. There's Anthony; his business partner, Magnus Media CEO Michel Vega; Anthony's brother, Bigram Zayas, a longtime music industry insider and the co-founder of Loop Labs, an online tool for music collaboration; Anthony's nephew, a producer and DJ who makes music under the name Develop. And then there's the young man seated to Anthony's left, Matt Hunter, a handsome, polite 18-year-old bilingual singer-songwriter of Colombian extraction, raised in New Jersey. Hunter has pursued the kind of guerrilla-style career plan modeled by Justin Bieber, posting videos on YouTube, building a sizable grass-roots following while attracting the attention of record executives. Today, Hunter is in Miami to discuss signing with Magnus Records and to be feted by Anthony, the improbably slight and youthful-looking 47-year-old Nuyorican legend who is among the biggest global superstars — and most powerful people — in Latin music.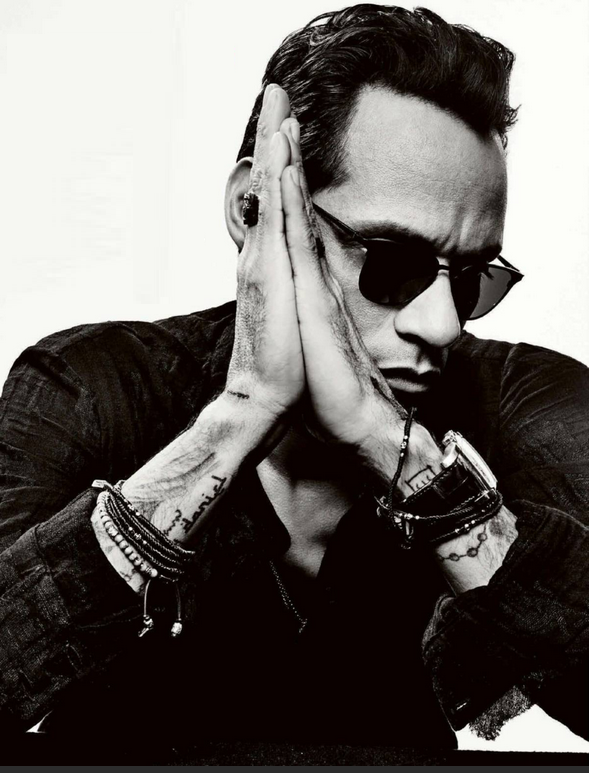 "I'm just a massive Matt Hunter fan," says Anthony. "He's a YouTube sensation, and he has done it all on his own, since he was 13 years old. When he goes to Chile, there are 5,000 fans at the airport. There are huge crowds outside his hotel in Argentina. He can pick up the guitar and play his ass off. He's a writer. Imagine an urban sound, in Spanish, played by this young, beautiful kid who's so talented and just lives music. I mean, the girls go bonkers."
In the meeting room, they cue up one of Hunter's new songs, "Amor Real," a blipping ballad whose plaintive vocals and vaguely tropical bounce bear the influence of — surprise, surprise — Bieber's recent music. But Hunter's singing is appealingly sly, and the beat, by Develop, is funky and odd, making clever use of space and silences and taking some surprising harmonic left-hand turns. In short, "Amor Real" sounds like a hit, and Anthony, head nodding and screw-facing intensely, likes what he hears.
"I believe that this is the sound," he exults. He turns to face Hunter. "I believe that you will develop this — and you'll have your own f—ing lane, man. There's a massive, massive void. Especially in the demographic you reach with your music. A lot of really smart people are looking for creative ways to enter that space." He pauses for emphasis. "This is the future right here."
A skeptic might accuse Anthony of exaggerating, of coming on too strong. Then again: What do you expect? Understatement has never been Marc Anthony's style. In a career that stretches nearly three decades, Anthony has been one of popular music's most unembarrassed devotees of the huge gesture, delivering songs full of romantic sentiments and grand crescendos, in a singing voice that is simply one of the most powerful on earth. It's a job, you might say, that he was born to do. Anthony's parents named him Marco Antonio Muñiz, after one of Mexico's schmaltziest ballad singers. As a child growing up in Spanish Harlem, he sang Spanish-language ballads at his parents' house parties; listeners were floored by the intensity, the sheer volume and force, of the sound that emanated from the small boy's body.
The story of Anthony's showbiz rise is the stuff of lore. He graduated from 1980s New York clubland habitue to pioneering house and freestyle vocalist to revivalist and revitalizer of salsa, a breakthrough that came with his blockbuster 1995 album, Todo a Su Tiempo, featuring eight No. 1 hits on Billboard's Tropical Songs chart. The rest is history: armfuls of Grammys, worldwide album sales upwards of 12 million, a global audience of hundreds of millions, marquee-topping movie roles, a ubiquitous tabloid presence and, among Latinos, the kind of exalted status that transcends mere megastardom. Today, Anthony has reached an apex: He's not just historic, he's folkloric, recognized around the world as both a great entertainer and a standard-bearer for Latino culture.
You can read up to 3 premium stories before you subscribe to Magzter GOLD
Log in, if you are already a subscriber
Get unlimited access to thousands of curated premium stories and 5,000+ magazines
READ THE ENTIRE ISSUE
April 30, 2016