Rogue One: A Star Wars Story
Discover how you make a science-fiction movie that's in touch with its past, as trevor Hogg talks to ILM's John Knoll.
Rogue One: A Star Wars Story marks the start of a series of movies that explore the origins and back stories of various historical events and characters that are part of the cinematic universe conceived by George Lucas."As far as I know I'm credited as executive producer, story by, and visual effects supervisor on the movie," says ILM's chief creative officer and VFX supervisor John Knoll, who took part in discussions about story, design, costumes and casting for the project based on his idea. "It began informally in the company after the new slate of Star Wars films was announced.
There were Episodes VII, VIII and IX which continue the Skywalker saga, but intriguing to a lot of us was this idea of doing films that are in the Star Wars universe, but weren't part of that through line. They could be their own self-contained, standalone stories that don't have to have any characters in common. One of them announced was the Han Solo story which is a wonderful opportunity to find out who this mysterious character that we meet in Episode IV is, and find out how he became the person we see there.
"I wanted to do some adventures with characters who we don't know, so I pitched informally to friends this idea of the rebel spy mission to steal the Death Star plans. I got these enthusiastic responses back when I would do this little 30-second version of it. 'Imagine this.' Encouraged by that, I started to get a little more elaborate with each telling."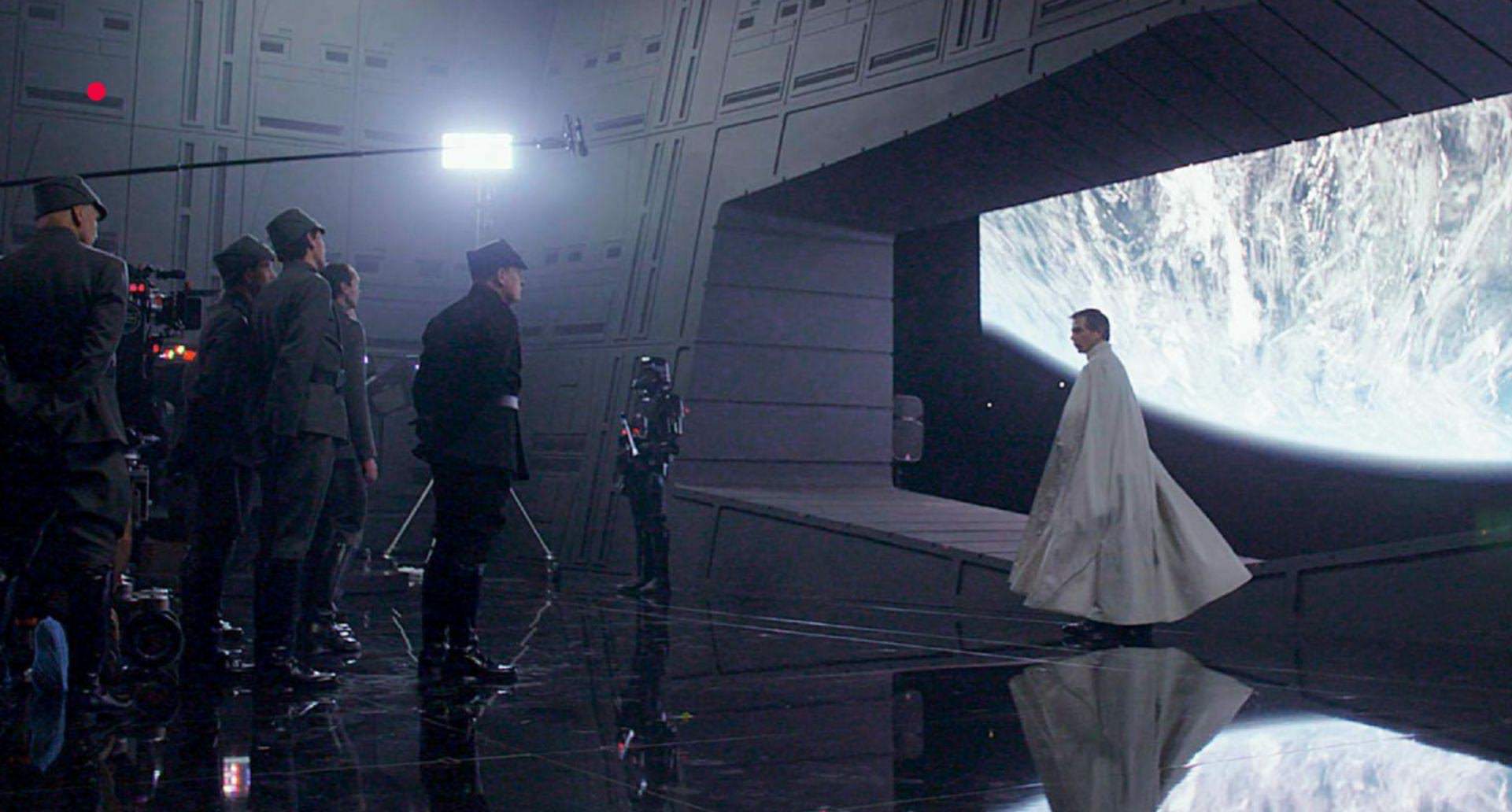 Many, many stars
Two new locations appear in the science fiction heist helmed by Gareth Edwards (Godzilla) and starring Felicity Jones, Diego Luna, Ben Mendelsohn, Donnie Yen, Riz Ahmed, Mads Mikkelsen, Alan Tudyk, Jiang Wen and Forest Whitaker. "I can't claim credit for Jedha or Scarif, which were the result of Doug Chiang [co-production designer] and Gareth working together on what they wanted some of these environments to be," reveals John. "Gareth wanted to shoot in some place like Jordan. We ended up in Wadi Desa right next to Wadi Rum where big parts of Lawrence of Arabia were shot. It's spectacular terrain. Jedha came from Gareth wanting to shoot there. How do we make that planet not look like any other desert planet we've been on because we've got Tatooine and Jakku? Some of it's colour palette. We're doing more Mars-like colours on the planet but with the idea of it being a cold environment with snow visible at times." The original concept called for there to be permafrost on the desert moon that is the home of the Kyber crystal contained in the Jedi weapon of choice – the Lightsaber.
You can read up to 3 premium stories before you subscribe to Magzter GOLD
Log in, if you are already a subscriber
Get unlimited access to thousands of curated premium stories, newspapers and 5,000+ magazines
READ THE ENTIRE ISSUE
January 2017