The Coddling of the American Mind
The Atlantic|September 2015
In the name of emotional well-being, college students are increasingly demanding protection from words and ideas they don't like, and seeking punishment of those who give even accidental offense. Here's why that's disastrous for education - and likely to worsen mental health on campus.
Greg Lukianoff and Jonathan Haidt, photographs by Andrew B. Myers
Something strange is happening at America's colleges and universities. A movement is arising, undirected and driven largely by students, to scrub campuses clean of words, ideas, and subjects that might cause discomfort or give offense. Last December, Jeannie Suk wrote in an online article for The New Yorker about law students asking her fellow professors at Harvard not to teach rape law—or, in one case, even use the word violate (as in "that violates the law") lest it cause students distress. In February, Laura Kipnis, a professor at Northwestern University, wrote an essay in The Chronicle of Higher Education describing a new campus politics of sexual paranoia—and was then subjected to a long investigation after students who were offended by the article and by a tweet she'd sent fled Title IX complaints against her. In June, a professor protecting himself with a pseudonym wrote an essay for Vox describing how gingerly he now has to teach. "I'm a Liberal Professor, and My Liberal Students Terrify Me," the headline said. A number of popular comedians, including Chris Rock, have stopped performing on college campuses (see Caitlin Flanagan's article on page 54). Jerry Seinfeld and Bill Maher have publicly condemned the oversensitivity of college students, saying too many of them can't take a joke.
Two terms have risen quickly from obscurity into common campus parlance. Micro aggressions are small actions or word choices that seem on their face to have no malicious intent but that are thought of as a kind of violence nonetheless. For example, by some campus guidelines, it is a micro aggression to ask an Asian American or Latino American "Where were you born?," because this implies that he or she is not a real American. Trigger warnings are alerts that professors are expected to issue if something in a course might cause a strong emotional response. For example, some students have called for warnings that Chinua Achebe's Things Fall Apart describes racial violence and that F. Scott Fitzgerald's The Great Gatsby portrays misogyny and physical abuse, so that students who have been previously victimized by racism or domestic violence can choose to avoid these works, which they believe might "trigger" a recurrence of past trauma.
Some recent campus actions border on the surreal. In April, at Brandeis University, the Asian American student association sought to raise awareness of micro aggressions against Asians through an installation on the steps of an academic hall. The installation gave examples of micro aggressions such as "Aren't you supposed to be good at math?" and "I'm colorblind! I don't see race." But a backlash arose among other Asian American students, who felt that the display itself was a micro aggression. The association removed the installation, and its president wrote an e-mail to the entire student body apologizing to anyone who was "triggered or hurt by the content of the microaggressions."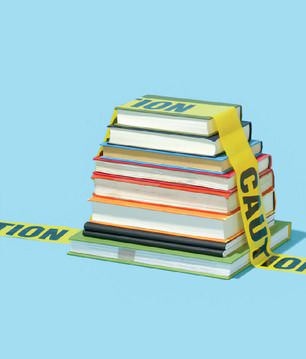 This new climate is slowly being institutionalized, and is affecting what can be said in the classroom, even as a basis for discussion. During the 2014–15 school year, for instance, the deans and department chairs at the 10 University of California system schools were presented by administrators at faculty leader-training sessions with examples of micro aggressions. The list of offensive statements included: "America is the land of opportunity" and "I believe the most qualified person should get the job."
The press has typically described these developments as a resurgence of political correctness. That's partly right, although there are important differences between what's happening now and what happened in the 1980s and '90s. That movement sought to restrict speech (specifically hate speech aimed at marginalized groups), but it also challenged the literary, philosophical, and historical canon, seeking to widen it by including more-diverse perspectives. The current movement is largely about emotional well-being. More than the last, it presumes an extraordinary fragility of the collegiate psyche, and therefore elevates the goal of protecting students from psychological harm. The ultimate aim, it seems, is to turn campuses into "safe spaces" where young adults are shielded from words and ideas that make some uncomfortable. And more than the last, this movement seeks to punish anyone who interferes with that aim, even accidentally. You might call this impulse vindictive protectiveness. It is creating a culture in which everyone must think twice before speaking up, lest they face charges of insensitivity, aggression, or worse.
We have been studying this development for a while now, with rising alarm. (Greg Lukianof is a constitutional lawyer and the president and CEO of the Foundation for Individual Rights in Education, which defends free speech and academic freedom on campus, and has advocated for students and faculty involved in many of the incidents this article describes; Jonathan Haidt is a social psychologist who studies the American culture wars. The stories of how we each came to this subject can be read in the sidebars on pages 47 and 49.) The dangers that these trends pose to scholarship and to the quality of American universities are signif­icant; we could write a whole essay detailing them. But in this essay we focus on a different question: What are the effects of this new pro­tectiveness on the students themselves? Does it benefit the people it is supposed to help? What exactly are students learning when they spend four years or more in a community that polices unintentional slights, places warning labels on works of classic literature, and in many other ways conveys the sense that words can be forms of violence that require strict control by campus authorities, who are expected to act as both protectors and prosecutors?
There's a saying common in education cir­cles: Don't teach students what to think; teach them how to think. The idea goes back at least as far as Socrates. Today, what we call the Socratic method is a way of teaching that fosters criti­ cal thinking, in part by encouraging students to question their own unexamined beliefs, as well as the received wisdom of those around them. Such questioning sometimes leads to discomfort, and even to anger, on the way to understanding. But vindictive protectiveness teaches students to think in a very different way. It prepares them poorly for professional life, which often demands intellectual engagement with people and ideas one might fnd uncongenial or wrong. The harm may be more immediate, too. A campus culture devoted to policing speech and punishing speakers is likely to engender patterns of thought that are surprisingly similar to those long identified by cognitive behavioral therapists as causes of depression and anxiety. The new protectiveness may be teaching students to think pathologically.
How Did We Get Here?
It's difficult to know exactly why vindictive protectiveness has burst forth so powerfully in the past few years. The phenomenon may be related to recent changes in the interpretation of federal anti discrimination statutes (about which more later). But the answer probably involves generational shifts as well. Childhood itself has changed greatly during the past generation. Many Baby Boomers and GenXers can remember riding their bicycles around their hometowns, unchaperoned by adults, by the time they were 8 or 9 years old. In the hours after school, kids were expected to occupy themselves, getting into minor scrapes and learning from their experiences. But "free range" childhood became less common in the 1980s. The surge in crime from the '60s through the early '90s made Baby Boomer parents more protective than their own parents had been. Stories of abducted children appeared more frequently in the news, and in 1984, images of them began showing up on milk cartons. In response, many parents pulled in the reins and worked harder to keep their children safe.
The fight to safety also happened at school. Dangerous play structures were removed from playgrounds; peanut butter was banned from student lunches. After the 1999 Columbine massacre in Colorado, many schools cracked down on bullying, implementing "zero tolerance" policies. In a variety of ways, children born after 1980—the Millennials—got a consistent message from adults: life is dangerous, but adults will do every­ thing in their power to protect you from harm, not just from strangers but from one another as well.
These same children grew up in a culture that was (and still is) becoming more politically polarized. Republicans and Democrats have never particularly liked each other, but sur­ vey data going back to the 1970s show that on average, their mutual dislike used to be surprisingly mild. Negative feelings have grown steadily stronger, however, particularly since the early 2000s. Political scientists call this process "affective partisan polarization," and it is a very serious problem for any democracy. As each side increasingly demonizes the other, compromise becomes more difficult. A recent study shows that implicit or unconscious biases are now at least as strong across political parties as they are across races.
So it's not hard to imagine why students arriving on campus today might be more desirous of protection and more hostile toward ideological opponents than in generations past. This hostility, and the self­righteousness fueled by strong partisan emotions, can be expected to add force to any moral crusade. A principle of moral psychology is that "morality binds and blinds." Part of what we do when we make moral judgments is express allegiance to a team. But that can interfere with our ability to think critically. Acknowledging that the other side's viewpoint has any merit is risky your teammates may see you as a traitor.
Social media makes it extraordinarily easy to join crusades, express solidarity and outrage, and shun traitors. Facebook was founded in 2004, and since 2006 it has allowed children as young as 13 to join. This means that the first wave of students who spent all their teen years using Facebook reached college in 2011, and graduated from college only this year.
These first true "social­media natives" may be different from members of previous generations in how they go about sharing their moral judgments and supporting one another in moral campaigns and conflicts. We fnd much to like about these trends; young people today are engaged with one another, with news stories, and with pro social endeavors to a greater de­ green than when the dominant technology was television. But social media has also fundamentally shifted the balance of power in relationships between students and faculty; the latter increasingly fear what students might do to their reputations and careers by stirring up online mobs against them.
We do not mean to imply simple causation, but rates of mental illness in young adults have been rising, both on cam­ pus and of, in recent decades. Some portion of the increase is surely due to better diagnosis and greater willingness to seek help, but most experts seem to agree that some portion of the trend is real. Nearly all of the campus mental-health directors surveyed in 2013 by the American College Counseling Association reported that the number of students with severe psychological problems was rising at their schools. The rate of emotional distress reported by students themselves is also high, and rising. In a 2014 survey by the American College Health Association, 54 percent of college students surveyed said that they had "felt overwhelming anxiety" in the past 12 months, up from 49 percent in the same survey just fve years earlier. Students seem to be reporting more emotional crises; many seem fragile, and this has surely changed the way university faculty and administrators interact with them. The question is whether some of those changes might be doing more harm than good.
You can read up to 3 premium stories before you subscribe to Magzter GOLD
Log in, if you are already a subscriber
Get unlimited access to thousands of curated premium stories and 5,000+ magazines
READ THE ENTIRE ISSUE
September 2015