Muncaster's 'Simple' Entablature Engine
Oil cups (fig 15) Start with some 6mm diameter brass, face off, reduce a length to 4mm and thread, (you can add a small undercut so that the flange pulls down tight onto the boss) and drill the hole.
Use the mill to form the 5mm hex section. Then it's back into the lathe with a very small round nose tool to cut the waist and turn the outside of the cup to 5mm. A small file or form tool can be used to blend the outside diameter into the waist before parting off. Tap a suitable hole in some scrap and screw the cup into it. Open up with (say) a 3.5mm drill then use a 4mm diameter bull nose milling cutter to finish the inside - if you don't have one of these cutters then just a 4mm drill will do.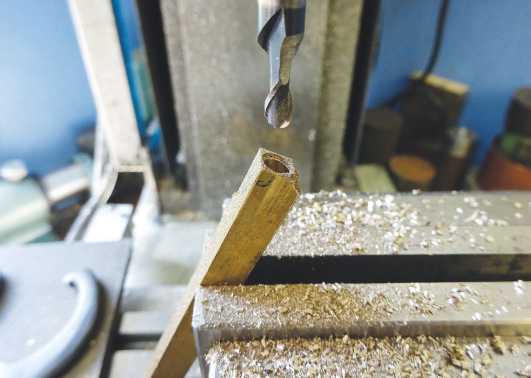 Acorn nuts (fig 15) Start by forming the decorative 'acorn' shape. I reused a form tool from another job that had been made from suitably hardened gauge plate but you could grind an HSS one or simply rough turn and finish with a file (photo 58). If starting with hex stock then part off before drilling and tapping to suit the thread you used on your column tops; if using round stock mill the hex first.
Exhaust pipe (fig 15) It is not easy to put a tight radius bend into tubing so I milled a 2mm radius out of the corner of a bit of brass then drilled two angled holes with a 4mm ball nose cutter to form the inner passage (photo 59). Two short tubes were then soldered into this block (photo 60) and when cool the outside was filed down until it looked like a single bent pipe. The short end can then be threaded to fit the cylinder.
You can read up to 3 premium stories before you subscribe to Magzter GOLD
Log in, if you are already a subscriber
Get unlimited access to thousands of curated premium stories, newspapers and 5,000+ magazines
READ THE ENTIRE ISSUE
4624