A New GWR Pannier
Doug Hewson decides that LBSC's well-known GWR pannier tank design needs a make-over.
The arm for either type of lubricator can be made from an offcut of 16swg steel and the pawls for the ratchet can also be made from the same. Both pawls need case hardening as do the eyes at the end of the arm. To make the cam I used a piece of 3/22 inch BMS bar. All you need do is chuck it in the three jaw, face it and then slip a piece of ³⁄inch strip under one jaw and a piece of that 20swg strip again and that just gives enough off-set to centre for the hole and then drill No.41 for about ¼ inch. Part off a slice ³⁄ inch thick and there is your cam. Drill down No. 43 from the centre of the edge opposite the hole and tap 6BA for an Allen grub screw.
The priming wheel can be any off the shelf hand wheel about ½ inch diameter or you can make one the same as I did for mine. For the pump body you will need some ½ inch hexagon brass. When you buy brass of any kind try to buy the better quality stuff. Ask what you are buying. You can tell the difference when turning it as the cheap 'screw cutting' brass will come off in small splinters and the better stuff will come off in curls.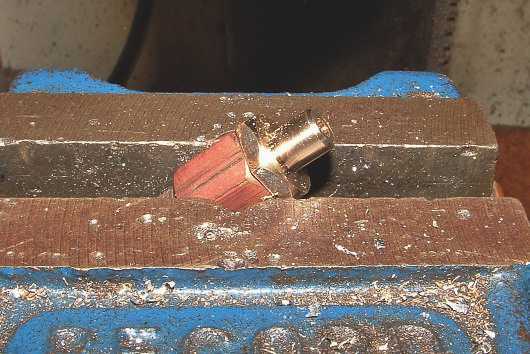 Using the three jaw chuck once more, face the end centre and drill down with a ¼ inch drill for a depth of about ¼ inch and then finish to ⁄ inch depth with a ¼ inch 'D' bit. Now tap the hole part way down with a ⁄ inch x 40 or 32 thread but no more than ⁄ inch deep (photo 105). The threads must not reach as far as the 'O' ring chamber otherwise the oil will leak by around the thread. That is what happened to the first Y4 I built and although the lubricator worked after a fashion it wasn't to my liking. It took me six years to find out what the problem was. It worked fine after that.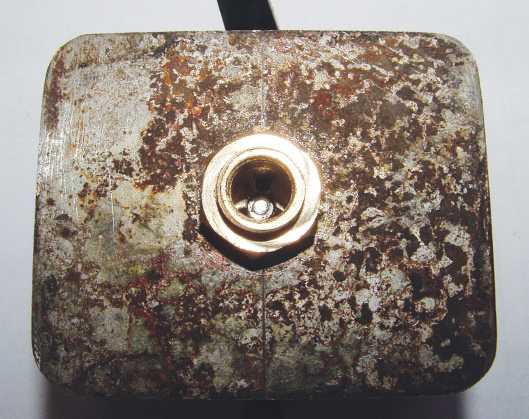 Turn the outside down to 3/22 inch diameter and thread that 3/22 inch x 32. Pop a centre drill down the hole again just to make a countersink in the end then drill down to about ¾ inch depth with a No. 31 drill. Part off at ¹¹⁄ inch long then hold in a tapped bush and turn down the top to ¼ inch outside diameter to leave a hexagon ³⁄ inch long. The hole can now be reamed out 9/32 inch.
You can read up to 3 premium stories before you subscribe to Magzter GOLD
Log in, if you are already a subscriber
Get unlimited access to thousands of curated premium stories, newspapers and 5,000+ magazines
READ THE ENTIRE ISSUE
4630