Mahatma Gandhi's Prescription Can Revive Indian Education
EducationWorld
|
October 2019
Gandhi implicitly understood that to attain his social reform objectives and abate Hindu-Muslim antagonism aroused by the Partition of the subcontinent on religious lines, education of the population was a necessary precondition. Therefore he expended long years in ideating and developing his prescription of basic education.
In grand-scale national celebrations orchestrated by the BJP-NDA government at the Centre which was re-elected to office in General Election 2019 of last summer, the nation is set to commemorate the sesquicentennial (150th) birth anniversary of Mohandas Karamchand Gandhi (1869-1948) for a whole year, starting October 2. Certainly, the proposed year-long nationwide celebrations to remember Mahatma ('great soul') Gandhi who masterminded and led India's unprecedented freedom struggle from the cruel and exploitative rule of imperial Great Britain, are warranted.
Although with the passage of time public memory of British rule over India has dimmed, it's useful to remember that the people of the independent Republic of India owe Mahatma Gandhi a huge debt. Right until the mid-19th century, the Indian subcontinent (as also imperial China) was the world's richest region contributing an estimated 20 percent of global GDP. By the time the last British troops retreated in 1947 — almost two centuries after the Battle of Plassey (1757) in Bengal which marked the beginning of British Raj in India — the subcontinent had been reduced to the world's poorest and most miserable region of the modern world.
According to most indigenous historians, the struggle for Indian independence had begun with the Indian Mutiny of 1857 (aka the First War of Indian Independence) and acquired new momentum when the Indian National Congress party was established in 1885. But it was only when Gandhi returned to India in 1914 from British-ruled South Africa (to which he had gone in his capacity as a lawyer to settle a mercantile dispute) where he conceptualised and successfully tested the doctrines of ahimsa (non-violence) and satyagraha (self-sacrifice and truth) to attain political objectives, and transformed the genteel Indian National Congress into a mass-based political party, that India's freedom struggle began in right earnest.
In 33 years under the Mahatma's moral and ethical leadership — he never held any official position in the Congress party — his goal of purna swaraj (complete independence) for India was attained. During his own lifetime and within the short span of three decades, almost 200 years of brutally oppressive British suzerainty over India collapsed and the mighty British Empire over which it was claimed the sun never set, unravelled soon after as colonised and subjugated people of the empire following the Indian example, demanded and wrested their independence from imperial Great Britain.
Yet as Ramachandra Guha, contemporary India's most well-known and respected historian who has written three deeply-researched and eminently readable biographies of Mahatma Gandhi — India after Gandhi (2007, a history of post-independence India), Gandhi Before India (2013, on the evolution of the Mahatma) and Gandhi: The Years that Changed the World, 1914-48 (2018) — highlights in his latest book, Gandhi was far more than a brilliant political leader and strategist. He was also a committed social reformer determined to unite the numerous castes, communities and culturally disparate people of India into a morally strong, egalitarian and prosperous independent nation.
"To deliver India from British rule was by no means Gandhi's only preoccupation. The forging of harmonious relations between India's often disputatious religious communities was a second. The desire to end the pernicious practice of untouchability in his own Hindu faith was a third. And an impulse to develop economic self-reliance for India and moral self-reliance for Indians was fourth. These campaigns were conducted in parallel. All were of equal importance to him," writes Guha in his 1,129-page new magnum opus Gandhi: The Years that Changed the World (see book review p.110).
Unfortunately, Gandhi was assassinated six months after the British Raj ended on August 15, 1947, but not without the spiteful departing imperialists engineering the vivisection of the subcontinent and partitioning it into the mutually antagonistic nations of India and Pakistan, divided along religious fault lines. Therefore, the Mahatma was deprived of the opportunity to impact his other equally important nation-building objectives upon independent India. Regrettably, the leaders of the Congress party and free India who followed him didn't have the overarching vision, magnanimity and moral fibre to realise his dream of an egalitarian and prosperous independent India.
Gandhi implicitly understood that to attain his social reform objectives and abate Hindu-Muslim antagonism aroused by the Partition, education of the population was a necessary precondition. Therefore, he expended long hours in ideating and developing his prescription of an education system that would eradicate and heal caste and religious antagonisms and deep poverty which were pervasive in pre-independence India. Gandhi's interest in schooling of children had been aroused in the early 20th century when he was in South Africa, editing a newspaper titled Indian Opinion which protested racial discrimination against the Indian population settled there. In 1910, he started a school at the Tolstoy Farm on the outskirts of Durban, gifted to him by Hermann Kallenbach, a successful architect. An informal school, it was oriented towards learning through work. Children worked the farm, shared sanitation work and learnt carpentry and sandal-making, while also learning history, geography, language, science and handwriting. It was on Tolstoy Farm that Gandhi began to formulate his ideas on education which were incorporated into his nai talim ('basic education') philosophy, which he articulated in an essay in The Harijan, a weekly newspaper started by him in India in 1933.
I hold that the highest development of the mind and the soul is possible under such a system of education. Every handicraft has to be taught not merely mechanically as is done today, but scientifically i.e, the child should know the why and wherefore of every process... I have myself taught sandal-making and even spinning on these lines with good results. This method does not exclude a knowledge of history and geography. But I find that this is best taught by transmitting such general information by word of mouth. One imparts ten times as much in this manner as by reading and writing. The signs of the alphabet may be taught later... Of course, the pupil learns mathematics through his handicraft. I attach the greatest importance to primary education, which according to my conception should be equal to the present matriculation less English," wrote Gandhi in The Harijan in 1937.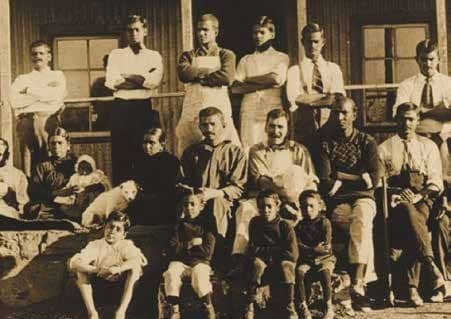 After he was assassinated by an RSS extremist in 1948, Gandhi's ideas of education and socio-economic development fell into disuse. Independent India's first prime minister, the Harrow and Cambridge-educated Jawaharlal Nehru, an admirer of Soviet Russia's centrally planned heavy industry economic development model, led the newly independent nation towards a "socialist pattern of society".
The Mahatma's prescription of universal primary education with emphasis on developing the "head, heart and hands" of children with particular attention to their learning "handicrafts" — essentially that education should be about learning-by-doing — was dismissed as quaint and out of step with the technological temper of the times.
Especially after the death of Sardar Vallabhbhai Patel, the Gandhian anti-communist and socialism deputy prime minister in 1950, newly-independent India experienced the full bloom of the Nehruvian age when large dams, factories and capital-intensive public sector heavy industry enterprises became the "temples of modern India", and engineering colleges and science universities including the IITs and IIMs were established countrywide. Public primary education to which Gandhi "attached greatest importance" suffered neglect and severe under-funding, especially in rural India.
The folly of attempting to force newly independent India, where 80 percent of the population was rural, to make a great leap forward into the industrial age following the Russian and Chinese models became evident even before Nehru's death in 1964. At that time, it was a well-concealed secret that 20-30 million farmers, squeezed to fund the capital-intensive heavy industries Gosplans of Soviet dictator Joseph Stalin and the Great Leap Forward industrialisation programme of chairman Mao, had died of starvation in these two self-proclaimed socialist countries.
But for massive American foodgrains shipped to India under the US government's PL-480 programme, India would have suffered a similar fate. Rural and national savings canalised into giant public sector enterprises managed by government clerks, conspicuously failed to generate the surpluses budgeted to sufficiently fund primary public education and health programmes budgeted in grandiose Soviet-style five-year central plans. Panicking about the neglect of education at a time when the country's annual GDP growth rate was stagnant at 3.5 percent even as the population was growing at 2.5 percent per year, a high-powered Kothari Commission (1964) recommended the annual expenditure for education, which had averaged 3 percent of GDP, be urgently doubled to 6 percent.
However, this main recommendation of the Kothari Commission was not implemented at the time or thereafter, down to the present day. For the past 72 years since under Gandhi's nation-building moral leadership India attained political independence, the annual outlay (Centre plus states) for education has averaged a mere 3.5 percent. Some historians and political pundits blame Nehru for disparaging Mahatma Gandhi's framework for human capital development as obsolete. Charged with fervour for building giant public sector enterprises (PSEs) mandated to dominate the "commanding heights of the Indian economy", the Nehru government poured national savings into PSEs managed by business-illiterate bureaucrats and over-promoted clerks who utterly failed to generate the budgeted surpluses for investment into human capital development, i.e, education and health.
You can read up to 3 premium stories before you subscribe to Magzter GOLD
Log in, if you are already a subscriber
Get unlimited access to thousands of curated premium stories, newspapers and 5,000+ magazines
READ THE ENTIRE ISSUE
October 2019