Bad Romance
Columbia Journalism Review
|
Fall 2019
What happened to the National Enquirer after it went all in for Trump?
Technically, Dylan Howard didn't invite me to his book party. Howard, a thirty-seven-year-old long-time editor at the National Enquirer, had canceled on me for an interview three times that week and looked mortified when I showed up. But the publicist for the book— Diana, Case Solved: The Definitive Account That Proves What Really Happened, featuring blurbs by Sean Hannity, Dr. Phil, and Dr. Drew— had forwarded me an invite. When I arrived, at a bar on the second floor of the Moxy, a sexy-trashy boutique hotel in the urban purgatory between Times Square and Penn Station, I found myself among unusual company: Aviva Drescher, formerly of The Real Housewives of New York (2012–2014); Luann de Lesseps, currently of The Real Housewives (fresh off probation for drunken battery against a cop, now promoting a cabaret show); and Megyn Kelly, who hadn't been heard from since her NBC program succumbed to poor ratings and a blackface comment.
In a corner I spotted Rob Shuter, an Enquirer gossip columnist. You could probably divide the New York media world into people who have and have not heard of Shuter, whose column, "Straight Shuter," was so named, he says, because "no one gayer has ever set foot in the Enquirer." In the prestige realm, the realm where people win prizes and argue on Twitter about which New York Times op-ed columnist sucks, no one has heard of Rob Shuter. In the larger parallel universe dominated by morning TV, waiting-room glossies, and celebrity publicists, he is known.
Shuter was talking to Drescher. I asked if she was one of his regular sources. "You're not a source," he said to her, quickly. "I have been a source," she countered. "No, no, you shouldn't say that," he explained. "It doesn't look sexy." Drescher turned to me: "I'm not a source." Then she left for the Upper East Side. "She's famous because she has one leg," Shuter told me, once she was gone. "And she threw it on the show. Threw it across the restaurant." As we watched more guests file in, it occurred to Shuter to ask Howard a question. He shouted across the room, "Dylan, darling?" Howard—blond, pink-faced, and pinstripe-suited—looked our way. Shuter gestured at me and asked, "Do you know this chap?"
Howard, who is Australian, broke into American journalism as a wunderkind Hollywood gossip reporter and was named editor of the Enquirer in 2014. Within a few years, he was presiding over American Media Inc. (AMI), the gossip empire that owns the Enquirer. Now, like his boss, David Pecker, AMI's CEO, Howard is best known as a scandal-ridden acolyte of Donald Trump. In the summer of 2016, he and Pecker negotiated a $150,000 "catch and kill" payoff that buried the story of an affair between Trump and Karen McDougal, a Playboy Playmate. (Howard also helped arrange Trump's 2015 pay off to Stormy Daniels, the porn star, even though it didn't involve AMI.) After Trump's election, Ronan Farrow reported in The New Yorker that Howard had worked with Harvey Weinstein, the movie producer, to help him discredit Rose McGowan, an actress who was accusing him of abuse. (Howard, who has said that he only helped Weinstein while he was still denying the allegations, was the subject of sexual misconduct complaints at AMI, though an internal investigation cleared him of "serious" wrongdoing.)
By the summer of 2018, Howard and Pecker were backed into a corner. So they flipped, testifying to the Justice Department that they coordinated on hush money payments with Michael Cohen, Trump's fixer. (The payments had violated campaign finance law.) Cohen went to jail and they got immunity deals, which were promptly thrown into jeopardy in early 2019, when the Enquirer got the story that Jeff Bezos, Amazon CEO and Trump bête noire, was having an extramarital affair. After the news broke, Bezos accused Howard of trying to "extort" him over dick pics that Howard was threatening to publish. All this, apparently, was too much for Chatham Asset Management, the New Jersey hedge fund that owns AMI, and in April, AMI announced that it was selling off the Enquirer. There were other worries, too: In a few weeks, Farrow's damning book, Catch and Kill, in which Howard is a central character, would be released. And any day now, Pecker and Howard may be subpoenaed to testify before Congress.
So I get why Howard didn't invite me to his party. But he didn't ask me to leave, either. It was a big night for him: Following the Bezos showdown, Howard had been stripped of his title and removed as editor of the Enquirer. Instead, according to AMI, Pecker directed him to "focus on new business opportunities," including TV programming, podcasts, and special-interest publications. Since then, Howard has churned out heaps of schlock— see his podcast Fatal Voyage: The Mysterious Death of Natalie Wood, plus an announced nineteen more books in the pipeline. The idea, it seemed, was that, while a public hanging awaited him, he'd pivot to true crime and cocktails. And he was enjoying the show of support: Megyn Kelly declined to provide a quote about Howard, though she did lament the general cruelty of the press and urged me not to write a negative story. (The Enquirer used to savage Kelly, but AMI titles have lately been running puff pieces about her. The week after the party, she was in the Enquirer, photographed in front of a poster for Howard's Princess Di book.)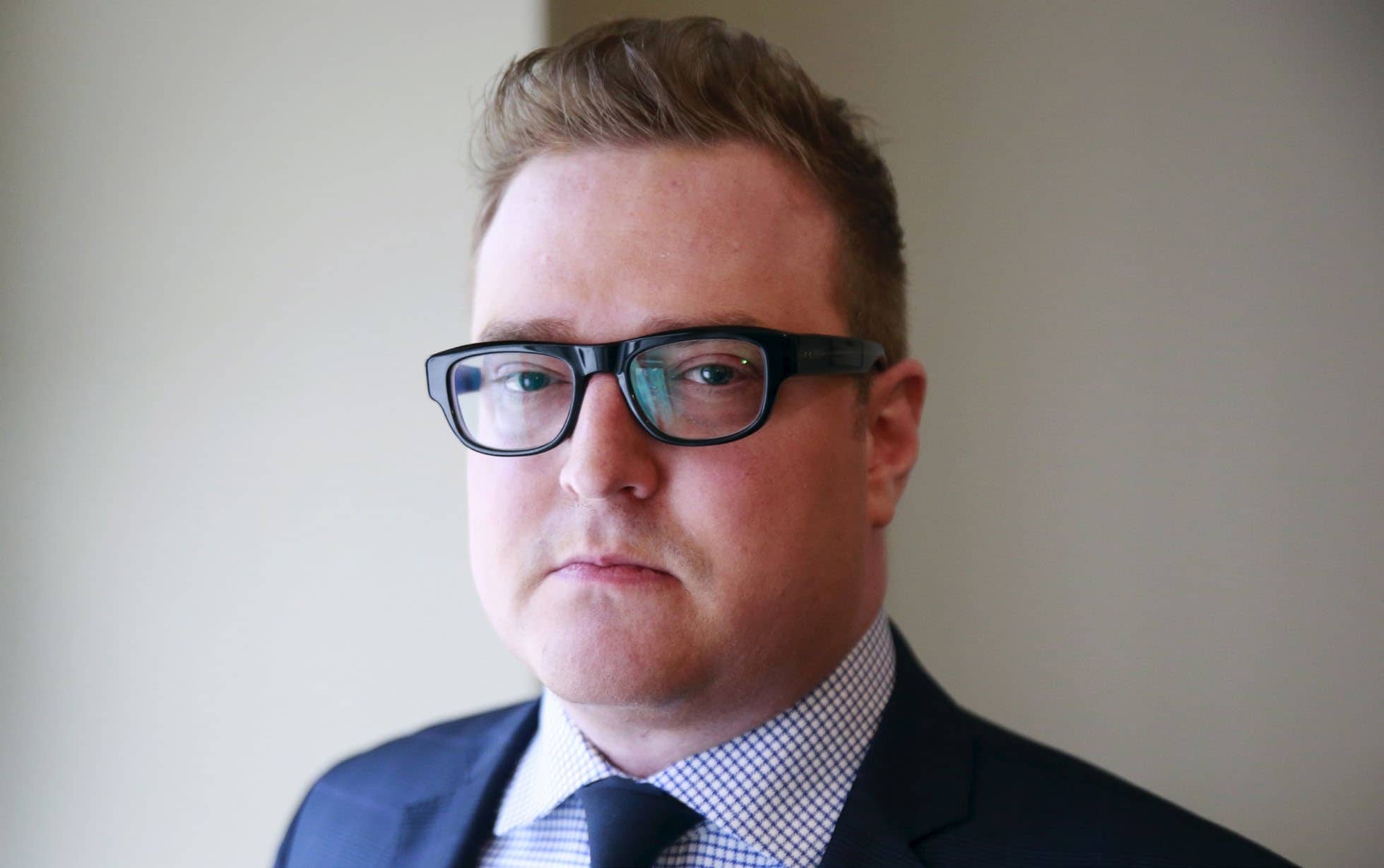 Soon, the room quieted. Howard began delivering remarks in a syrupy drawl. "Most of you here know that the last couple years have been a very challenging time for me personally," he said. "Not as challenging a time as it's been for some other people. Megyn Kelly has sixty million reasons to be happy!" The crowd tittered. Kelly interjected: "Reportedly!" Howard went on. "One of the questions I was asked earlier was, 'Are you trying to reinvent yourself as an author?' I said to myself, it doesn't take much for me to host a party and have an alcoholic beverage. So I'm not reinventing myself. No. And with that, I have a very special announcement." In time for the holidays, he told the crowd, a brand-new book would hit the shelves, Epstein: Dead Men Tell No Tales. "If anyone doesn't see me in the next six weeks," he said, "it's because I'm pumping that book out."
There's a temptation, in a story like this, to write about the sorry "TMZ-ification" of American media. About how a gossip rag like the Enquirer laid the groundwork for the rise of fake news and a mendacious president. But the real shame is that, in the Trump era, the Enquirer strayed from its underappreciated penchant for muckraking. The establishment press has long sniffed at the Enquirer's methods, which include paying for tips, yet over the decades, the paper has broken major scandals without much of an agenda besides wreaking havoc and flipping the bird to stodgy mainstream journalists. "People say prostitution's the oldest profession," Shuter remarked at the party. "Gossip is. Go to the Temple of Dendur. You'll see gossip carved on the walls. They'll be like, 'Aphrodite was a slut.' " (Afterward, Jon Hammond, AMI's PR person, told me, with an eye roll, not to believe anything Shuter says.)
A brief history: In 1952, Generoso Pope Jr., an MIT-educated scion of a Mob-connected newspaper publisher, bought a middling broadsheet called the New York Enquirer. He turned it into a tabloid and, in 1957, renamed it the National Enquirer. For about fifteen years, the Enquirer ran gruesome domestic-horror stories like i watched my 2 babies burn to death and please don't mommy said the boy she beat to death. By the late sixties, the paper's audience shifted from the city to the suburbs, where supermarkets refused to stock it. Pope shifted to celebrity gossip, which was a smashing success; in the seventies, the Enquirer was selling close to six million copies a week.
For the next few decades, the Enquirer perfected the art of publishing thinly sourced celebrity drivel next to explosive scoops. We had it to thank for the infamous 1987 photo of Senator Gary Hart with Donna Rice, his mistress, on his lap. In 1995, the Enquirer published damning photos of O.J. Simpson in the "ugly ass" suede Bruno Magli boots he swore he didn't own (prints from a pair in size twelve had been found all over the scene of his wife's murder). In time, circulation dipped, staff thinned, editors were repeatedly sacked, ownership changed, offices moved, vultures circled, and an anthrax attack took an employee's life. But the headlines kept coming: RUSH LIMBAUGH ADDICTED TO PILLS! JOHN EDWARDS'S SECRET LOVE CHILD! STEVE JOBS, WEEKS TO LIVE!
When it came to the "tabloid president," however, the Enquirer buried the news. Recently, I sat down to read what it's produced over the past few years. (You can do this too, in the periodicals room of the New York Public Library on Forty-Second Street. People will look at you funny.) For the first six months of 2015, aside from the odd item on Michelle Obama's supposed taxpayer-funded Botox injections, the Enquirer barely covered Washington. In the second half of that year, however, after Trump declared for president, the Enquirer changed course. It began running a few kinds of stories: One, nonstop pathological content about how Hillary Clinton was on the verge of jail or death. Two, unprovable scoops about Trump's primary-campaign rivals (e.g., Ben Carson left a sponge in someone's skull). Three, uncomfortably gauzy first-person tell-alls from Trump.
At the time, journalists began noticing that the Enquirer was up to something, and recalled that Trump and Pecker went way back: in the late 1990s, when Pecker ran Hachette Filipacchi, a New York publishing house, he put out a short-lived mag called Trump Style. Trump, in 2013, tweeted that Pecker should be CEO of Time. AMI's board meetings regularly took place at Mar-a-Lago. But nobody really took either man seriously. And when Pecker claimed that readers were loving the MAGA coverage, it didn't seem like an assertion worth challenging.
You can read up to 3 premium stories before you subscribe to Magzter GOLD
Log in, if you are already a subscriber
Get unlimited access to thousands of curated premium stories, newspapers and 5,000+ magazines
READ THE ENTIRE ISSUE
Fall 2019