ANNE BOLEYN'S FINAL BATTLE
BBC History Magazine
|
October 2020
Anne Boleyn, Henry VIII's second wife, famously lost her head at her husband's behest. Tracy Borman, the presenter of a new TV series on Anne's fall from grace, delves into the queen's dramatic final days
At nine o'clock on 15 May 1536, the Great Hall at the Tower of London – part of the now lost Tudor royal palace – was thronging with some 2,000 courtiers, clerics and lawyers, all gathered to witness the trial of the century. Anne Boleyn, Henry VIII's notorious second wife, stood accused of adultery, incest and treason. It was the first time in history that a queen of England had been put on trial – and the proceedings resulted in her bloody end.
Her arrest, 13 days before, had sent shockwaves across the kingdom and abroad. She had been queen for a little under three years, during which time she had become increasingly unpopular with the people of England and made dangerous enemies at court: none more so than her husband.
And yet, it had all started out with such promise. Anne had been Henry VIII's great obsession for seven long years. Driven mad by frustrated love – and lust – he had been unable to think of anything but setting aside his first wife, Catherine of Aragon, so he could marry Anne, who had cleverly refused to become a mere mistress. What had sharpened his appetite for her was the fact that she held out the promise of the thing he most desired in the world: a male heir. After more than 20 years of marriage, Catherine had only given him one surviving child, the princess Mary. The Tudors were still a fledgling dynasty, so Henry had been desperate to secure his throne with a son.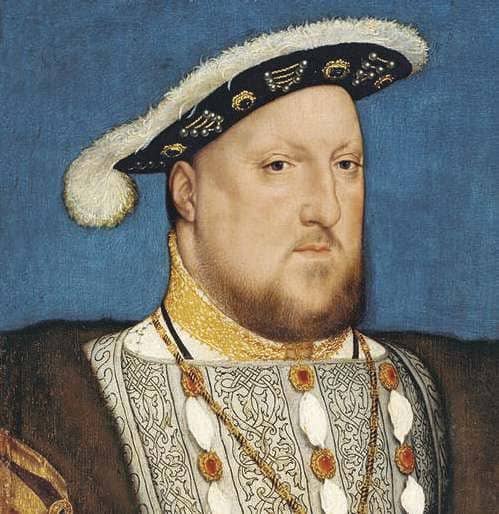 By the time Henry married Anne in secret in January 1533, she was already pregnant. The annulment of his first marriage had been rushed through, and Anne had arrived in triumph at the Tower at the end of May for her coronation. Henry had ordered a lavish refurbishment of the royal apartments to accommodate her – the same apartments in which she was later a prisoner. The September after her coronation, she gave birth to their first child: not the coveted male heir, but a daughter, the future Elizabeth I.
A series of miscarriages followed, the last being in January 1536, when it was said that the foetus had been well enough developed to tell that it was a boy. Already tired of Anne's fiery nature and 'unqueenly' behaviour, Henry convinced himself that this marriage, too, was displeasing to God. Withthe help of his trusted adviser, Thomas Cromwell, he brought a case against Anne that was inspired by her flirtatious manner and coterie of male admirers. She was accused of adultery with five men – including her own brother, George – and of conspiring about the king's death with one of her lovers. The entire case was based upon little more than rumour and gossip, but it was enough to have the queen arrested at Greenwich on 2 May and brought to the Tower to await her trial.
A family affair
As Anne walked into the Great Hall on 15 May, she would have recognised a host of familiar faces. The roll call of attendees at her trial reads like a who's who of Tudor England. Presiding over the inquiry was Anne's uncle, the Duke of Norfolk, and there is evidence to suggest that her father, Thomas Boleyn, sat on the jury. When it came to survival in Henry's court, blood was not thicker than water.
Detailed records of the trial survive in the National Archives, nestled in their original leather pouch labelled "Baga de Secretis" (Bag of Secrets) – the official records of many important state trials. They make for salacious reading. Anne was depicted as a wanton woman who could notcontrol her "frail and carnal lusts" and who allegedly enticed the men of Henry's court with "kisses and touchings… to be her adulterers and concubines". She reportedly encouraged her brother's advances, "alluring him with her tongue in the said George's mouth". With Henry Norris, she had apparently joked that if the king died, he would seek to fill "dead men's shoes". To speak of the king's death, even in jest, was treason.
You can read up to 3 premium stories before you subscribe to Magzter GOLD
Log in, if you are already a subscriber
Get unlimited access to thousands of curated premium stories, newspapers and 5,000+ magazines
READ THE ENTIRE ISSUE
October 2020