Homeward Bound
BBC Earth
|
September - October 2020
After one of the most exciting reintroduction projects of recent years, pine martens are back in the Forest of Dean
The faint 'blip blip blip' is all we needed: FD09i is alive and well. To the three of us straining our ears, this signal on our little black box is as thrilling as a message beamed back from a distant space probe, though it has travelled only a couple of kilometres rather than many millions. "She's probably lying up in this quiet valley," explains Josie Bridges of the Gloucestershire Wildlife Trust, pointing out an area of tight orange contours bunched around a stream on an OS Map. "That's a good choice – she's doing well. It's where I expected her to be."
A lot rests on the sleek shoulders of FD09, one of 18 adult pine martens set free this autumn in the Forest of Dean. Just a few weeks earlier, the elegant, bushy-tailed carnivore was roaming a forest in north-east Scotland. After being caught and driven south, she forms part of the advance guard in what is hoped will be her species' triumphant recolonisation of this wild and beautiful corner of England, after an absence of probably at least 150 years.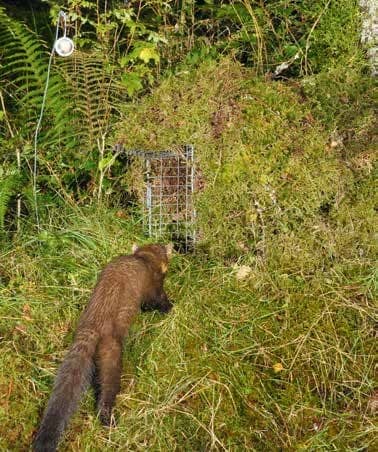 I'm on a tour of the exciting project by Josie and the manager of the Wildlife Trust's 'Team Marten', Dr Cat McNicol. Both are fresh from the translocation of pine martens from Scotland to Mid Wales (a Vincent Wildlife Trust scheme), where after five years, there are now 80–85 animals. The first Welsh-born kits were reported in 2017. Their latest marten mission, 90km to the south, aims to replicate that success.
We bump along muddy forestry tracks a drizzly day in mid-September, occasionally stopping for Josie to hold up what looks like a battered old TV aerial to get fixes on the radio-collared martens' current positions. The foul weather can't dampen our mood; we know we're witnessing something big.
"Our dream result is for this marten population to join the one in central Wales, leaving both stronger," Cat says. "We have an army of people with trail cams in the Brecon Beacons, halfway between the two areas, waiting to monitor the martens' progress. We really think this is going to work."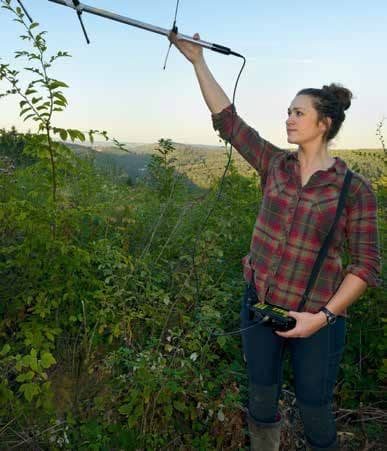 A LONG TIME COMING
Until the 1800s, pine martens could still be found in small numbers throughout much of Britain, including lowland SEnglish shires as far south as the Channel. However, a toxic combination of deforestation and ruthless extermination saw them wiped out almost everywhere.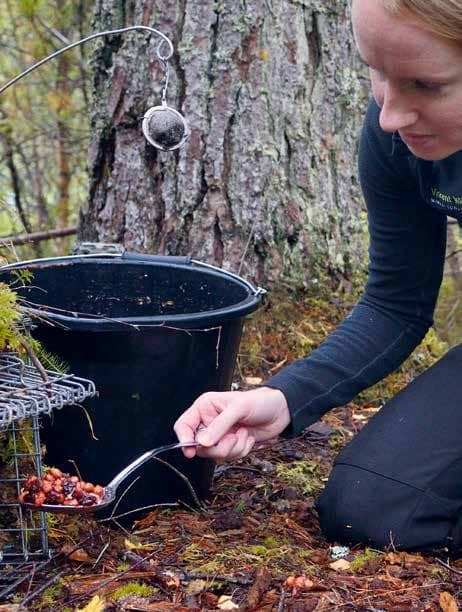 In her 2018 book A Richness of Martens, author polly pullar describes the "Victorian killing fields" in chilling detail, citing the example of a Cairngorms estate that slaughtered 246 "marten cats" in only three years. pine martens retreated to the remotest Highland glens, their stronghold until the 1970s when they began a gradual recovery and southward expansion through Scotland. In 1988 – amazingly late in the day for a nation that proudly invented nature conservation – the species was given an extra boost with full legal protection.
Back in the mists of time, pine martens were – incredible as it may seem now – the second most numerous carnivore in the British Isles (with the weasel in the top spot). That's over 5,000 years ago when vast swathes of these islands were still forest and fen, meadow, and mire. And that sort of mixed terrain suited the martens just fine.
You can read up to 3 premium stories before you subscribe to Magzter GOLD
Log in, if you are already a subscriber
Get unlimited access to thousands of curated premium stories, newspapers and 5,000+ magazines
READ THE ENTIRE ISSUE
September - October 2020