INSIDE THE ROCK'S SURPRISING HISTORY
Archaeology
|
September/October 2020
Before it was an infamous prison, Fort Alcatraz played a key role defending the West Coast
On the 8:20 a.m. boat to Alcatraz, no one gawks at the spectacular views of San Francisco along the shore of the bay. It's cold and overcast, as is typical for late spring. The conversations are familiar and collegial—this ferry is limited to people who work on the island, including National Park Service rangers, volunteers, and maintenance personnel. The 22-acre rocky island of Alcatraz is less than two miles north of downtown San Francisco, so the journey lasts only about 10 minutes. Since the maximum security Alcatraz Federal Penitentiary closed in 1963, after just under three decades of operation, the prison's picturesque location and former celebrity inmates have generated reams of tourism-industry copy, inspired numerous Hollywood films, spawned urban legends, and made Alcatraz Island one of America's most popular National Park Service sites. Yet few know about the island's pre-prison history.
The first European to visit Alcatraz is thought to have been the Spanish explorer Juan Manuel de Ayala, who sailed his ship San Carlos into San Francisco Bay in August 1775 and named one of its islands Isla de los Alcatraces, "Island of the Pelicans" or "Strange Birds." In the mid-nineteenth century, the island became home to Fort Alcatraz, one of the first U.S. military fortifications constructed on the West Coast. It was also the site of the West Coast's first lighthouse.
San Francisco Bay was formed only 10,000 years ago, as sea levels rose following the last Ice Age. Since then, the inhospitable Alcatraz Island has offered little to entice humans away from the temperate climate and abundance of natural resources on the mainland surrounding the bay. Except for an obsidian tool that archaeologists are nearly certain came to Alcatraz in imported soil, they have not found any artifacts dating from before Europeans first arrived in the late eighteenth century. An American army officer once described the island as "entirely without resources within itself and the soil is scarcely perceptible, being rocky and precipitous on all sides." In 1847, Alcatraz's first surveyor, W. H. Warner, wrote, "This Island is chiefly composed of irregularly stratified sandstone covered with a thin coating of guano. The stone is full of seams in all directions which render it unfit for any building purposes and probably difficult to quarry."
On occasion, Alcatraz has been called White Island, most likely because of the bird droppings covering it. "There was nothing here, just a desolate rock in the middle of the bay covered in bird guano," says archaeologist Peter Gavette, one of the passengers on the early morning ferry. Gavette is responsible for managing the cultural resources of the 130-square-mile Golden Gate National Recreation Area (GGNRA), of which Alcatraz is a part. Over the past decade, he has been part of a team from a wide range of institutions specializing in geophysics, geology, architecture, and preservation, led by Timothy de Smet, director of the Geophysics and Remote Sensing Laboratory at Binghamton University, that has scientifically explored one of America's most (in)famous islands. In particular, the team has searched under the prison's recreation yard for the defensive walls and traverses—protected passages connecting different gun positions and magazines—that were covered over during construction of a military prison, which was completed in 1912. Using non-invasive techniques including ground-penetrating radar, terrestrial laser scanning, and computer-generated 3-D reconstruction, they have revealed some of the secrets lying just beneath Alcatraz's well-trodden surface.
The techniques used at Alcatraz may help archaeologists learn more about other important sites without disrupting the soil or structures. Mark Everett, a near-surface applied geophysicist at Texas A&M University, worked with de Smet at Alcatraz and on several other archaeological projects. "Geophysics is widely used among archaeologists because it gives you a map of the cultural resources without having to destroy anything," he says. "The idea is that you look for disturbances associated with past human activity and then see what you find. That's what geophysicists do; whether it's oil exploration or looking for gold, we put the X on the map."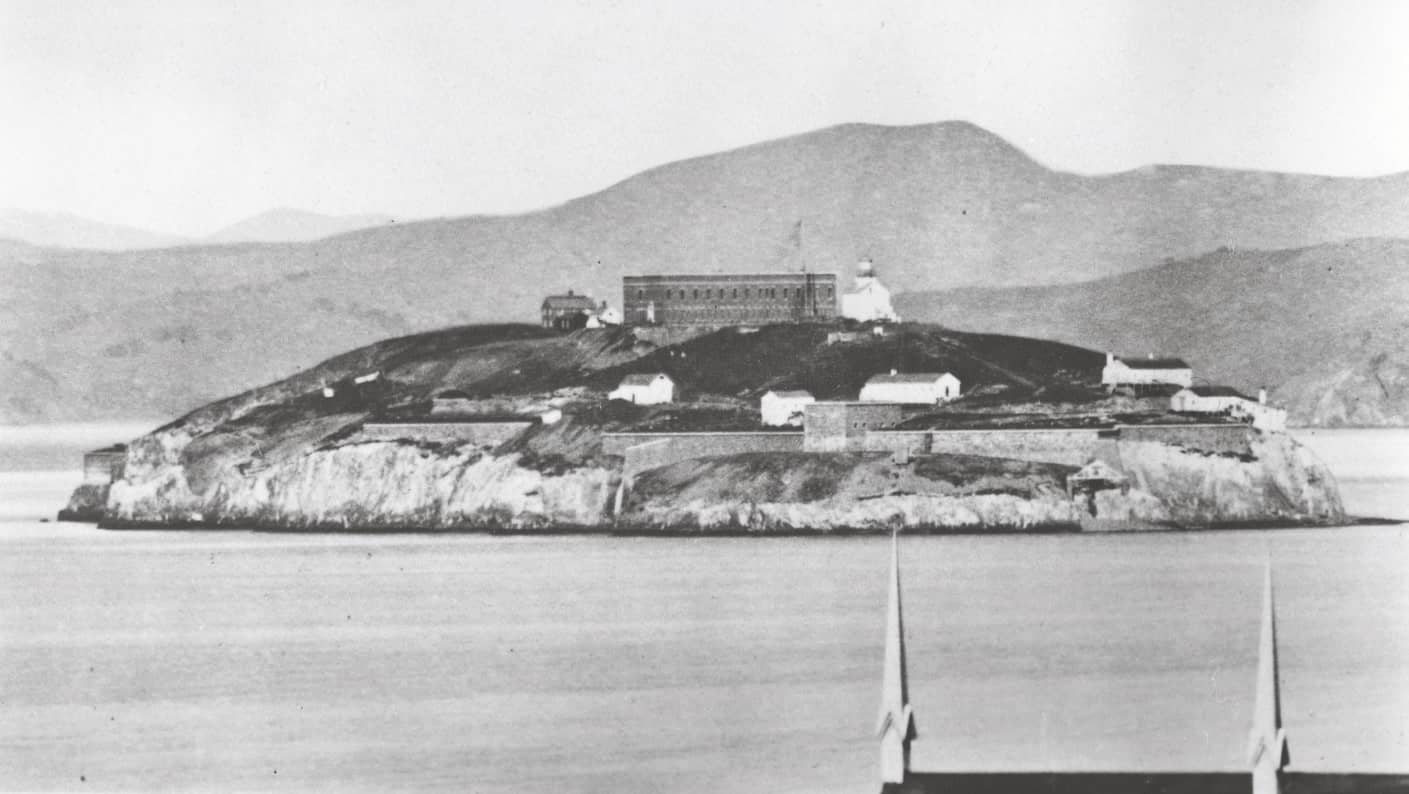 Mexico ceded California to the United States in 1848, after the Mexican-American War. That same year, the discovery of gold at Sutter's Mill, about 130 miles northeast of San Francisco, set in motion a series of changes that dramatically transformed the city almost overnight. According to Gavette, in 1847, the dusty, muddy shantytown of tents and wooden structures are then known as Yerba Buena—the city's name was not officially changed to San Francisco until later that year—had a population of just 459. In 1849, 50,000 people arrived on their way to seek their fortune. The shantytown, which had been ravaged by multiple fires, was replaced with solid buildings made of brick and stone, their construction fueled by the flow of money from the goldfields, explains Gavette.
By 1860, San Francisco was the fifteenth largest city in the United States and the largest west of the Mississippi. "Ships would arrive and lose their crews to gold fever and lay empty or be reused for storehouses, hotels, and jails in the cove," Gavette says. "This area was ultimately filled in and became the reclaimed land in what is now the Financial District." These ships' hulls, which once served as shelters, are still being uncovered today on construction sites in what is one the West Coast's leading commercial centers.
You can read up to 3 premium stories before you subscribe to Magzter GOLD
Log in, if you are already a subscriber
Get unlimited access to thousands of curated premium stories, newspapers and 5,000+ magazines
READ THE ENTIRE ISSUE
September/October 2020