Farm to Emperor's Table
ArchaeologyNovember/December 2019
Excavations reveal the inner workings of an ancient Roman imperial estate
THE SOUTHERN ITALIAN region of Puglia rolls across seemingly endless hills of golden grain that stretch in every direction. Bordered by the azure waters of the Adriatic and Ionian Seas, this area at the heel of Italy is home to the bustling ports of Bari and Monopoli. Yet away from the coast and past the fortified medieval cities of Ostuni and Alberobello, the sunbaked landscape begins to feel uninhibited. Moving deeper into Puglia's interior, the towns give way to single farmhouses, which, in turn, disappear, leaving only the gently waving rows of wheat that guard an agricultural legacy going back more than 2,000 years.
At the end of a two-track road that winds around ravines and through cultivated fields of wheat and chickpeas, a line of square trenches cuts deep into the rich soil. Under neat rows of modern crops lies the ancient site of Vagnari, named after an eighteenth-century Masseria, or farmhouse, that sits abandoned nearby. Here, between the first and early fourth centuries a.d., a succession of Roman emperors owned a 6,000-acre farming estate, the remains of which are only now beginning to be uncovered. Although such imperial farming estates are known to have existed throughout the empire, Vagnari is the first to be excavated, providing new insight into how a rural farm supplied emperors' needs and provided them with a source of revenue. "Whether in Italy, North Africa, or anywhere else in the Roman Empire, imperial estates are grossly under-explored," says archaeologist Maureen Carroll of the University of Sheffield. "We have ancient written evidence, such as inscriptions and historical texts, but that's all that anybody has ever concentrated on. The only way to learn more is to excavate."
Of course, Vagnari was not only home to fields of grapes and cereals intended for the emperor's table, but also to freedmen, freedwomen, slaves, and children who lived, worked, and died on the estate. Across a deep ravine from the center of the settlement is a cemetery that is now giving researchers a detailed look at the health and living conditions of the people who supplied the emperor's food and wine.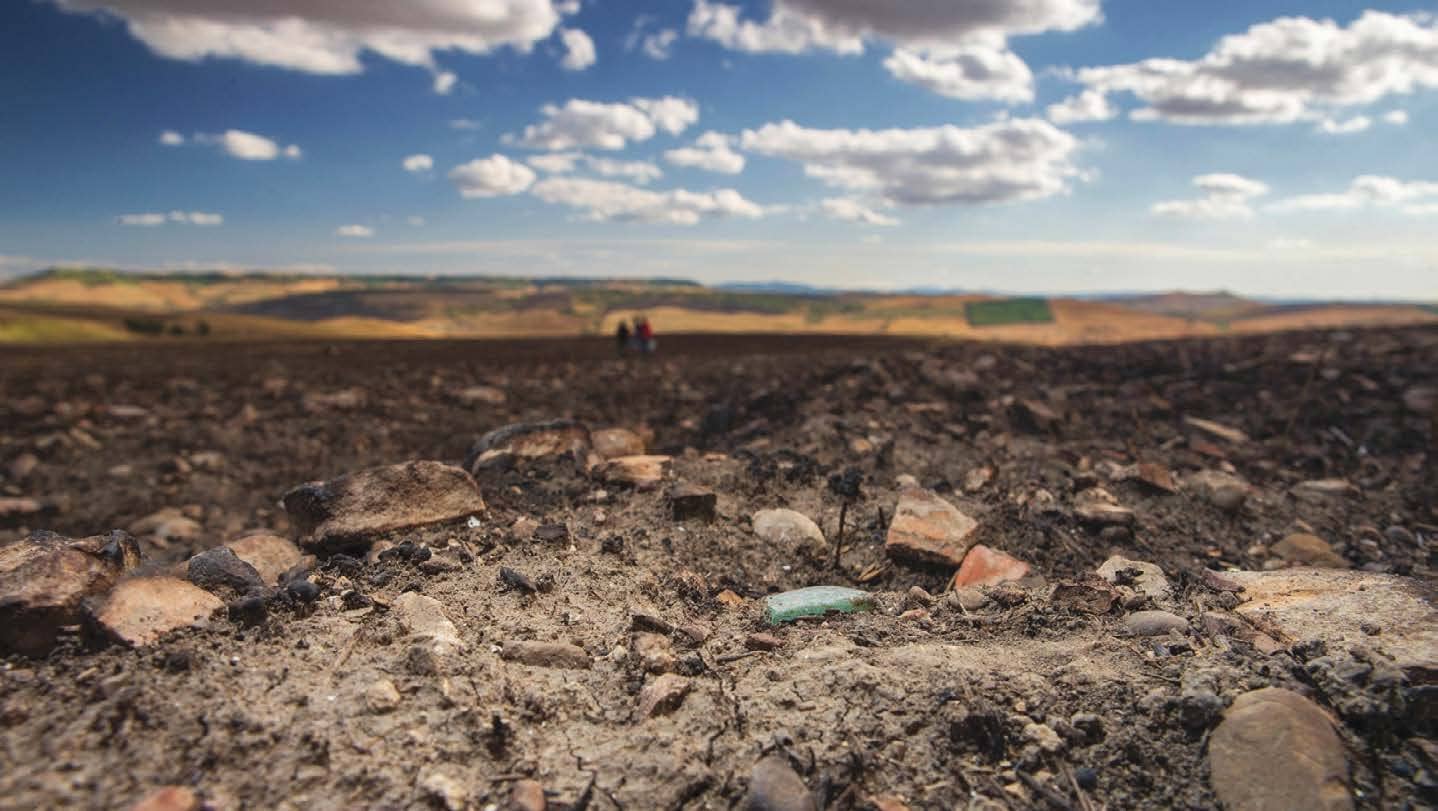 WHILE SURVEYING WHEAT fields nearly 20 years ago along the route of the ancient Via Appia, a 365-mile-long Roman road that connected Brundisium (modern Brindisi) to Rome, archaeologist Alastair Small of the University of Edinburgh identified an area where plows had churned up a large quantity of ancient Roman pottery sherds, glass fragments, and roof tiles. In 2000, he conducted test excavations that exposed ancient stone walls and more Roman ceramics and glass. These were the first clear signs of Vagnari's existence—no textual or epigraphic evidence of the estate had ever been found. During that field season, Small's team discovered two ceramic roof tiles, each bearing an inscription that reads Gratis Caesaris, "Gratus of Caesar."
Small believes that Gratus oversaw ceramic production at the site and that he was a slave because only his first name appears in the inscription; Roman citizens, by contrast, were traditionally identified by three names— praenomen, nomen, and cognomen—in inscriptions. For Small, this was an early indication that Vagnari had been owned by the emperor, a surprising insight given that many scholars considered Puglia to have been a rural hinterland with little importance to Rome.
Since the discovery of Vagnari in 2000, a number of teams have excavated at several locations across the site. Small continued his fieldwork until 2011, focusing on the vicus, the site's administrative and economic center. In 2012, Carroll expanded the half-acre vicus excavation, while Tracy Prowse of McMaster University continued her exploration of Vagnari's cemetery, which had been discovered in 2002. Prowse and Carroll now direct a multidisciplinary team, including biological anthropologists, experts in biomolecular and isotope analysis, archaeobotanists, metallurgists, glass experts, and parasitologists, all dedicated to better understanding the economy of the site and its connection to Rome.
While the team's work centers on the vicus and the cemetery, Carroll and Prowse believe the story extends beyond the limits of the excavation trenches. They think that there would have also been vineyards, markets, houses, slave quarters, stables, a bathhouse, and a variety of other structures required for maintaining a large agricultural estate. Prowse imagines that the site served not just as the emperor's storehouse but also as an economic center for the region that drew people from miles away. "I like the idea that there would have been little hamlets dotting the countryside, with Vagnari at the core," she says. "For example, if people needed something, like a new cooking pot, or to get a metal item repaired, they could come to the vicus because they might not have the resources to obtain those items on their own." Vagnari likely functioned as a kind of trading post, offering resources and provisions to people living farther out in the countryside.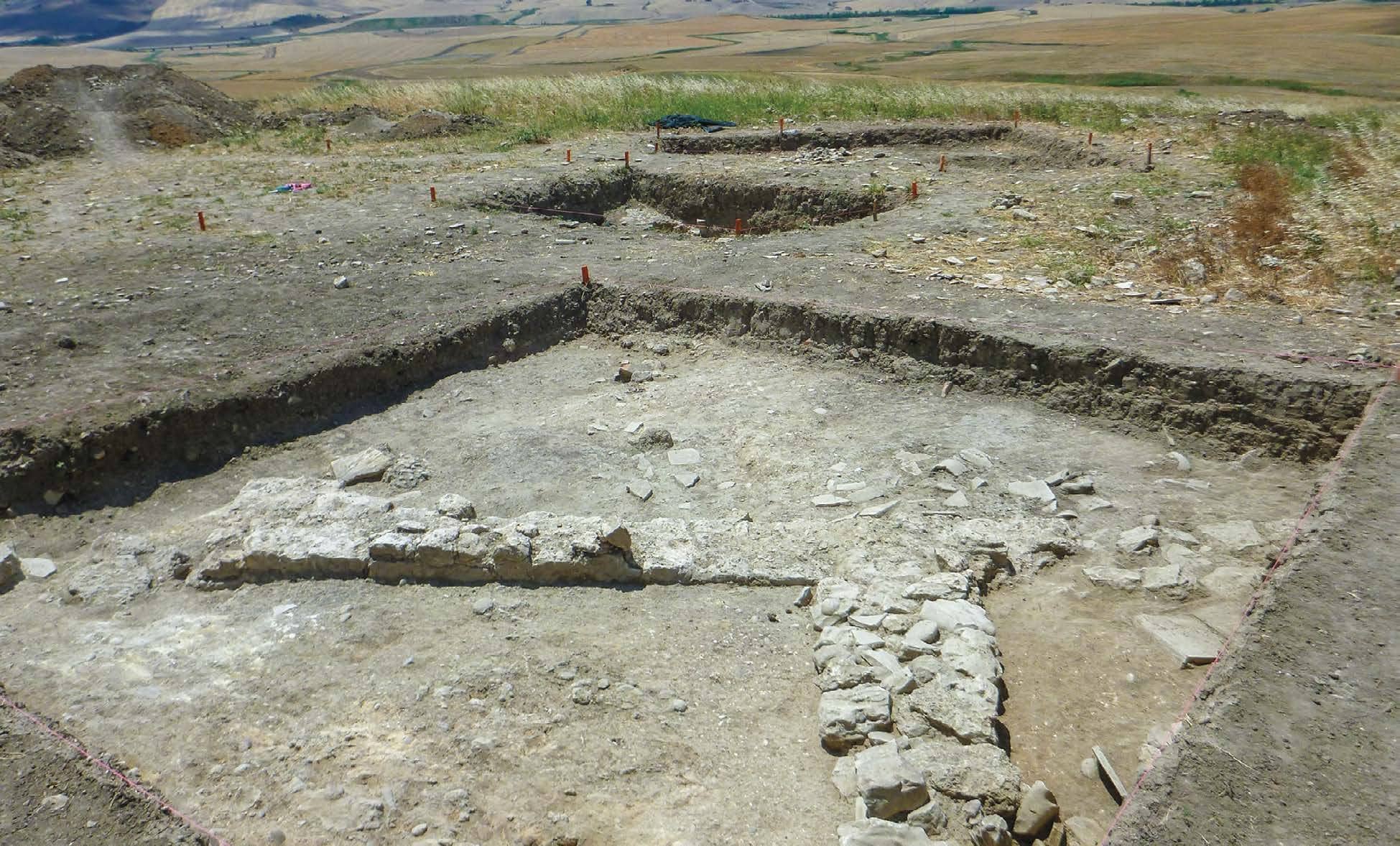 You can read up to 3 premium stories before you subscribe to Magzter GOLD
Log in, if you are already a subscriber
Get unlimited access to thousands of curated premium stories, newspapers and 5,000+ magazines
READ THE ENTIRE ISSUE
November/December 2019