The Thirst Integrity For The Quenched Unity
neScholarVolume 3, Issue 4 2017
Coordinator, Center for Research and Advocacy Manipur (CRAM)
LITTLE did I know what he was sharing, except for the few funny Meiteilon suffixes he mixed with his pure Rongmei dialect:
"…..kanagi Deben-Nungben… internet-nungternet… media-nungdia…..(everyone laugh… look at each other meaningfully)……stops for a while…..continue again….(with his hands clasping tight together with a clapping sound…shut his eyes tightly with frowning eyebrows…distorting facial expression in serious tone) ...MEI GUAINA…(took the names of few leading students organisation)…. Kanagi KSO, AMSU, ZSUM, (….the same expression again… in a commanding voice…stressing the point). MEI GUAINA"
LATER I learn that 'Mei Guaina' mean 'everyone/all of us,' which was his stress point. The young energetic guy, smiling wide and bright conducts the community meet on 'Protection of land and Environment' at Nungba jointly organised by the Nungba Area Village Authority Association (NAVAA), NWU and Centre for Research and Advocacy, Manipur (CRAM) on 2-3 May, 2017. A slim, medium built, not so fair complexion, old fashioned in a formal wear, bearing a village elder's appearance, endorsed with extra qualities of being a leader, cheerlead the sharing, in pure Rongmei dialect, a dialect beyond my grasp and understanding. Reading the gestures and the expressions was the sole means I rely upon to develop a symbolic self-interpretation. He is Mr Gunrei Kamei, from Nungba, whom well-wishers teased him as the responsible leader within the jurisdiction from Nungba to the bridge over Barak River. So, I call him Nungba Gunrei.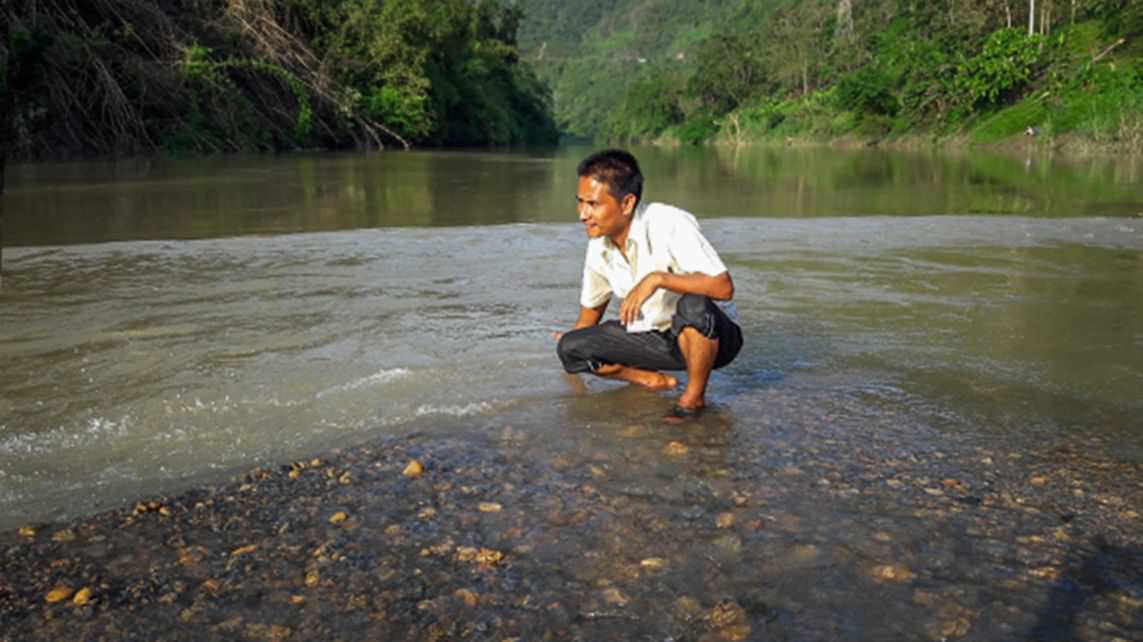 THE sharing continues, with another decent looking, fair complexion, dressed casually, well -built and tall young man, expressing in a Hindi, Meiteilon, English and Rongmei mixed version:
'Our 10 commandments….'Thou shall not…Thou shall not' … (… raised hand up…lower the other…eyes looking sharply at the raised and the lowered hands….expressing some short of imbalance….) we are all doubtful and we are not able to protect all these 'THOU,' since we fail to protect our own land and resources, all these 'Thou' means 'You' which means we, the people, we are responsible …..(in a very dissatisfactory annoyed expression…filled with discontentment…chest thumping…… he continues) we the people from Manipur….(stop a while…continues), when we just go outside of the Northeast region, we stay together, eat together and live together…. Address each other as 'bhais, or marup'…. happy being together, but once we landed our foot on this land…we are all divided, …(a very dissatisfying expression…) all divided based on our identity, tribe, and clan…while we are fighting among ourselves we forget to protect our land and resources…. Why renunciation of the oneness feeling? Why should we be like this? (maintaining the rhythmic tone of the speech… at times self-smiling wide and at times with seriousness in expression…chest thumping again)…why…why?'
You can read up to 3 premium stories before you subscribe to Magzter GOLD
Log in, if you are already a subscriber
Get unlimited access to thousands of curated premium stories, newspapers and 5,000+ magazines
READ THE ENTIRE ISSUE
Volume 3, Issue 4 2017