On Point
Yorkshire Life|December 2019
Northern Ballet is celebrating its 50th birthday. Tony Greenway discovers the secrets of success with Mark Skipper, the company's chief executive
Here's a well-worn question for you: is ballet an expensive and elitist art form? Well, no. Not if Leeds-based touring company Northern Ballet has anything to do with it.
Let's take that 'expensive' charge first. True, in some places, going to the ballet isn't a cheap night out. If you want to see a production at Covent Garden, for instance, you may have to first remortgage your house and/ or sell one of your organs. But Northern Ballet does its best to keep its tickets affordable – and, because it's a touring company, will adjust its prices to reflect the economic perspective of the towns and cities it visits.
Then there's that 'elitist' tag. Again, no, says Mark Skipper, Northern Ballet's chief executive. If you programme your seasons thoughtfully, ballet has the power to amaze and delight every age group and both sexes. 'You do have to keep refreshing the ballet audience, which tends to be female and slightly middle-aged and older,' he admits. 'So part of our programming is about doing things that attract OTHER audiences.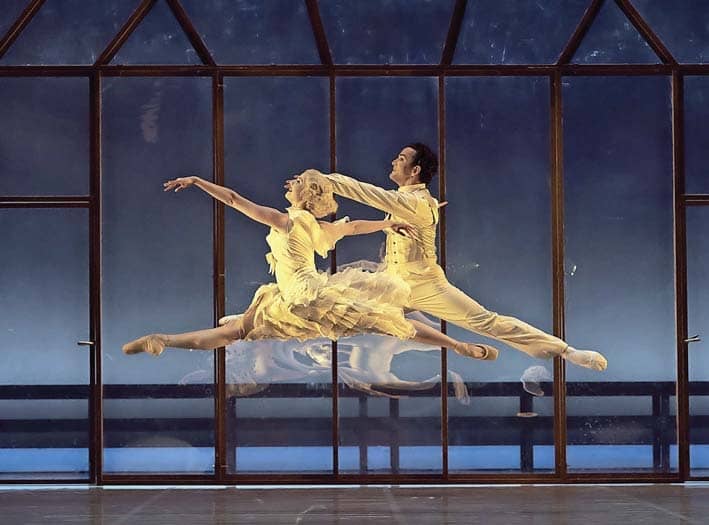 Take Dracula. Performed at Leeds Playhouse, it streamed live to cinemas across the UK on Halloween. This will be followed up with a family show: Cinderella, which runs at the Leeds Grand Theatre from December until January.
In spring of next year prepare for the world premiere of Geisha, which promises (like Dracula) to be more adventurous and experimental. There'll also be an autumn production of The Great Gatsby and, for the 2020 Yuletide season, the family-friendly Merlin. There are 40-minute children's ballets, too, specifically performed to attract the attention of much younger audiences (and which are adapted for broadcast on CBeebies).
You can read upto 3 premium stories before you subscribe to Magzter GOLD
Log-in, if you are already a subscriber
Get unlimited access to thousands of curated premium stories and 5,000+ magazines
READ THE ENTIRE ISSUE
December 2019