Traditional wedding of the White Yao people
Vietnam Heritage
|
June - July 2019 -2
Having a son coming of age, a White Yao family begins selecting a wife for him among the White Yao young girls in the same hamlet or one nearby.
A sweetheart chosen, they send a word to her family. If that night is quiet, without owls crying or unusual cocks cooing, it's a favorable omen meaning the future will be smooth, and the girl's family would agree.
On a good day, the groom's party brings lavish offerings, including two-castrated cocks, a 30kg pig, 10 liters of rice wine and a certain amount of money etc. to the bride's to have a feast together and to fix a favorable date.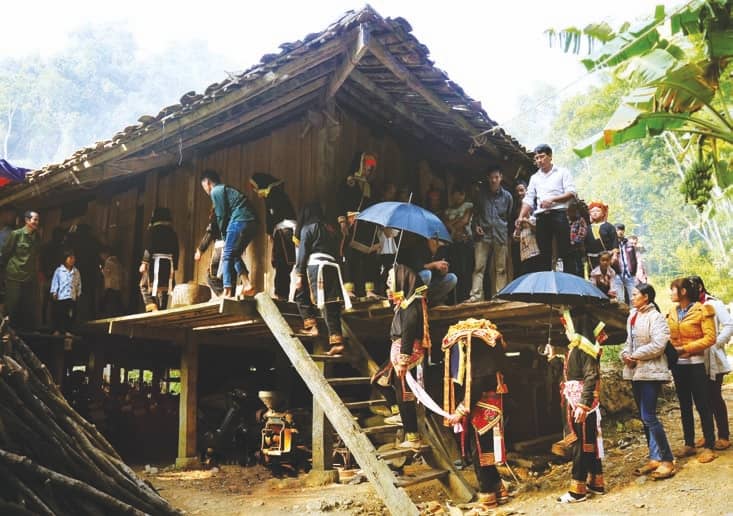 On the fixed date, they conduct a wedding with many traditional ceremonies. The wedding normally lasts three days and two nights.
It begins when the bridegroom's family sends 11 people in traditional outfits to receive the bride. The delegation includes a master of ceremony, the bridegroom, and young men versed in repartee singing.
They bring offerings, including a silver bracelet, betel and areca, salt, tea, rice buns, two large bundles of cassava vermicelli, rice wine, eight origami fishes representing the multitude of descendants the young couple will have, and a pipe containing ash and 24 leaves which guarantees good fortune and happiness and bars evil spirits.
You can read up to 3 premium stories before you subscribe to Magzter GOLD
Log in, if you are already a subscriber
Get unlimited access to thousands of curated premium stories, newspapers and 5,000+ magazines
READ THE ENTIRE ISSUE
June - July 2019 -2