Tables Turned
The Walrus
|
September/October 2020
In a world where many restaurants won't survive the lockdown, what is the future of dining out?
In 1999, Sanjeev Yogeswaran came to Canada as a refugee. He was fourteen years old, and his family had paid almost $40,000 to get him out of Sri Lanka, which was gripped by civil war. At age fifteen, he began working at Pizza Hut; within a few years, he was working at three Pizza Huts at the same time, putting in seventy hours a week. Except for a brief period when he co-owned a pub, Yogeswaran has spent the vast majority of his restaurant career working for other people. And then the pandemic hit.
It was the last weekend in March. The business Yogeswaran managed was closed; two weeks without going into work was the longest vacation he'd had in two decades. His sister, Mirna, a financial manager, had been casually catering for years, cooking for friends' birthday parties and the like. The siblings discussed posting a small selection of dishes for sale, which they would deliver themselves to the areas near their homes, in the suburban Ajax and Pickering areas. With little planning — just that quick conversation — they shared a menu on WhatsApp, telling family and friends that they were offering kochikadai biryani (a rice dish in which a basic dough is used to seal the pot lid so no steam escapes), chicken fried rice with devil chicken (fried chicken chunks tossed in vinegar, soy, sweet sauce with peppers, onions, and chilies), and yellow rice with mutton curry. Within half an hour, Yogeswaran recalls, they started getting orders. "We hadn't started cooking."
Cooking out of Yogeswaran's home, they delivered twenty orders that Saturday. Then they started promoting the food on Instagram and adding more dishes. By the third week, they were packing 100 orders and making lamprais: rice with mutton curry, eggplant moju (pickle), fish croquette, boiled egg, and blachan (a chili shrimp paste), all bundled in a banana leaf — a lot of work, but perfect for delivery because the leaf helps maintain the heat and moisture. They rented a commercial kitchen from 4 a.m. to 9 a.m., when it would otherwise have been closed, and hired one of Yogeswaran's laid-off cooks. During their busiest time, they were cooking and delivering five days a week: requests from customers in nearby municipalities had prompted them to schedule drop-offs in parking lots with one-hour windows for pickup. Yogeswaran is now looking for a bricks-and-mortar location to launch a post-quarantine business.
In the year or two before covid-19 shut the restaurant industry down, articles started popping up about so-called ghost kitchens, which offer full menus via delivery but no restaurant you can walk into and eat at in person. Back then, discussions about the emerging phenomenon focused on the potential for restaurants to expand their reach without the cost of dining space or front-of-house staff —  a far cry from landing on them as a creative dining solution to a worldwide public health crisis. What the Yogeswarans had done neatly encapsulates how many industry observers describe the current climate: changes to the sector that had been predicted to unfold over years have been accelerated to a matter of weeks.
Around the world, we're seeing indications of what dining will look like during what you might call the in-between phase of covid-19: after restrictions have eased but before we have a vaccine. In Hong Kong, they're taking your temperature when you arrive. In some restaurants in Berlin, you scan a QR code on your table for contact-tracing, so the business can track you down if there's an outbreak linked to the premises. Some restaurants in Taiwan are using plastic dividers to separate diners. In Melbourne, restaurants are offering limited menus and requiring payment in advance. A three-Michelin-starred restaurant in Virginia experimented with poshly dressed mannequins to make the socially distanced dining room feel less empty — because, as any restaurateur will tell you, not only are they unable to make money with a half-empty dining room, their customers don't want to eat in a half-empty room.
Food-and-hospitality services in Canada employ 1.2 million people, and the sector's revenue of about $90 billion represents an estimated 5 percent of our GDP. When independent restaurants fail at the scale now being predicted — as many as 85 percent, according to a report commissioned by the Independent Restaurant Coalition, a US counterpart to Canada's Save Hospitality, an alliance of independent restaurateurs formed in response to covid-19 — they don't just take down their owners but their employees, suppliers, farmers, and landlords, along with the value of commercial rent and adjacent residential real estate. Because how much is your house really worth in that trendy neighbourhood, the one with all the cool places to eat and drink, when half those places are boarded up? Restaurants are a load-bearing pillar of our culture and economy.
It's too early to know the full breadth of what a post-vaccine restaurant landscape will look like. But, in the current liminal era, a few patterns are starting to emerge. Size matters. Flexibility is essential. And those who have the loyalty of their communities and are willing to try any and everything — like the Manhattan restaurateur who told me she considered transforming her shuttered dining room into a temporary daycare for friends — will be the survivors. Many other chefs, owners, cooks, and servers, and the restaurants they orbit, will not be so fortunate.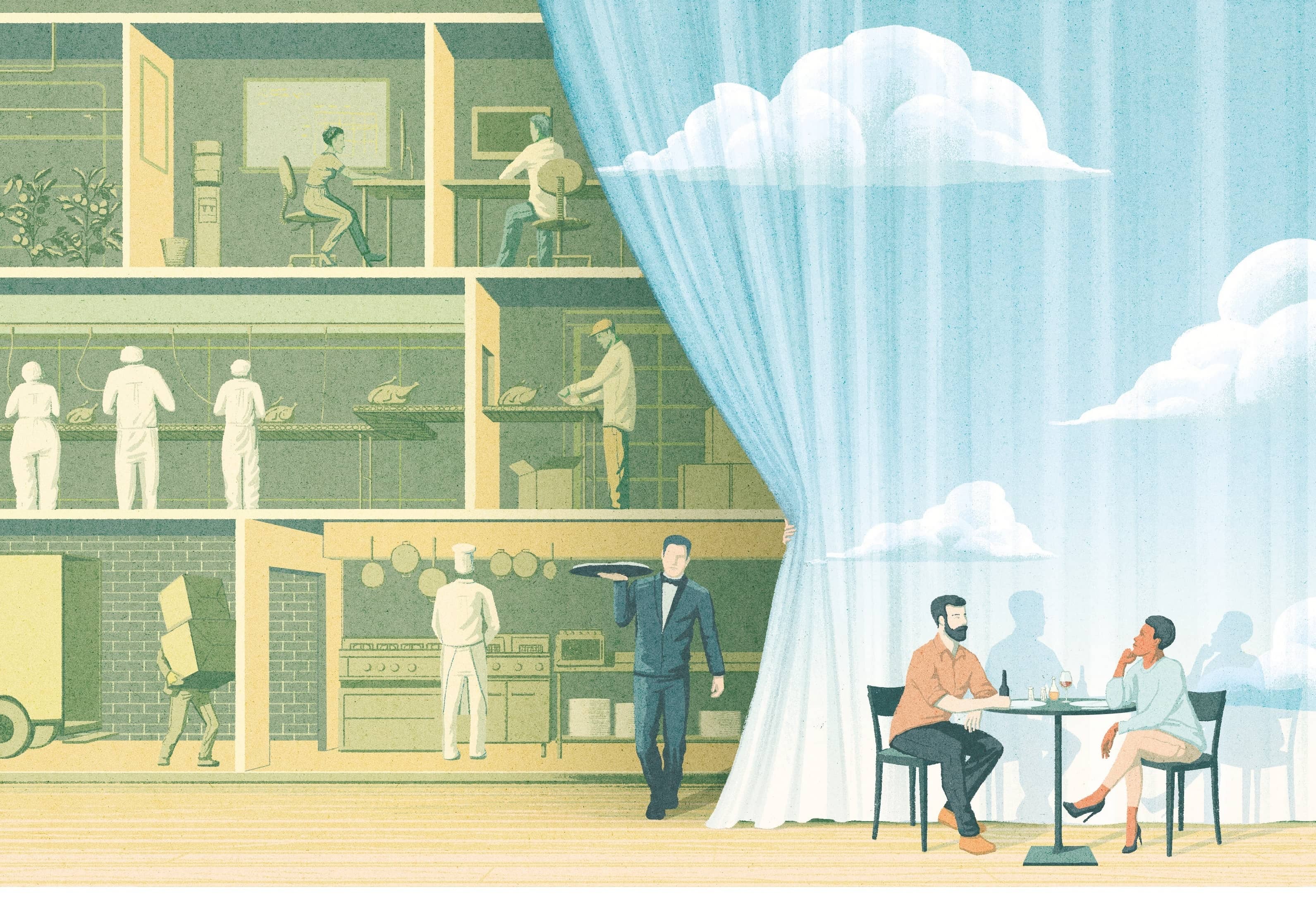 BACK IN MARCH, as it became apparent that covid-19 was about to break out in earnest across North America, many restaurateurs attempted to calm their customers, assuaging health concerns with social media posts promising their commitment to hygiene and customer safety. Behind the scenes, they were panicking. And, by the middle of the month, they started closing. Some cite the shuttering of restaurants in France as the first sign of what was ahead, others the suspension of the NBA season or Tom Hanks testing positive. Some wanted to close earlier, believing there was a moral and public health obligation, but were waiting for an order from any level of government — an edict they could use to justify the closure to their staff, landlords, and creditors.
Some chose to do takeout and delivery, at a fraction of their usual revenue. Some talked to their lawyers about suing their insurance providers for rejecting their business-interruption claims. All of them were trying to figure out what to do with the contents of their fridges: often tens of thousands of dollars' worth of perishable ingredients. Many gave them away to staff or food banks.
It sounds heartwarming — restaurateurs sharing their last loaves of bread and cases of fruit. And the intentions were certainly good. But it was hardly uncomplicated. The restaurants owed their suppliers for those foodstuffs, and their suppliers owed their farm producers, and independent farmers are not known for being flush with cash.
Restaurants pay for their food on credit, typically with terms of about thirty days: when restaurants closed in midMarch, many were preparing to settle bills for food they had bought a month prior. With revenue reduced to zero, how were they going to pay for the inventory they just gave away? "Ideally you should have three months of reserves that can cover you for all expenses, including payroll," says Arturo Anhalt, who owns several Toronto restaurants, including Milagro and Dirty Bird. "I studied this in hotel-management school." That's the theory. In reality, few restaurants have that kind of cash reserve.
"The economic disruption doesn't end there," says John Sinopoli, a Toronto restaurateur who helped organize Save Hospitality. "My suppliers have called me and said, 'If more than 30 percent of you go bankrupt, we're done. We can't absorb all the receivables. You guys owe us too much money. We can't write that off.'"
It's hard to imagine the average outsider having strong views about the fixed costs or monthly payroll expenses involved in furniture manufacturing or dentistry. But it's fairly common for people, whether or not they have any hospitality experience, to tell me that a restaurant dish is overpriced or what percentage of the business's revenue should be coming from alcohol sales.
You can read up to 3 premium stories before you subscribe to Magzter GOLD
Log in, if you are already a subscriber
Get unlimited access to thousands of curated premium stories, newspapers and 5,000+ magazines
READ THE ENTIRE ISSUE
September/October 2020