Unwrapping an icon
Sussex Life|January 2020
Lee Miller was an American fashion model, photojournalist and artist who captured extraordinary moments of modern life. But she is often overshadowed by the men she knew and loved. Ami Bouhassane reveals why her trailblazing grandmother deserves equal billing
We all know the Lee Miller story. She was the strikingly beautiful fashion icon and artists' muse, who joined the surrealists and shook up photojournalism with her unforgettable shots of Nazi atrocities. At the end of the war, she was famously photographed in Hitler's bathtub, but she struggled with depression, alcoholism and motherhood in peacetime, before reinventing herself as a gourmet surrealist cook.
Her legacy lives on, but her granddaughter, Ami Bouhassane, who has written a revisionist account of her life with a radical, feminist slant, believes she is too often viewed from the perspective of her male artist collaborators.
"There have been many books about my grandmother, but this is the first that presents Lee in her own right, and for her career," says Ami. "For a very long time, when pitching her to museums, I'd have to say, 'Lee Miller... she photographed Picasso, he painted her portrait, she worked with Man Ray, Miro and all these other male artists. Oh, and by the way, she took pictures.'"
For Ami, who is co-director of Farleys House and Gallery near Chiddingly, East Sussex, which manages the Lee Miller Archives and Penrose Collection, keeping Miller's flame alive has become a full-time preoccupation.
Sadly, she has no personal recollections of her grandmother. "There are pictures of her holding me as a baby, but she died three months after I was born in 1977," she says. "My parents only discovered Lee's photographs in the attic when they were looking for baby pictures of Dad [Antony Penrose] to compare me with.
"With this newly-discovered wealth of material [which comprised more than 60,000 original negatives, 20,000 prints and contact sheets, and thousands of original documents and manuscripts], they started the archive with my granddad, Roland Penrose. I grew up attending Lee and Roland's exhibitions. As kids, my sister and I thought this was what you did on a Thursday or Friday evening.
"A lot of people would come up to Mum and Dad, and say, 'It's wonderful that you're bringing up your children so they can continue the legacy,' and they'd always say, 'No, they're going to find their own path.' That was brilliant because we didn't feel trapped."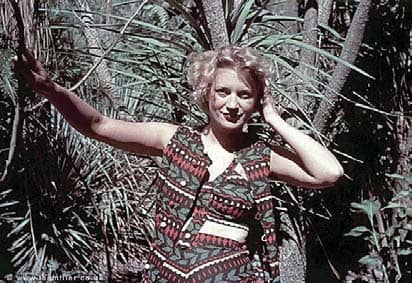 You can read up to 3 premium stories before you subscribe to Magzter GOLD
Log in, if you are already a subscriber
Get unlimited access to thousands of curated premium stories and 5,000+ magazines
READ THE ENTIRE ISSUE
January 2020