RESURRECTION MAN
Sussex Life|April 2020
Sussex artist Ptolemy Elrington doesn't mind people describing his work as rubbish. It is. Here, he reveals how he creates amazing animal sculptures from recycled waste
Upcycling may be one of the buzzwords of the moment, but Ptolemy Elrington has turned it into an art form. Literally. From a draughty old flint barn, tucked away on a farm near Portslade in Brighton, he creates sculptures of breathtaking brilliance.
His subjects are often wild animals, birds and mysterious creatures of the deep. An Arctic wolf. A horned owl. A nautilus with rippling tentacles. They are uncannily lifelike, and you feel that at any moment they could sniff the air before taking a tentative step towards you, or launch into flight.
What is all the more remarkable is that these creatures are fashioned from recycled materials. Ptolemy doesn't work in bronze or clay or stone. He works with hubcaps rescued from the roadside, hulking shopping trolleys dredged from the murky riverbank, secondhand car bumpers left to rust in a salvage yard and unwanted scrap metal retrieved from casually discarded domestic appliances.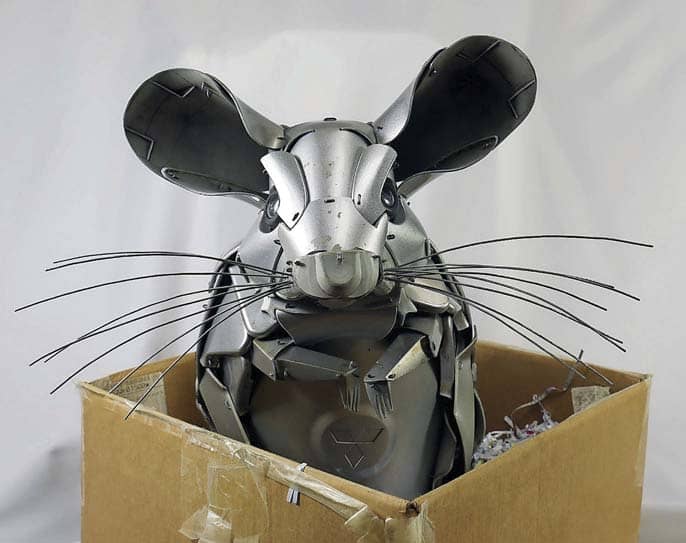 To him, the world is a giant Meccano set, ripe for the picking. He's living proof of that old adage that one man's trash is another man's treasure.
Deep in his cavernous workshop, crammed with racks of discarded hubcaps and tools – a sort of Kwik Fit-meets-Mad Max world – Ptolemy, dressed in a bright-red boilersuit, is teasing a fin into life from a sliver of wheel trim. Beside him, a ferocious viperfish is taking shape, its jaws outstretched to reveal rows of razor-sharp teeth. Look a little closer and you'll see its unblinking eye is actually a Skoda badge.
Ptolemy, or Uncle Bulgaria as he calls himself, in a nod to his Womble-like salvaging instincts, has a gift for spotting the potential in seemingly lifeless metal and plastic. The legs of a mustang horse, which has been three months in the making and is about to be shipped to Canada, are actually old computer stands. They also came in handy when he was making a post-apocalyptic cyber spider (as you do).
You can read upto 3 premium stories before you subscribe to Magzter GOLD
Log-in, if you are already a subscriber
Get unlimited access to thousands of curated premium stories and 5,000+ magazines
READ THE ENTIRE ISSUE
April 2020