One man band
He may have spent more than 50 years in the business, but Brighton-born David Courtney is still making music
More than 30 years before Simon Cowell was auditioning hopefuls in front of a live audience, David Courtney was sifting through the responses to an advert he put into The Argus for new talent.
"I was at the Pavilion Theatre in Brighton, on a hot Saturday afternoon," he recalls from his home in Hurstpierpoint. "I had forgotten to limit the audition to music, so I was getting people doing farmyard impressions and things like that. I thought I'd made a real boo-boo." Someone had left the theatre doors open so an audience had gathered to watch the acts. Little did David know the next band, Patches – number 49 on the list – would change the course of his life.
"My head was spinning, I'd got a migraine, and this band from Shoreham started playing," he says. "I thought, this is another band, there's nothing particularly special. And then there was this voice. This figure walks onto the stage – a bit like a Shakespearean actor – with a mop of curly hair and this voice projecting out of his little frame. I knew then and there I had found something special."
That voice belonged to Gerry Sayer – who David would rename Leo after being inspired by The Argus' horoscope pages. Having formerly played drums in Adam Faith's band David approached his old bandleader in Henfield armed with a demo tape, ostensibly to ask Adam to check out a contract he had received for Leo from George Martin's Air Studios. After hearing just a minute of the tape Adam told David to rip up the Air contract as he wanted to manage Leo.
As well as creating Leo's original Pierrot clown image with the help of photographer Graham Hughes, David wrote the music for Leo's first two albums Silverbird (1973) and Just A Boy (1974), co-wrote Roger Daltrey's 1973 debut album Daltrey with Leo and Adam, produced Adam's comeback album I Survive following Faith's near-fatal car accident in 1974 and recorded his own collection of songs, First Day.
"The cottage industry of bands and artists doing it themselves has become bigger and bigger because the internet allows people to spread the word"
His impressive musical CV includes collaborations with Pink Floyd's David Gilmour on the latter album – the guitarist came direct from performing at Wembley to record his first guest spot away from the band – as well as the likes of Ritchie Blackmore, Jimmy Page, Eric Clapton, Steve Cropper, Albert Lee and his own musical hero Sir Paul McCartney, who guested on two of Adam's songs and contributed a song to Roger Daltrey's 1977 album One of the Boys.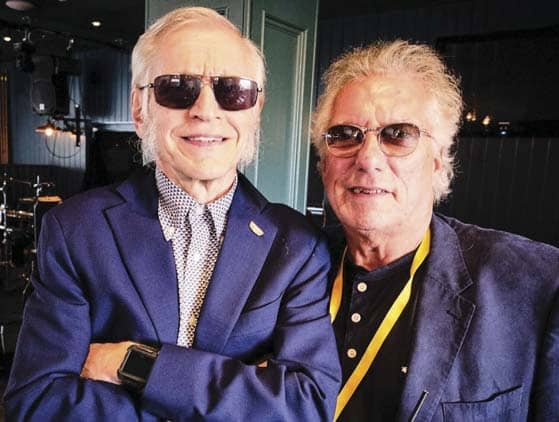 You can read up to 3 premium stories before you subscribe to Magzter GOLD
Log in, if you are already a subscriber
Get unlimited access to thousands of curated premium stories, newspapers and 5,000+ magazines
READ THE ENTIRE ISSUE
August 2020